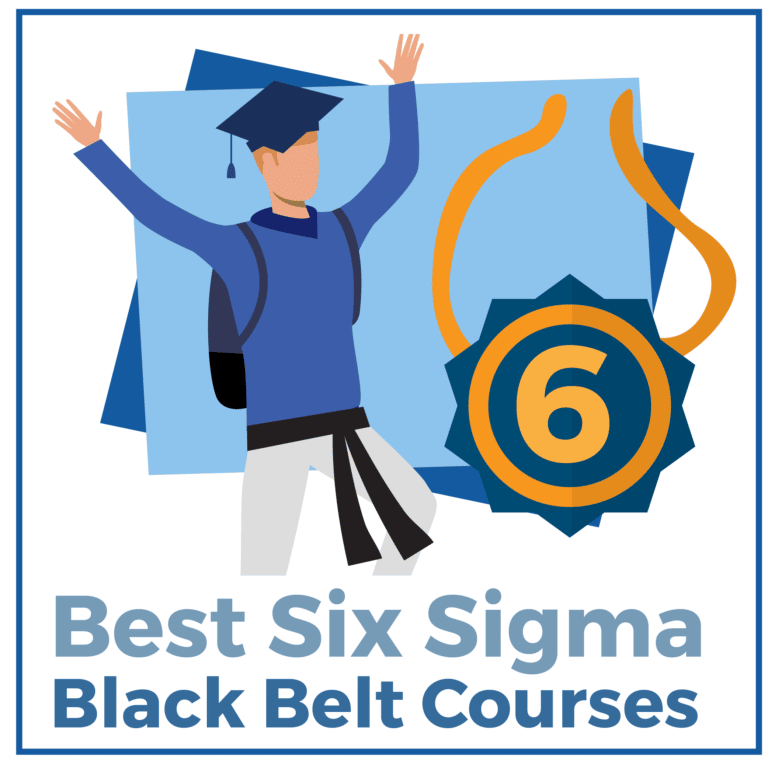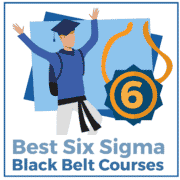 The Six Sigma Black Belt Certification program can be a tough nut to crack. And with so many different resources for students to choose from in terms of online study programs, all containing different features and dubious claims, it can be tough just finding a decent prep course to help students pass the exam. Sadly, much like the Six Sigma green belt certification process, some students get so hung up on this aspect of the process that they never move past this first step.
It's time for a change.
In the comparison chart below you will find detailed information that we've found through several days of research. We've broken down the different features of the four best Six Sigma Training courses available online; you can also read more on each provider below by reading the listed pros and cons further down the page. Keep reading to find the best Black Belt course to meet your needs, and take the next step in your professional project management!
---

---
Top Six Sigma Black Belt Certification Courses Compared [UPDATED 2022]
CRUSH RANKING
#1
#2
#3
#4
#5
SIX SIGMA ONLINE BLACK BELT COURSES
OVERALL RATING
COMPANY
Lean Sigma Corporation
MSI Certified
Opex Learning
ExpertRating
Cert Global
PRICE
$3,245


$990


$99/mo. (10 months)
$299
$499 - $1,994
$199
E-Learning
$299

Instructor-Led Online
$2,399
DISCOUNTS
Save $2,255
Save $100
MONEY-BACK GUARANTEE
1 days
PRACTICE QUESTIONS
600+
400+
200+
200+
600+
FULL LENGTH PRACTICE EXAMS
VIDEO INSTRUCTION
PDU's
105
30
70
3
32
FREE COURSE DEMO
STUDENT SUPPORT
Email & Forum Support
Email & Forum Support
Email & Social Media Support
Email
Email & Forum Support
ONLINE ACCESS PERIOD
Unlimited
1 Year
1 Year
1 Year
90 Days
MORE DETAILS
Read Full Review
Read Full Review
Read Full Review
Read Full Review
GET STARTED
START NOW
START NOW
START NOW
START NOW
START NOW

OVERALL RATING: ★★★★★
PDU's: Providing more than enough Professional Development Units to meet the requirements for taking the Lean Six Sigma Black Belt exam, Lean Sigma Corporation even grants enough PDU's to meet most CPE requirements for established professionals.
Video Instruction: In order to efficiently convey important information to their students so that they actually understand it, Lean Sigma Corporation divides their video content into 21 learning modules that are fully animated and professionally narrated.
Course Demo: Since this Lean Six Sigma Black Belt course costs a lot of money, students who are intimidated by this price can try a free course demo. This demo provides an example of Lean Sigma Corporation's eLearning module and should help students decide if it's the right course for their needs.
Bottom Line: Lean Sigma Corporation offers excellent video content and more than enough PDU's to make it one of the best Lean Six Sigma Black Belt courses available to students. They even offer a demo in order to quell any anxiety from unsure students.
GO TO LEAN SIX SIGMA BLACK BELT
MSI Certified Six Sigma Course (Rank: #2)
OVERALL RATING: ★★★★★
Free Trial: Something that MSI's Six Sigma Black Belt training provides that won't be found from many of their competitors is a free trial. Students are free to try this demonstrative course before paying any tuition fees whatsoever, which should help to relieve some of the stress that comes with that kind of decision.
Certification Included: MSI includes the certification exam at the end of their Six Sigma Black Belt course, with the proctoring fee automatically paid out of their initial tuition. Although this once was a standard feature with these courses, many other programs no longer provide this benefit.
Support: Just like their Six Sigma green belt offerings, if technical issues happen to arise during a student's time studying through MSI, they provide a few support channels that are convenient and effective. These include the standard email contact form and a full forum that is populated by staff members and fellow students.
Bottom Line: MSI is a one-stop-shop for Six Sigma Black Belt study and certification materials. Despite including both a comprehensive curriculum and a certification exam at the end, this is an extremely affordable study course.
Opex Learning Six Sigma Course (Rank: #3)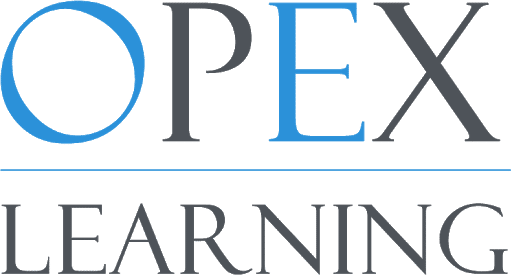 OVERALL RATING: ★★★★★
Demo: Are you curious about OpEx and want to try their materials firsthand? If so, you'll have to pay up front— they don't offer any sort of trial or free demo. Fortunately, you can still get your money back within seven days if you're unsatisfied with your purchase.
Bottom Line: This Six Sigma certification program is trustworthy and comprehensive. Because of this, we can easily recommend it to aspiring and established project management professionals for their education needs.
ExpertRating Six Sigma (Rank: #4)

OVERALL RATING: ★★★★★
Price: ExpertRating's Six Sigma Black Belt course has the lowest tuition fee out of all the courses listed here. While some corners were clearly cut in order to reach this lower cost, enough material is still included in this course to make it an excellent budget study program.
Real Project Scenarios: It's crucial for professional project managers to understand proper implementation of Six Sigma concepts. ExpertRating uses real-world examples to help students understand how to implement Black Belt methods both in theory and in practice, which is more that some courses can claim to offer.
No Video Lectures: ExpertRating's Six Sigma Black Belt course is so affordable due to the absence of many common prep course features, such as video lectures or video-based content in general. This may disappoint some students who learn best when information is presented to them visually.
Bottom Line: The real world scenarios included in ExpertRating's study course are fantastic for helping students acclimate to Six Sigma Black Belt methodology. Unfortunately, the absence of other important study features holds this course back from achieving greatness.
iCert Global Six Sigma (Rank: #5)

OVERALL RATING: ★★★★★
Minitab Implementation: Instructional material based around Minitab is included in iCert Global's Six Sigma Black Belt educational course. Any professional project manager will tell you that it's crucial to understand Minitab for their career, and this course will provide an excellent method for students to accomplish just that.
Course Demo: Students can take advantage of iCert Global's free demo in order to determine whether or not the course is a good fit for them and their needs. This helps to better justify spending the larger sum required in order to enroll in their Six Sigma Black Belt course.
Price: Although iCert Global does offer a stripped-down Six Sigma Black Belt study program at a lower price, it's their Live Online Instruction course that most students will want to try. The bad news is that this course has a ludicrous price tag greater than $2000.
Bottom Line: iCert Global approaches studying for Six Sigma in an unconventional but effective way. It's true that their best course is extremely expensive but the free demo they offer should help students make an informed purchasing decision.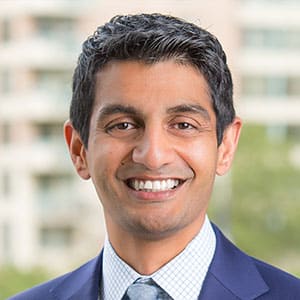 Amit Patel is the founder and chief writer for Crush the PM Exam. A lifelong student, Patel's desire for career growth led him to research the many different certifications and career opportunities in the world of project management. Armed with this knowledge, Patel's new passion is for sharing what he's learned with his fellow students so they can achieve their dream careers.