brein Sensei bied 'n unieke manier om voor te berei vir die Project Management Professional eksamen. Sy missie is om eenvoudig en innoverende maniere om te help jy jou leer doelwitte te bereik deur die gebruik van storievertelling bied.
Brein Sensei staan ​​uit die ander toets prep kursusse deur die gebruik van 'n geanimeerde verhaal te sleutel projekbestuur konsepte te versterk. Stories is bewys dat dit makliker vir mense om inligting te absorbeer maak. Met hierdie benadering, Brein Sensei bied 'n boeiende manier om te leer benewens sy maklik om te lees inhoud, vasvrae, and a ton of practice questions.
Voor
1. Interactive Lessons With Storytelling
Unlike any other PMP review course, Brain Sensei will draw you into a story of a Samurai who overcomes adversity in Feudal Japan. By using an engaging animated story, you will be entertained while bolstering key project management concepts. Most PMP test prep courses are dull and lifeless. With Brain Sensei, your PMP course will be anything but boring.
Stories is gebruik om kennis te deel en leer lesse sedert die begin van die mensdom. Research has also proven that when you receive information in the form of a story, you will have an easier time absorbing and recalling information. Brain Sensei's review material is broken up with little animation clips. These brief animation clips are not only entertaining, but also act as an efficient way to remember important concepts on test day.

2. Pass Guarantee
Brain Sensei offers a 100% pass guarantee with their 35 hour Complete PMP Exam Prep course. With the unique memorization tactics and innovative teaching style, Brain Sensei guarantees you'll get that passing score. If you meet all the course requirements but still end up failing the exam, you can retake the Brain Sensei PMP prep course for free!
3. Includes Contact Hours for PMP Certification
As a Registered Education Provider (REP) with the Project Management Institute (MKB), you will meet the 35 hour requirements for the PMP exam. This course is a great way to maximize your study time without having you pay extra for a course that will let you gain contact hours. en, you'll be having fun while putting in the hours!

4. Practice Questions and Quizzes
In addition to the four full length Practice Exams available at the end of the course, you are given quizzes throughout your lessons. These short self-assessments can track your progress and help guide you towards topics that need more study time.
Brain Sensei's complete PMP course comes equipped with more than 900 practice exam questions and answer explanations. Almost everyone who has passed the PMP exam will agree that practice questions are the most important part of studying and the best way to get you that passing score.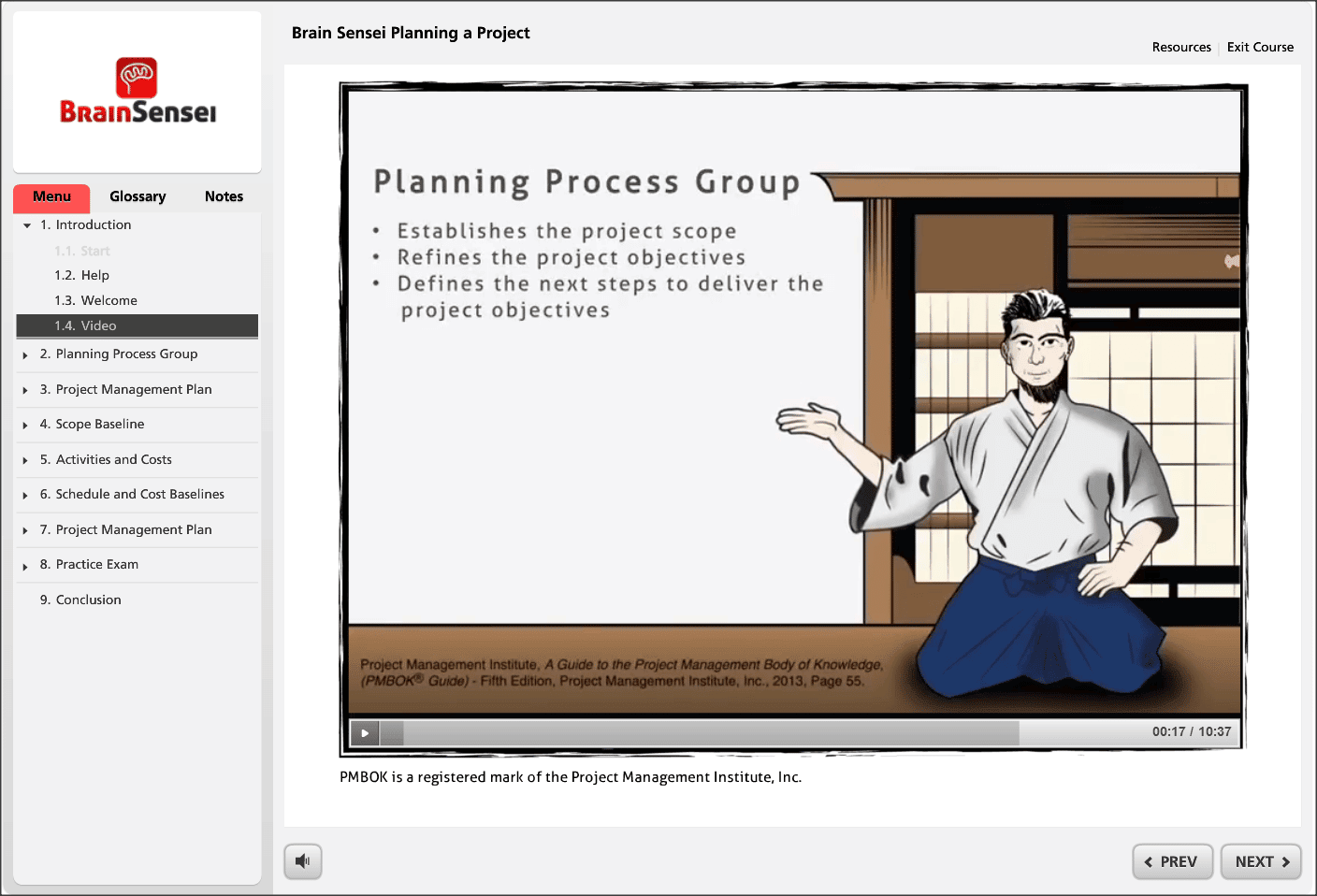 5. Jou eie persoonlike Sensei (instrukteur)
It's not very fun to listen to a boring professor read from a book. Many other PMP test prep instructor led courses have this problem. But with Brain Sensei, you get your own personal animated sensei! Hy sal jou onderwyser wees in jou studies en bied u enige verdere hulp of vrae wat jy kan loop in.
Brein Sensei verstaan ​​dat self-studeer met skyfievertonings is nie baie aantreklik. Dis hoekom dit gee jou jou eie private onderwyser wat jy neem deur die bestudering van die proses stap-vir-stap. Dit sal help om jou uit verdwaal in die berge van materiaal en sedert hy geanimeerde, Hy sal altyd daar wees om jou te ondersteun.
6. Gedetailleerde Progress dop
Dit is van kardinale belang om jou sukses te weet waar jy staan. Brein Sensei net ingestel real-time en gedetailleerde vooruitgang verslae vir die dop. In your dashboard you'll find your scores, duration and status all in one place.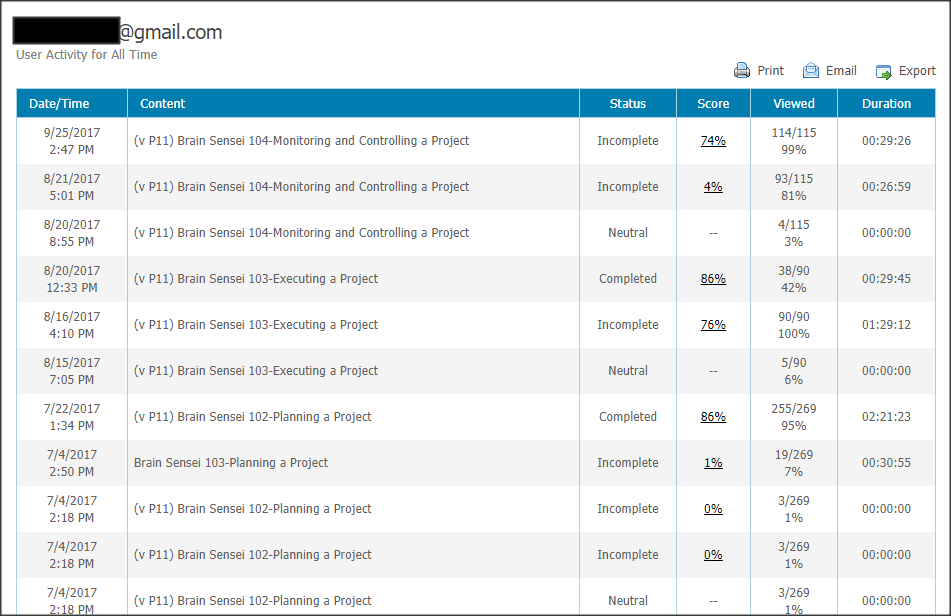 CONS
1. natuurlik Design
While other courses have fancy technology and a flashy website layout, this course is pretty basic and lacking innovative design. You may prefer this since it is a direct and to-the-point way to learn. There aren't any additional distractions that can take your focus away from studying. So depending on how you plan to study, this could be a non issue.
Ideale User
If you are struggling to find a course that consistently keeps you engaged, Brain Sensei's PMP Review Course is the test prep for you! You will be learning PMP concepts and have them ingrained through an exciting story of a young samurai taking on a variety of projects and challenges. This is helpful if you like to learn by experience. You will be able to have anecdotal memories of information that will be tested on exam day, making it easy for you to remember key concepts.
my voorstel
By following your personal Sensei's instruction and watching the animation story clips, you will be learning in the least boring way possible. I suggest this course to anyone who struggles with focusing and motivating themselves to keep studying mundane material. Brain Sensei reveals one of the best kept secrets of learning: storytelling.
This top-rated review course will give you everything you need to know to pass the PMP exam, including a 100% pass guarantee to ensure that Brain Sensei's software works. This course is anything but traditional, teaching you through an fascinating story and high-quality interactive content that is consistently up to date with any changes made by the PMI. Check out Brain Sensei's free demo and see the storytelling learning for yourself!
Brain Sensei PMP Review Course Overview
| | |
| --- | --- |
| Brain Sensei Review | Sterkpunte |
| 1. | Interaktiewe lesse met Storievertelling |
| 2. | Pass Guarantee |
| 3. | Includes Contact Hours |
| 4. | Practice Questions and Quizzes |
| 5. | Your Own Personal Instructor |
Brain Sensei Review
Geskryf deur: Amit Patel
5 / 5 sterre