Brain Sensei offers a unique way to prepare for the Project Management Professional exam. Its mission is to provide simple and innovative ways to help you achieve your learning goals through the use of storytelling.
Brain Sensei stands out from the other test prep courses by using an animated story to reinforce key project management concepts. Stories have been proven to make it easier for people to absorb information. With this approach, Brain Sensei provides an engaging way to learn in addition to its easy to read content, quiz, and a ton of practice questions.
Pros
1. Interactive Lessons With Storytelling
Unlike any other PMP review course, Brain Sensei will draw you into a story of a Samurai who overcomes adversity in Feudal Japan. By using an engaging animated story, you will be entertained while bolstering key project management concepts. Most PMP test prep courses are dull and lifeless. With Brain Sensei, your PMP course will be anything but boring.
Stories have been used to share knowledge and teach lessons since the dawn of humankind. Research has also proven that when you receive information in the form of a story, you will have an easier time absorbing and recalling information. Brain Sensei's review material is broken up with little animation clips. These brief animation clips are not only entertaining, but also act as an efficient way to remember important concepts on test day.

2. Pass garantiya
Brain Sensei offers a 100% pass guarantee with their 35 hour Complete PMP Exam Prep course. With the unique memorization tactics and innovative teaching style, Brain Sensei guarantees you'll get that passing score. If you meet all the course requirements but still end up failing the exam, you can retake the Brain Sensei PMP prep course for free!
3. Includes Contact Hours for PMP Certification
As a Registered Education Provider (REP) with the Project Management Institute (SMEs), you will meet the 35 hour requirements for the PMP exam. Kini nga kurso mao ang usa ka dako nga paagi sa pag-maximize sa imong panahon sa pagtuon nga walay pagbayad kamo dugang alang sa usa ka dalan nga ikaw makaangkon og oras sa contact. ug, inyong nga may makalingaw samtang sa pagbutang sa mga oras!

4. Pagpraktis Pangutana ug Pasulit
Dugang pa sa upat ka mga bug-os nga gitas-on Pagbansay Exams anaa sa katapusan sa dalan, ikaw gihatag quiz sa inyong mga leksyon. Kini nga mubo-sa-kaugalingon assessments mahimo sa pagsubay sa imong pag-uswag ug sa pagtabang sa paggiya kaninyo ngadto sa mga hilisgutan nga kinahanglan sa dugang nga panahon sa pagtuon sa.
bug-os nga PMP Brain Sensei ni kurso moabut himan uban sa labaw pa kay sa 900 mga pangutana praktis exam ug tubag pagpasabut. Hapit ang tanan nga miagi sa PMP exam mouyon nga ang praktis mga pangutana mao ang labing importante nga bahin sa pagtuon ug sa labing maayo nga paagi sa pagkuha kaninyo nga agi score.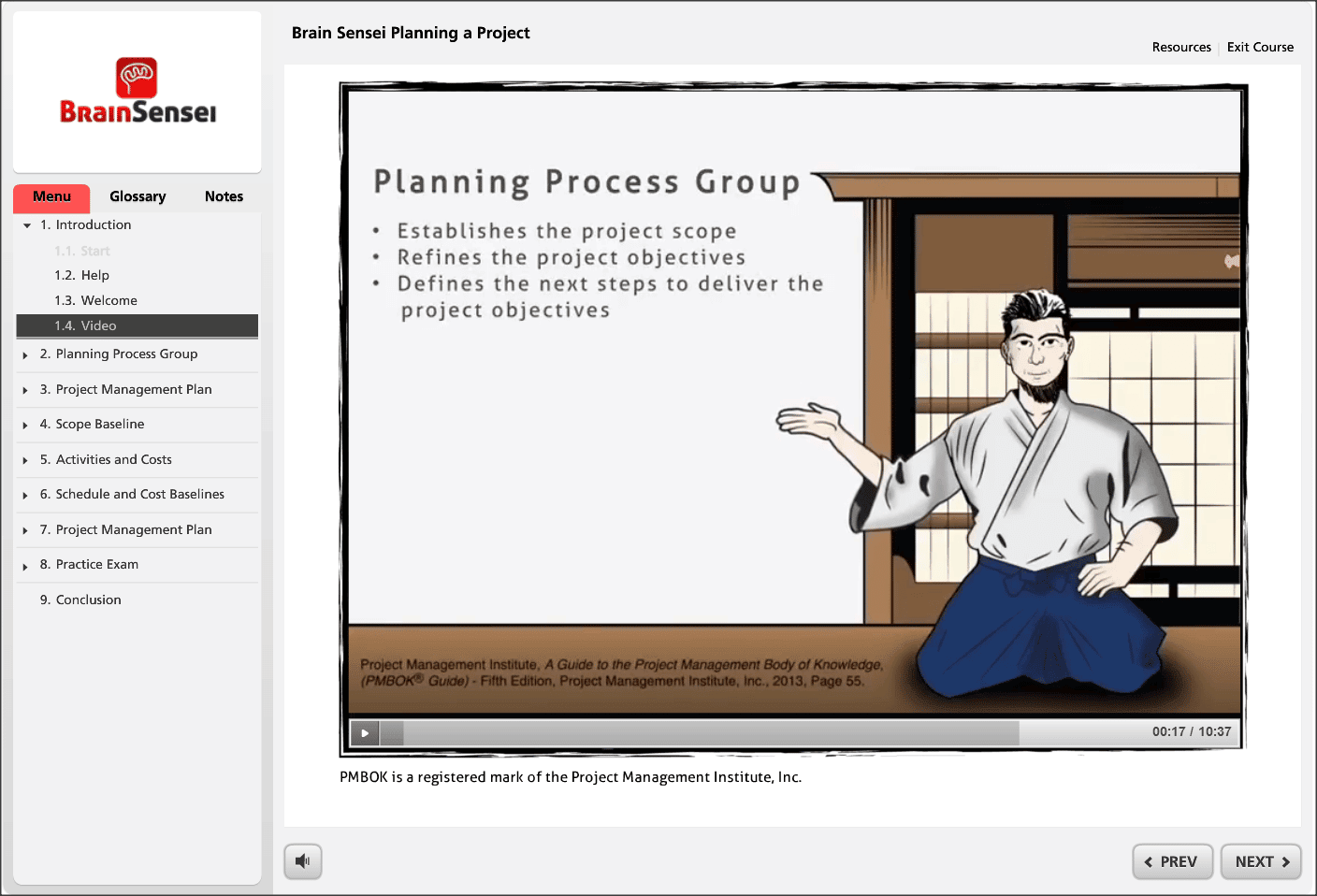 5. Imong Kaugalingong Personal nga Sensei (Instruktor)
Kini dili kaayo makalingaw nga maminaw sa usa ka boring propesor sa pagbasa gikan sa usa ka basahon. Daghan sa ubang mga PMP test sa bi instruktor gipangulohan kurso nga adunay problema niini nga. Apan uban sa Brain Sensei, kamo sa inyong kaugalingon nga personal nga animated Sensei! He will be your teacher throughout your studies and offer you any additional help or questions you may run into.
Brain Sensei understands that self-studying with slide shows is not very engaging. That's why it gives you your own private teacher that takes you through the studying process step-by-step. This will help keep you from getting lost in the mountains of material and since he's animated, he'll always be there to support you.
6. Detailed Progress Tracking
It's crucial to your success to know where you stand. Brain Sensei just introduced real-time and detailed progress tracking reports. In your dashboard you'll find your scores, duration and status all in one place.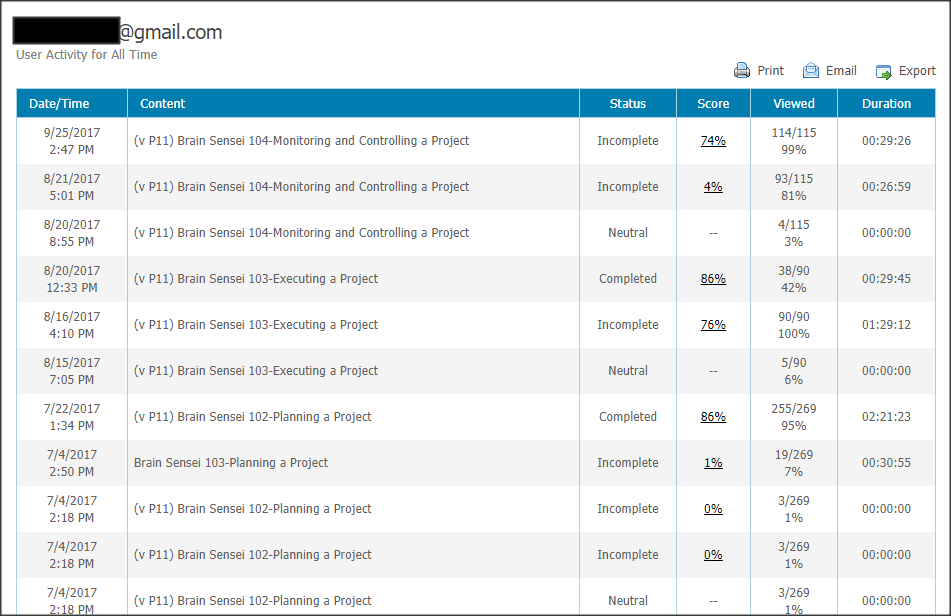 Disbentaha
1. Course Design
While other courses have fancy technology and a flashy website layout, this course is pretty basic and lacking innovative design. You may prefer this since it is a direct and to-the-point way to learn. There aren't any additional distractions that can take your focus away from studying. So depending on how you plan to study, this could be a non issue.
Sulundon nga User
If you are struggling to find a course that consistently keeps you engaged, Brain Sensei's PMP Review Course is the test prep for you! You will be learning PMP concepts and have them ingrained through an exciting story of a young samurai taking on a variety of projects and challenges. This is helpful if you like to learn by experience. You will be able to have anecdotal memories of information that will be tested on exam day, making it easy for you to remember key concepts.
Ang akong Sugyot
By following your personal Sensei's instruction and watching the animation story clips, you will be learning in the least boring way possible. I suggest this course to anyone who struggles with focusing and motivating themselves to keep studying mundane material. Brain Sensei reveals one of the best kept secrets of learning: storytelling.
This top-rated review course will give you everything you need to know to pass the PMP exam, including a 100% pass guarantee to ensure that Brain Sensei's software works. This course is anything but traditional, teaching you through an fascinating story and high-quality interactive content that is consistently up to date with any changes made by the PMI. Check out Brain Sensei's free demo and see the storytelling learning for yourself!
Brain Sensei PMP Review Course Overview
| | |
| --- | --- |
| Brain Sensei Review | mga kalig-on |
| 1. | Interactive Lessons with Storytelling |
| 2. | Pass garantiya |
| 3. | Includes Contact Hours |
| 4. | Pagpraktis Pangutana ug Pasulit |
| 5. | Your Own Personal Instructor |
Brain Sensei Review
Gisulat ni: Amit Patel
5 / 5 mga bituon