aivot sensei tarjoaa ainutlaatuisen tavan valmistautua Project Management Professional tentti. Sen tehtävänä on tarjota yksinkertainen ja innovatiivisia tapoja auttaa sinua saavuttamaan oppimistavoitteensa avulla tarinankerronnan.
Aivot Sensei erottuu muista Test Prep kursseja käyttäen animoitu tarina vahvistaa keskeiset projektinhallinnan käsitteet. Tarinat ovat osoittautuneet helpottaa ihmisiä omaksua tietoa. Tällä lähestymistavalla, Aivojen sensei tarjoaa mukaansatempaavan tapa oppia sen lisäksi helppo lukea sisältöä, tietokilpailuja, ja ton käytännön kysymyksiä.
PLUSSAT
1. Interaktiivinen tunteja Tarinankerronta
Unlike any other PMP review course, Brain Sensei will draw you into a story of a Samurai who overcomes adversity in Feudal Japan. By using an engaging animated story, you will be entertained while bolstering key project management concepts. Most PMP test prep courses are dull and lifeless. With Brain Sensei, your PMP course will be anything but boring.
Stories have been used to share knowledge and teach lessons since the dawn of humankind. Research has also proven that when you receive information in the form of a story, you will have an easier time absorbing and recalling information. Brain Sensei's review material is broken up with little animation clips. These brief animation clips are not only entertaining, but also act as an efficient way to remember important concepts on test day.

2. Pass takuu
Brain Sensei offers a 100% pass guarantee with their 35 hour Complete PMP Exam Prep course. With the unique memorization tactics and innovative teaching style, Brain Sensei guarantees you'll get that passing score. If you meet all the course requirements but still end up failing the exam, you can retake the Brain Sensei PMP prep course for free!
3. Includes Contact Hours for PMP Certification
As a Registered Education Provider (REP) with the Project Management Institute (pk), you will meet the 35 hour requirements for the PMP exam. This course is a great way to maximize your study time without having you pay extra for a course that will let you gain contact hours. Ja, you'll be having fun while putting in the hours!

4. Practice Questions and Quizzes
In addition to the four full length Practice Exams available at the end of the course, you are given quizzes throughout your lessons. Nämä lyhyet Itsearviointeja voi seurata edistymistä ja opastaa sinua kohti aiheita, jotka tarvitsevat enemmän opiskeluaikaa.
Aivojen Sensein täydellinen PMP tietenkin on varustettu yli 900 käytännön tentti kysymykset ja vastauksen selityksiä. Lähes jokainen, joka on läpäissyt PMP tentti samaa mieltä, että käytännön kysymyksiä ovat tärkein osa opiskelua ja paras tapa saada, että ohimennen pisteet.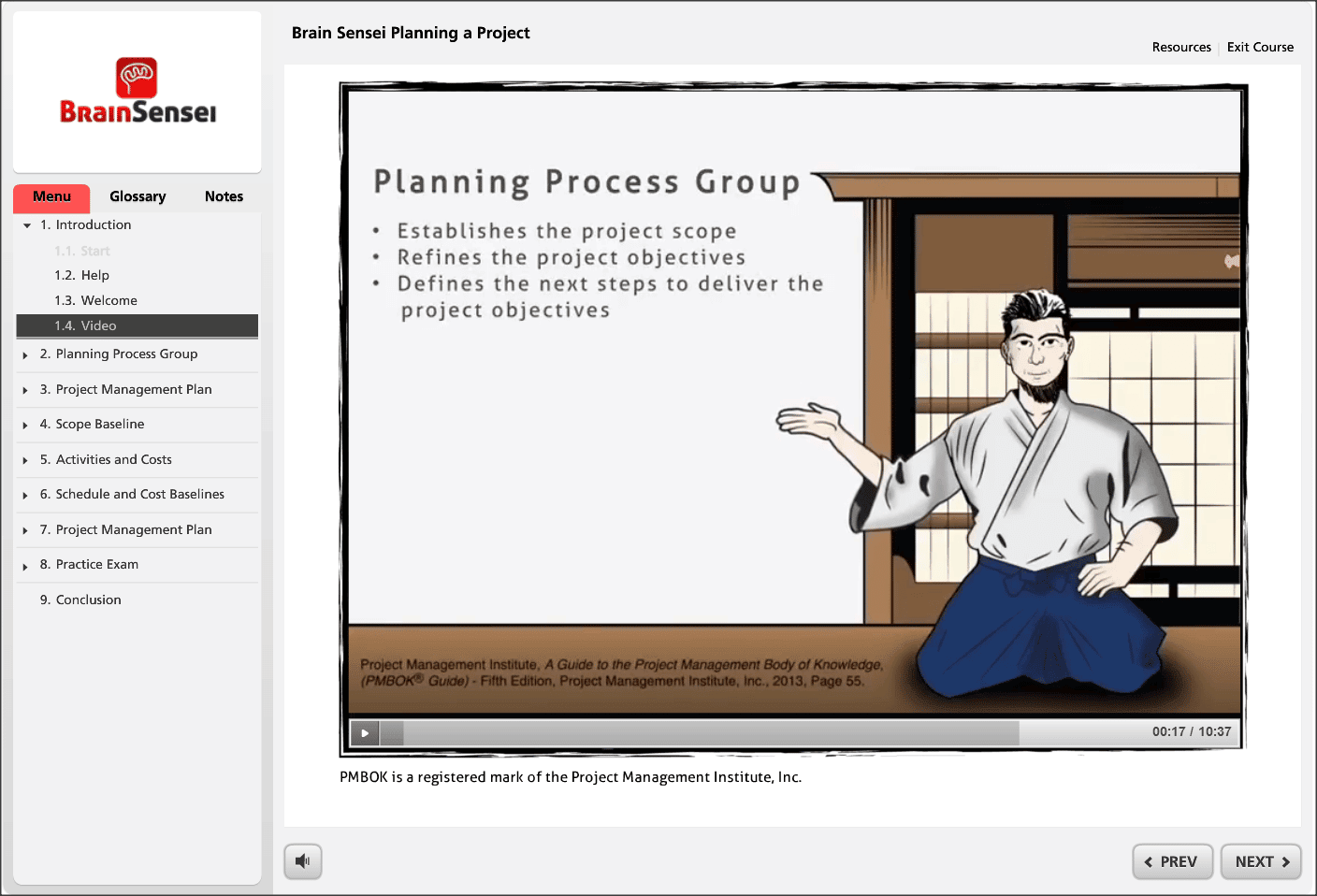 5. Your Own Personal Sensei (Instructor)
Se ei ole kovin hauska kuunnella tylsää professori lukea kirjaa. Many other PMP test prep instructor led courses have this problem. But with Brain Sensei, you get your own personal animated sensei! He will be your teacher throughout your studies and offer you any additional help or questions you may run into.
Brain Sensei understands that self-studying with slide shows is not very engaging. That's why it gives you your own private teacher that takes you through the studying process step-by-step. Tämä auttaa pitämään sinua eksyminen vuoristossa materiaalin ja koska hän on animoitu, Hän tulee aina olemaan siellä tukea teitä.
6. Detailed Progress Tracking
On tärkeää menestyksen tietää missä seisotte. Aivot sensei juuri esitellyt reaaliaikaista ja yksityiskohtaisia ​​edistymisestä seurantaraportit. Kojelaudassasi löydät pisteesi, kesto ja tila yhdessä paikassa.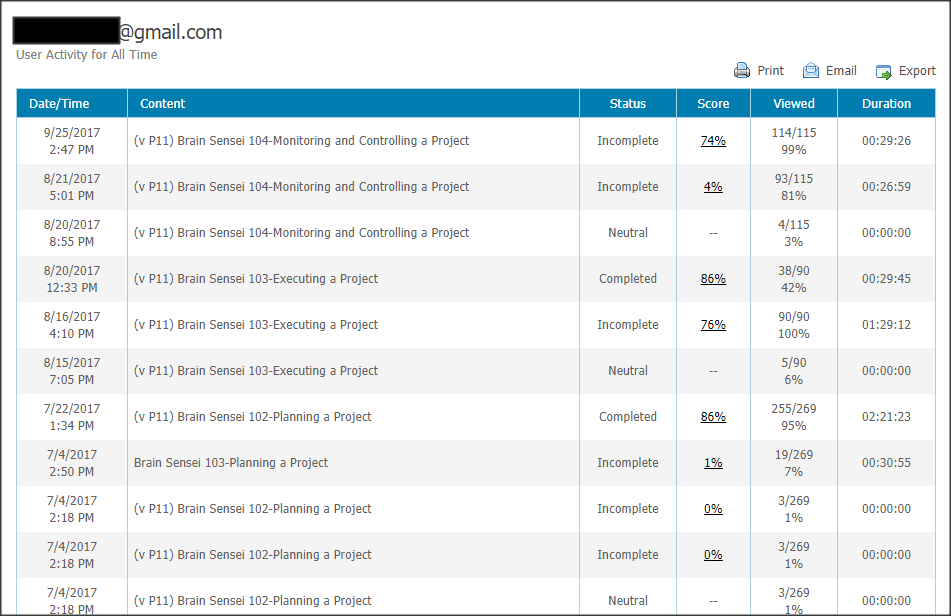 HAITTOJA
1. Course Design
Vaikka muut kurssit ovat hienoja tekniikka ja räikeä nettisivun layout, Tämä kurssi on aika perus ja puuttuu innovatiivinen muotoilu. You may prefer this since it is a direct and to-the-point way to learn. There aren't any additional distractions that can take your focus away from studying. So depending on how you plan to study, this could be a non issue.
Ideal Käyttäjä
If you are struggling to find a course that consistently keeps you engaged, Brain Sensei's PMP Review Course is the test prep for you! You will be learning PMP concepts and have them ingrained through an exciting story of a young samurai taking on a variety of projects and challenges. This is helpful if you like to learn by experience. You will be able to have anecdotal memories of information that will be tested on exam day, making it easy for you to remember key concepts.
Ehdotukseni
By following your personal Sensei's instruction and watching the animation story clips, you will be learning in the least boring way possible. I suggest this course to anyone who struggles with focusing and motivating themselves to keep studying mundane material. Brain Sensei reveals one of the best kept secrets of learning: storytelling.
This top-rated review course will give you everything you need to know to pass the PMP exam, including a 100% pass guarantee to ensure that Brain Sensei's software works. This course is anything but traditional, teaching you through an fascinating story and high-quality interactive content that is consistently up to date with any changes made by the PMI. Check out Brain Sensei's free demo and see the storytelling learning for yourself!
Brain Sensei PMP Review Course Overview
| | |
| --- | --- |
| Aivot Sensei Review | vahvuudet |
| 1. | Interaktiivinen Oppituntia Tarinankerronta |
| 2. | Pass takuu |
| 3. | Sisältää lähiopetusta |
| 4. | Practice Questions and Quizzes |
| 5. | Oma henkilökohtainen ohjaaja |
Aivot Sensei Review
Kirjoittanut: Amit Patel
5 / 5 tähdet