Brain Sensei offers a unique way to prepare for the Project Management Professional exam. Its mission is to provide simple and innovative ways to help you achieve your learning goals through the use of storytelling.
Brain Sensei tsaye a waje daga wasu gwajin Prep darussa ta hanyar yin amfani da wani rai labarin to ƙarfafa key aikin management Concepts. Stories da aka tabbatar da su sa shi sauki ga mutane zuwa sha bayanai. Tare da wannan dabarar, Brain Sensei samar da wani shiga hanyar koyi a Bugu da kari ta zuwa ga sauki karanta abun ciki, quizzes, da kuma wani ton na yi tambayoyi.
Ribobi
1. Interactive Lessons Da Bayar da labaru,
Ba kamar sauran PMP review Hakika, Brain Sensei zai zana ku a cikin wani labarin da wata Samurai wanda ya ci nasara cũta a cikin mulkin gargajiya Japan. By using an engaging animated story, you will be entertained while bolstering key project management concepts. Mai PMP gwajin Prep darussa ne maras ban sha'awa da kuma m. Tare da Brain Sensei, your PMP shakka zai zama wani abu amma m.
Stories an yi amfani da su raba ilmi da koyar da darussa tun fitowar alfijir na 'yan Adam. Bincike ya kuma tabbatar da cewa lokacin da ka karɓi bayanai a cikin wani nau'i na labarin, za ka sami wani sauki lokaci mamaye da kuma ƙarfafu bayanai. Brain Sensei ta review abu ne karya up tare da kadan animation shirye-shiryen bidiyo. Wadannan takaice dai animation shirye-shiryen bidiyo ba kawai nishadi, amma kuma yi aiki a matsayin wani m hanyar tuna muhimmanci Concepts a kan gwajin rana.

2. Garanti izinin tafiya
Brain Sensei yayi wani 100% wuce tabbacin tare da su 35 hour Complete PMP Exam Prep Hakika. Tare da musamman haddar dabara da kuma m koyarwa style, Brain Sensei tabbatar da za ku samu cewa wucewa ci. Idan kun haɗu da duk Hakika bukatun amma har yanzu ƙarasa kasawa da jarrabawa, za ka iya sake kwato da Brain Sensei PMP Prep Hakika for free!
3. Includes Contact Hours for PMP Certification
A matsayin rajista Ilimi arzutawa (dan majalisa) tare da Project Management Institute (SMEs), za ka hadu da 35 hour requirements for the PMP exam. This course is a great way to maximize your study time without having you pay extra for a course that will let you gain contact hours. kuma, you'll be having fun while putting in the hours!

4. Practice Questions and Quizzes
In addition to the four full length Practice Exams available at the end of the course, you are given quizzes throughout your lessons. These short self-assessments can track your progress and help guide you towards topics that need more study time.
Brain Sensei's complete PMP course comes equipped with more than 900 practice exam questions and answer explanations. Almost everyone who has passed the PMP exam will agree that practice questions are the most important part of studying and the best way to get you that passing score.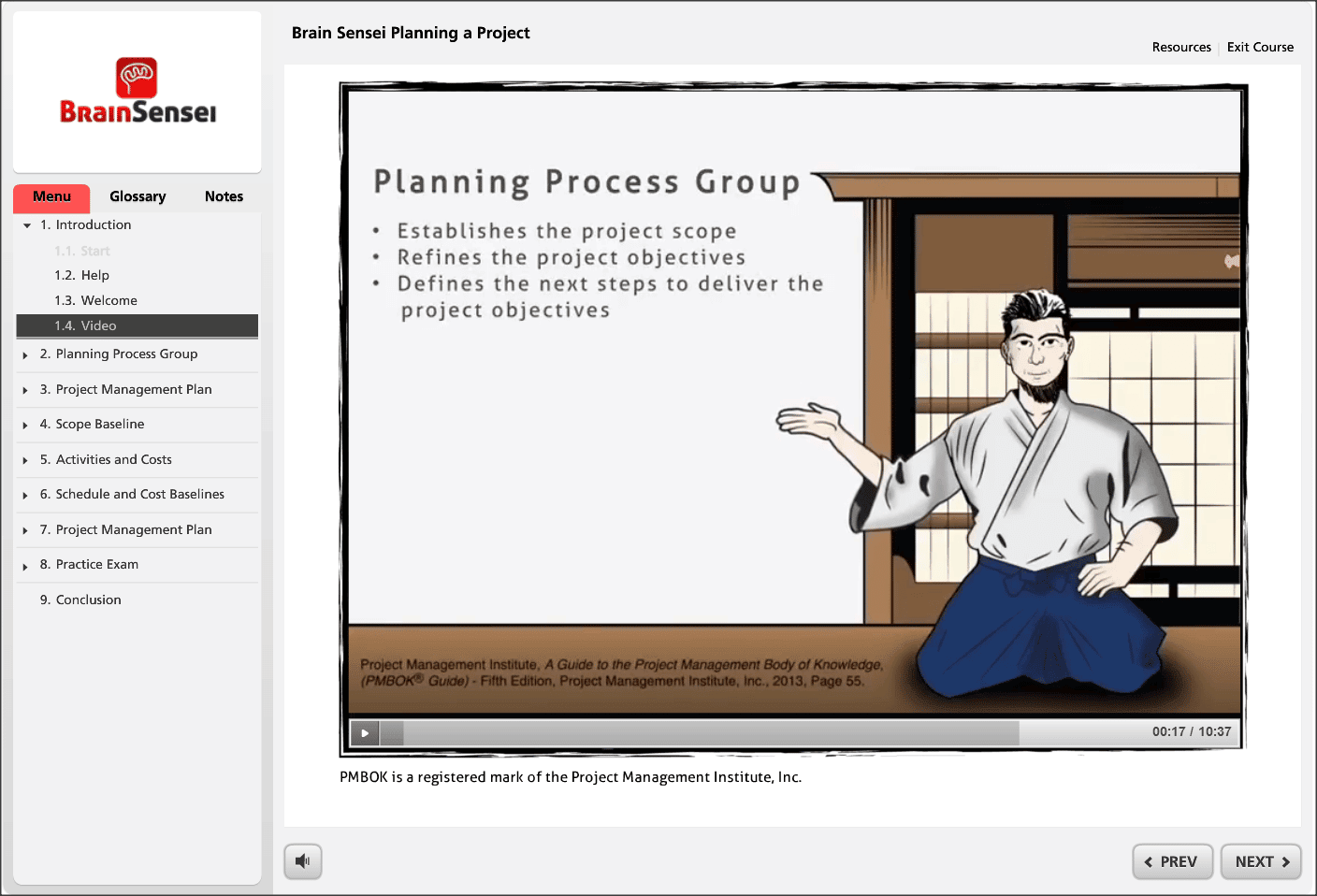 5. Your Own Personal Sensei (Instructor)
It's not very fun to listen to a boring professor read from a book. Many other PMP test prep instructor led courses have this problem. But with Brain Sensei, you get your own personal animated sensei! Ya za a yi your malami a ko'ina ka nazarin da bayar da ku da wani ƙarin taimako ko tambayoyi da ka iya gudu cikin.
Brain Sensei fahimci cewa kai-karatu tare da nunin nuna ba sosai shiga. Shi ya sa shi ya ba ka da masu zaman kansu malamin cewa daukan ka ta hanyar da karatu tsari mataki-by-mataki. Wannan zai taimaka ci gaba da ku daga yin rasa a duwatsun abu da kuma tun da ya ke rai, ya ji ko da yaushe ya kasance a wurin don taimaka ka.
6. Detailed Progress Tracking
Yana da muhimmanci a gane ka nasara to ka san inda ka tsaya. Brain Sensei just introduced real-time and detailed progress tracking reports. In your dashboard you'll find your scores, duration and status all in one place.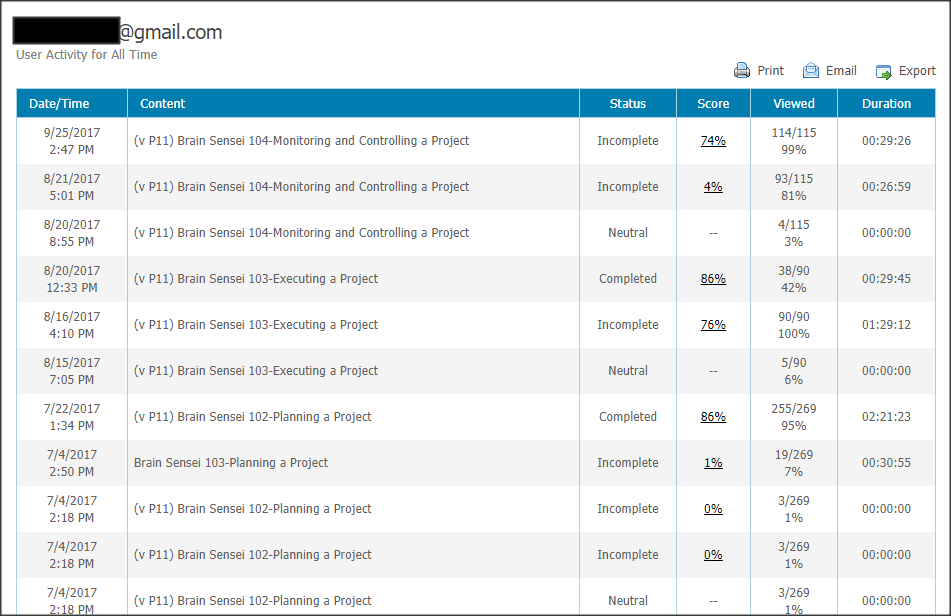 Fursunoni
1. Course Design
While other courses have fancy technology and a flashy website layout, this course is pretty basic and lacking innovative design. You may prefer this since it is a direct and to-the-point way to learn. There aren't any additional distractions that can take your focus away from studying. So depending on how you plan to study, this could be a non issue.
Manufa mai amfani
If you are struggling to find a course that consistently keeps you engaged, Brain Sensei's PMP Review Course is the test prep for you! You will be learning PMP concepts and have them ingrained through an exciting story of a young samurai taking on a variety of projects and challenges. This is helpful if you like to learn by experience. You will be able to have anecdotal memories of information that will be tested on exam day, making it easy for you to remember key concepts.
My shawara
By following your personal Sensei's instruction and watching the animation story clips, you will be learning in the least boring way possible. I suggest this course to anyone who struggles with focusing and motivating themselves to keep studying mundane material. Brain Sensei reveals one of the best kept secrets of learning: storytelling.
This top-rated review course will give you everything you need to know to pass the PMP exam, including a 100% pass guarantee to ensure that Brain Sensei's software works. This course is anything but traditional, yana sanar da ku ta hanyar wani m labarin kuma high quality-m abun ciki wanda shi ne consistently har zuwa ranar da wani canje-canje sanya ta PMI. Duba fitar Brain Sensei ta free demo da kuma ganin bayar da labaru koyo da kanka!
Brain Sensei PMP Review Course Overview
| | |
| --- | --- |
| Brain Sensei Review | karfi |
| 1. | Interactive Lessons da Bayar da labaru, |
| 2. | Garanti izinin tafiya |
| 3. | Ya hada da Contact Hours |
| 4. | Practice Questions and Quizzes |
| 5. | Your Own Personal malami |
Brain Sensei Review
Written by: Amit Patel
5 / 5 taurari