Brain Sensei offers a unique way to prepare for the Project Management Professional exam. Its mission is to provide simple and innovative ways to help you achieve your learning goals through the use of storytelling.
Brain Sensei stands out from the other test prep courses by using an animated story to reinforce key project management concepts. Stories have been proven to make it easier for people to absorb information. With this approach, Brain Sensei provides an engaging way to learn in addition to its easy to read content, kuisa, and a ton of practice questions.
PROS
1. Interactive Lessons With Storytelling
Unlike any other PMP review course, Brain Sensei will draw you into a story of a Samurai who overcomes adversity in Feudal Japan. By using an engaging animated story, you will be entertained while bolstering key project management concepts. Most PMP test prep courses are dull and lifeless. With Brain Sensei, your PMP course will be anything but boring.
Stories have been used to share knowledge and teach lessons since the dawn of humankind. Research has also proven that when you receive information in the form of a story, you will have an easier time absorbing and recalling information. Brain Sensei's review material is broken up with little animation clips. These brief animation clips are not only entertaining, but also act as an efficient way to remember important concepts on test day.

2. Pass Guarantee
Brain Sensei offers a 100% pass guarantee with their 35 hour Complete PMP Exam Prep course. With the unique memorization tactics and innovative teaching style, Brain Sensei guarantees you'll get that passing score. If you meet all the course requirements but still end up failing the exam, you can retake the Brain Sensei PMP prep course for free!
3. Includes Contact Hours for PMP Certification
As a Registered Education Provider (REP) with the Project Management Institute (SMEs), you will meet the 35 hour requirements for the PMP exam. This course is a great way to maximize your study time without having you pay extra for a course that will let you gain contact hours. And, you'll be having fun while putting in the hours!

4. Practice Questions and Quizzes
In addition to the four full length Practice Exams available at the end of the course, you are given quizzes throughout your lessons. These short self-assessments can track your progress and help guide you towards topics that need more study time.
Brain Sensei's complete PMP course comes equipped with more than 900 practice exam questions and answer explanations. Almost everyone who has passed the PMP exam will agree that practice questions are the most important part of studying and the best way to get you that passing score.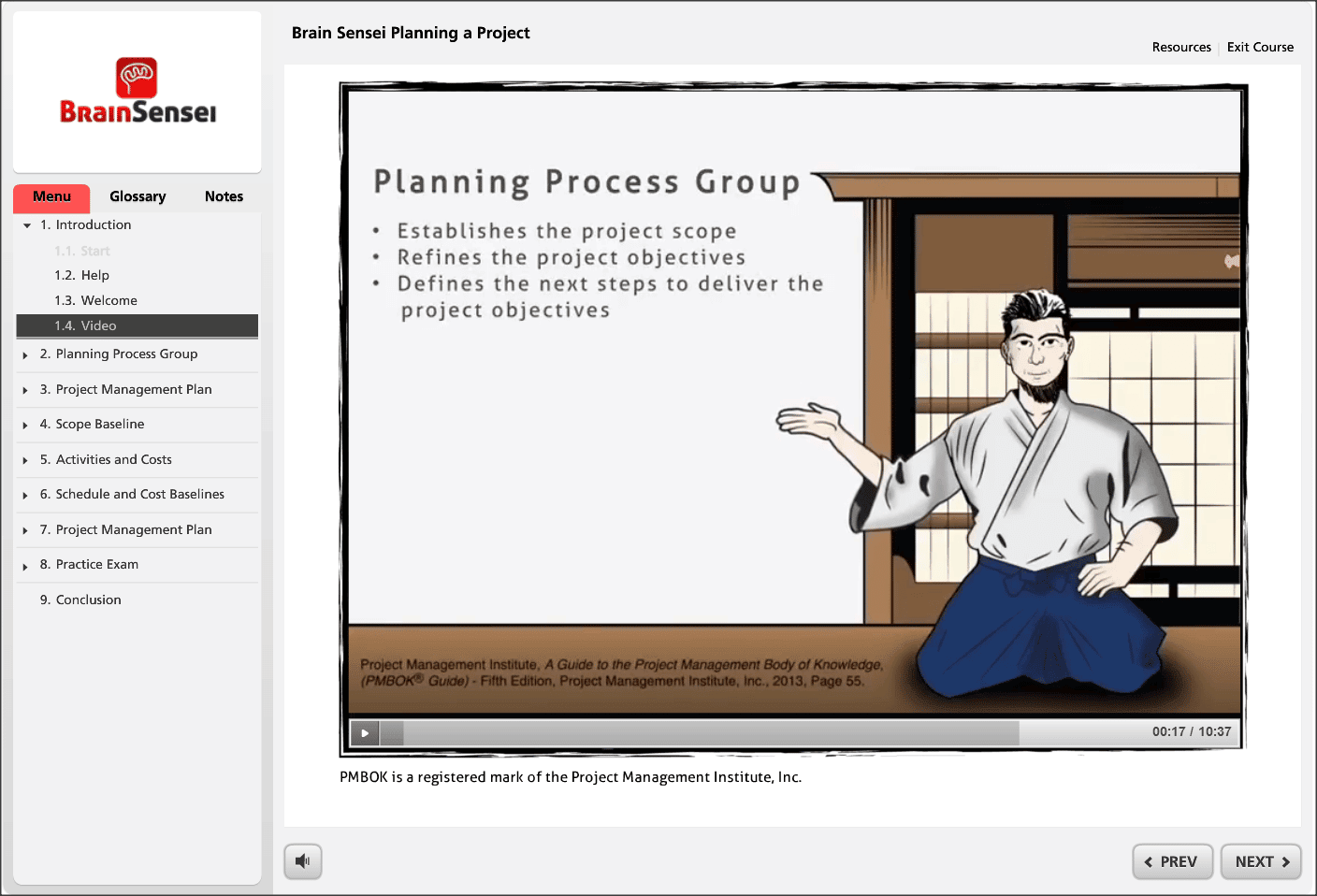 5. Your Own Personal Sensei (Instructor)
It's not very fun to listen to a boring professor read from a book. Many other PMP test prep instructor led courses have this problem. But with Brain Sensei, you get your own personal animated sensei! He will be your teacher throughout your studies and offer you any additional help or questions you may run into.
Brain Sensei understands that self-studying with slide shows is not very engaging. That's why it gives you your own private teacher that takes you through the studying process step-by-step. This will help keep you from getting lost in the mountains of material and since he's animated, he'll always be there to support you.
6. Detailed Progress Tracking
It's crucial to your success to know where you stand. Brain Sensei just introduced real-time and detailed progress tracking reports. In your dashboard you'll find your scores, duration and status all in one place.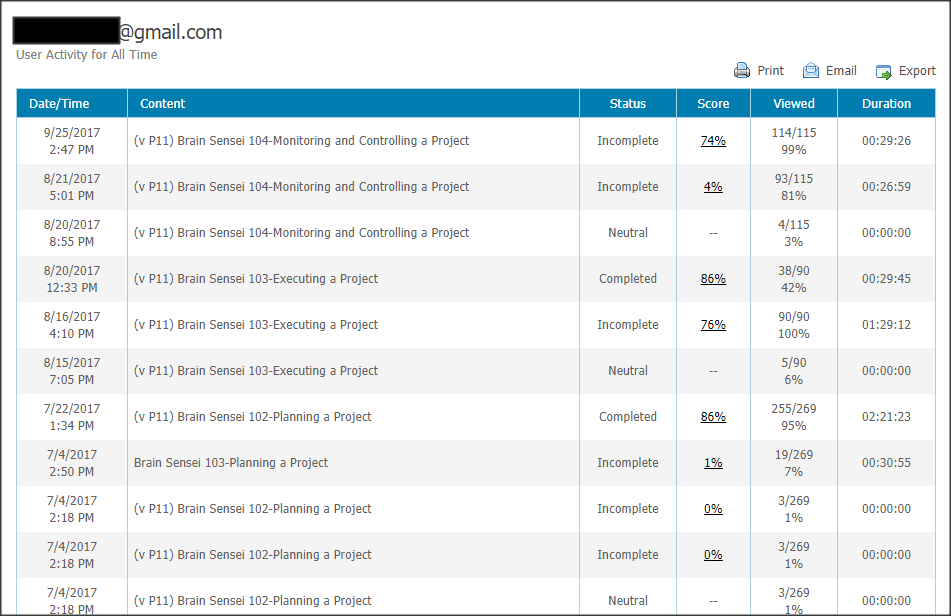 hooluolu mai
1. Course Design
While other courses have fancy technology and a flashy website layout, this course is pretty basic and lacking innovative design. You may prefer this since it is a direct and to-the-point way to learn. There aren't any additional distractions that can take your focus away from studying. So depending on how you plan to study, this could be a non issue.
maikaʻi Mea hoʻohana
If you are struggling to find a course that consistently keeps you engaged, Brain Sensei's PMP Review Course is the test prep for you! You will be learning PMP concepts and have them ingrained through an exciting story of a young samurai taking on a variety of projects and challenges. He kōkua maikaʻi ina oe e makemake, e aʻo ma ka hoao ana. Oe e e hiki i ka i anecdotal Memories o ka 'ike i e e ikea ma ka hōʻike lā, ana ka mea oluolu ia oe, e hoomanao kī manaÿo.
My a'ōlelo hoʻohali
Ma ka hahai ana i kou pilikino Sensei ka aʻo a me ka nānā i ka wikiō moʻolelo pakalōlō, oe e ke aʻo 'ana ma ka liʻiliʻi loa manakā ala hiki. I paipai keia holo ana i ka mea nana e aumeume me hoʻomālama a me kona kūpaʻa ia lakou iho, e malama i këia mundane mea. Beriana Sensei hōʻike mai kekahi o ka maikai mālama mea huna o ka naauao: moʻolelo.
Kēia luna-Loipālākiō manual holo ana, e haawi aku oe i na mea a pau e pono ke ike i ka hele i ka PMP hōʻike, me kekahi 100% kekahi kumu e hōʻoia 'ia Beriana Sensei ka lako polokalamu hana. Keia hana ana oia i kekahi mea akā, ku una, e ao ana oe ma ka kupaianaha moʻolelo a me ka kiʻekiʻe-e like ai pä maʻiʻo i mea kūpono i ka lā i kekahi loli i ma ka PMI. Hōʻoia mai Beriana Sensei ka noa hōʻike liʻiliʻi, a ike i ka moʻolelo ke aʻo 'ana no oe ia oe iho!
Brain Sensei PMP Review Course Overview
| | |
| --- | --- |
| Brain Sensei Review | ikaika |
| 1. | Interactive Lessons with Storytelling |
| 2. | Pass Guarantee |
| 3. | Includes Contact Hours |
| 4. | Practice Questions and Quizzes |
| 5. | Your Own Personal Instructor |
Brain Sensei Review
palapala e: Amit Patel
5 / 5 hoku