Brain Sensei offers a unique way to prepare for the Project Management Professional exam. Its mission is to provide simple and innovative ways to help you achieve your learning goals through the use of storytelling.
Brain Sensei stands out from the other test prep courses by using an animated story to reinforce key project management concepts. Stories have been proven to make it easier for people to absorb information. With this approach, Brain Sensei provides an engaging way to learn in addition to its easy to read content, quizzes, thiab ib tug ton ntawm kev xyaum cov lus nug.
Pros
1. Sib tham sib tshooj lus Nrog Storytelling
Tsis zoo li lwm yam PMP xyuas cov hoob kawm, Lub hlwb Sensei yuav coj koj mus rau hauv ib zaj dab neeg ntawm ib tug Samurai leej twg overcomes kev nyuaj siab nyob rau hauv feudal Nyiv. Los ntawm kev siv ib tug siv animated zaj dabneeg, koj yuav tsum tau entertained thaum bolstering tseem ceeb peb tes num tswj cov tswv yim. Most PMP test prep courses are dull and lifeless. With Brain Sensei, your PMP course will be anything but boring.
Stories have been used to share knowledge and teach lessons since the dawn of humankind. Research has also proven that when you receive information in the form of a story, you will have an easier time absorbing and recalling information. Brain Sensei's review material is broken up with little animation clips. These brief animation clips are not only entertaining, but also act as an efficient way to remember important concepts on test day.

2. Pass Guarantee
Brain Sensei offers a 100% pass guarantee with their 35 hour Complete PMP Exam Prep course. With the unique memorization tactics and innovative teaching style, Brain Sensei guarantees you'll get that passing score. If you meet all the course requirements but still end up failing the exam, you can retake the Brain Sensei PMP prep course for free!
3. Xws li Tiv tauj Teev rau PMP Certification
As a Registered Education Provider (REP) with the Project Management Institute (SMEs), you will meet the 35 hour requirements for the PMP exam. This course is a great way to maximize your study time without having you pay extra for a course that will let you gain contact hours. And, you'll be having fun while putting in the hours!

4. Xyaum Lus nug thiab lus noog
In addition to the four full length Practice Exams available at the end of the course, you are given quizzes throughout your lessons. These short self-assessments can track your progress and help guide you towards topics that need more study time.
Brain Sensei's complete PMP course comes equipped with more than 900 practice exam questions and answer explanations. Almost everyone who has passed the PMP exam will agree that practice questions are the most important part of studying and the best way to get you that passing score.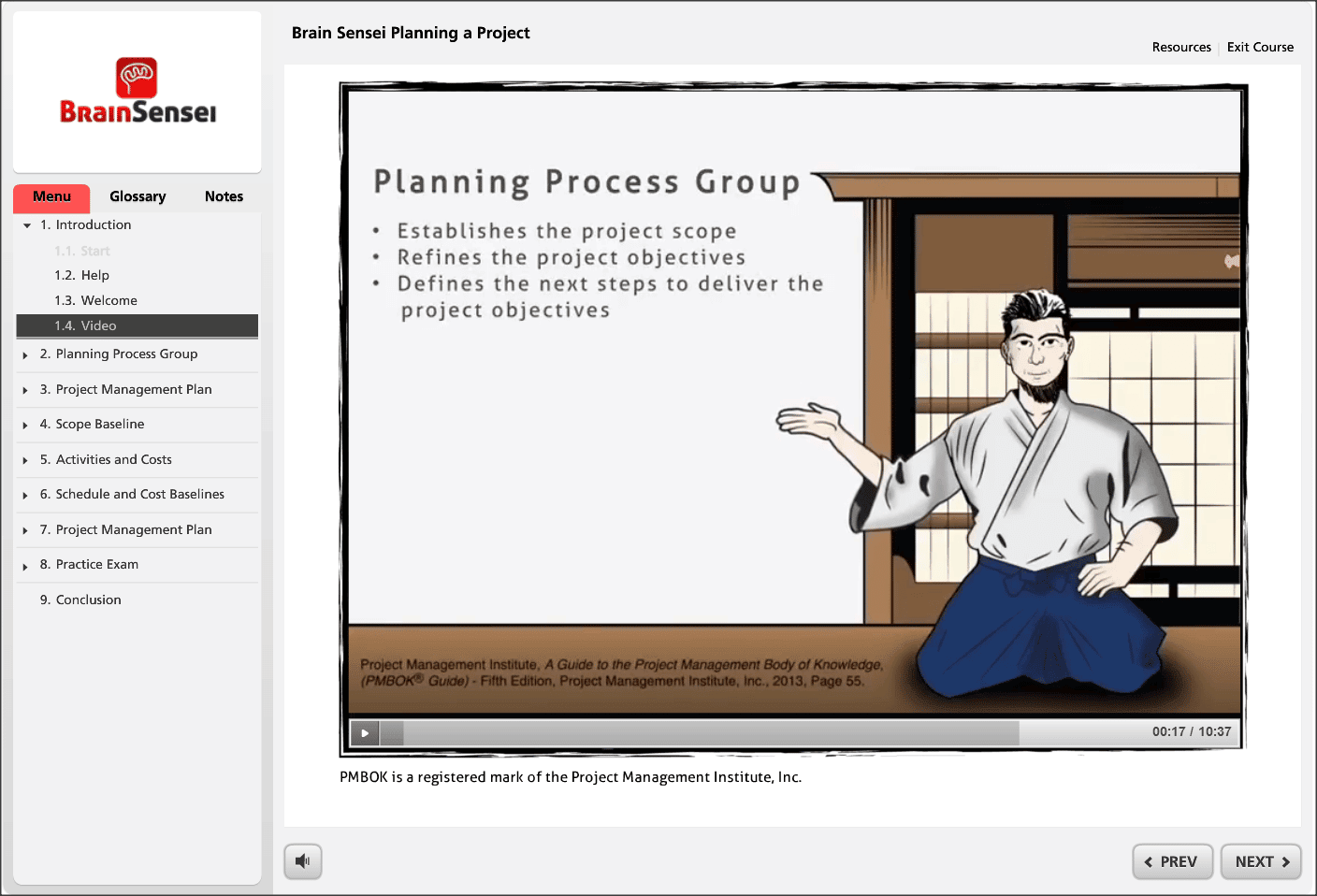 5. Koj tus kheej Tej Sensei (qhia)
It's not very fun to listen to a boring professor read from a book. Many other PMP test prep instructor led courses have this problem. But with Brain Sensei, you get your own personal animated sensei! Nws yuav yog koj tus xib fwb thoob plaws hauv koj cov kev tshawb fawb thiab muab koj tej kev pab ntxiv los yog cov lus nug tej zaum koj yuav khiav mus rau hauv.
Lub hlwb Sensei to taub tias nws tus kheej-kawm nrog swb qhia tau hais tias yog tsis heev siv. Yog vim li cas nws muab rau koj koj tus kheej ntiag tug xib fwb uas yuav siv sij hawm koj mus txog rau kev kawm txheej txheem step-by-step. Qhov no yuav pab kom koj tsis tau poob rau hauv lub roob ntawm cov ntaub ntawv thiab vim nws yog animated, nws mam li ib txwm muaj los pab txhawb koj.
6. Xav paub Progress mus txog qhovtwg
Nws yog tseem ceeb heev rau koj txoj kev paub qhov twg koj sawv. Lub hlwb Sensei cia li nkag tau rau real-lub sij hawm thiab ncauj lus kom ntxaws kev kawm nrhiav cov lus ceeb toom. Nyob rau hauv koj dashboard koj mam li pom koj cov qhab nees, ntev thiab cov txheej xwm tag nrho cov nyob rau hauv ib qhov chaw.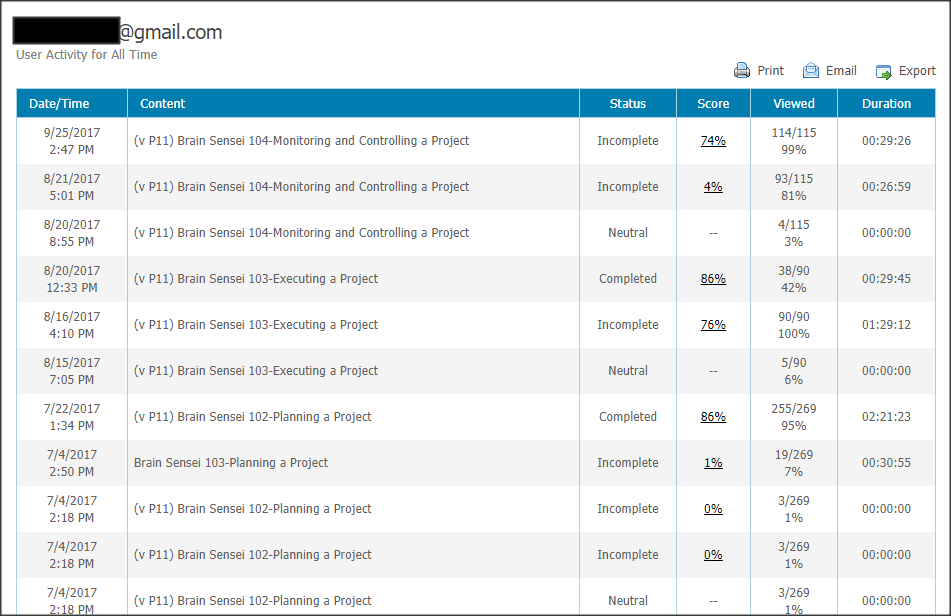 Cons
1. Course Design
Thaum lwm cov kev kawm muaj txoj kev zoo nkauj technology thiab ib tug flashy website layout, hoob no yog zoo nkauj yooj yim thiab tsis txoj kev tsim. Tej zaum koj yuav xav li no vim nws yog ib tug ncaj thiab rau-tus-point txoj kev kawm. Muaj tsis muaj ntxiv nrhoo uas yuav coj koj ua kom pom tseeb nyob deb los ntawm kev kawm. Yog li ntawd nyob rau yuav ua li cas koj npaj yuav kawm, qhov no yuav yog ib tug uas tsis yog qhov teeb meem.
Lw Tus neeg siv
If you are struggling to find a course that consistently keeps you engaged, Brain Sensei's PMP Review Course is the test prep for you! You will be learning PMP concepts and have them ingrained through an exciting story of a young samurai taking on a variety of projects and challenges. This is helpful if you like to learn by experience. You will be able to have anecdotal memories of information that will be tested on exam day, making it easy for you to remember key concepts.
kuv Lo lus txhib
Los ntawm cov nram qab no rau koj tus kheej Sensei cov lus qhia thiab saib cov animation zaj dabneeg clips, koj yuav tsum tau kawm nyob rau hauv lub kawg boring txoj kev uas tau. Kuv muab qhov no kawg rau cov neeg uas struggles nrog tsom thiab motivating lawv tus kheej kom kawm mundane cov ntaub ntawv uas. Lub hlwb Sensei qhia ib tug ntawm qhov zoo tshaj plaws khaws cia secrets ntawm kev kawm: dab neeg.
Qhov no nyob saum txoj kev ntsuam xyuas thiab thaum kawg yuav muab rau koj txhua yam uas koj yuav tsum paub kom dhau lub PMP ntsuam xyuas, xws li ib tug 100% dhau guarantee kom paub meej tias lub hlwb Sensei tus software tej hauj lwm. This course is anything but traditional, teaching you through an fascinating story and high-quality interactive content that is consistently up to date with any changes made by the PMI. Check out Brain Sensei's free demo and see the storytelling learning for yourself!
Lub hlwb Sensei PMP Review Chav Kawm Txheej txheem cej luam
| | |
| --- | --- |
| Brain Sensei Review | txawj |
| 1. | Interactive Lessons with Storytelling |
| 2. | Pass Guarantee |
| 3. | Includes Contact Hours |
| 4. | Xyaum Lus nug thiab lus noog |
| 5. | Your Own Personal Instructor |
Brain Sensei Review
sau los ntawm: Amit Patel
5 / 5 hnub qub