otak Sensei menawarkan cara yang unik untuk mempersiapkan Manajemen Proyek ujian profesional. Misinya adalah untuk menyediakan cara sederhana dan inovatif untuk membantu Anda mencapai tujuan belajar Anda melalui penggunaan cerita.
Otak Sensei berdiri keluar dari kursus persiapan ujian lain dengan menggunakan sebuah cerita animasi untuk memperkuat konsep-konsep manajemen proyek kunci. Cerita telah terbukti membuat lebih mudah bagi orang untuk menyerap informasi. Dengan pendekatan ini, Brain Sensei provides an engaging way to learn in addition to its easy to read content, kuis, and a ton of practice questions.
Pro
1. Interactive Lessons With Storytelling
Unlike any other PMP review course, Brain Sensei will draw you into a story of a Samurai who overcomes adversity in Feudal Japan. By using an engaging animated story, you will be entertained while bolstering key project management concepts. Most PMP test prep courses are dull and lifeless. With Brain Sensei, your PMP course will be anything but boring.
Stories have been used to share knowledge and teach lessons since the dawn of humankind. Research has also proven that when you receive information in the form of a story, you will have an easier time absorbing and recalling information. Brain Sensei's review material is broken up with little animation clips. These brief animation clips are not only entertaining, but also act as an efficient way to remember important concepts on test day.

2. Jaminan lulus
Brain Sensei offers a 100% pass guarantee with their 35 hour Complete PMP Exam Prep course. With the unique memorization tactics and innovative teaching style, Brain Sensei guarantees you'll get that passing score. If you meet all the course requirements but still end up failing the exam, you can retake the Brain Sensei PMP prep course for free!
3. Includes Contact Hours for PMP Certification
As a Registered Education Provider (REP) with the Project Management Institute (UKM), you will meet the 35 hour requirements for the PMP exam. This course is a great way to maximize your study time without having you pay extra for a course that will let you gain contact hours. Dan, you'll be having fun while putting in the hours!

4. Practice Questions and Quizzes
In addition to the four full length Practice Exams available at the end of the course, you are given quizzes throughout your lessons. These short self-assessments can track your progress and help guide you towards topics that need more study time.
Brain Sensei's complete PMP course comes equipped with more than 900 practice exam questions and answer explanations. Almost everyone who has passed the PMP exam will agree that practice questions are the most important part of studying and the best way to get you that passing score.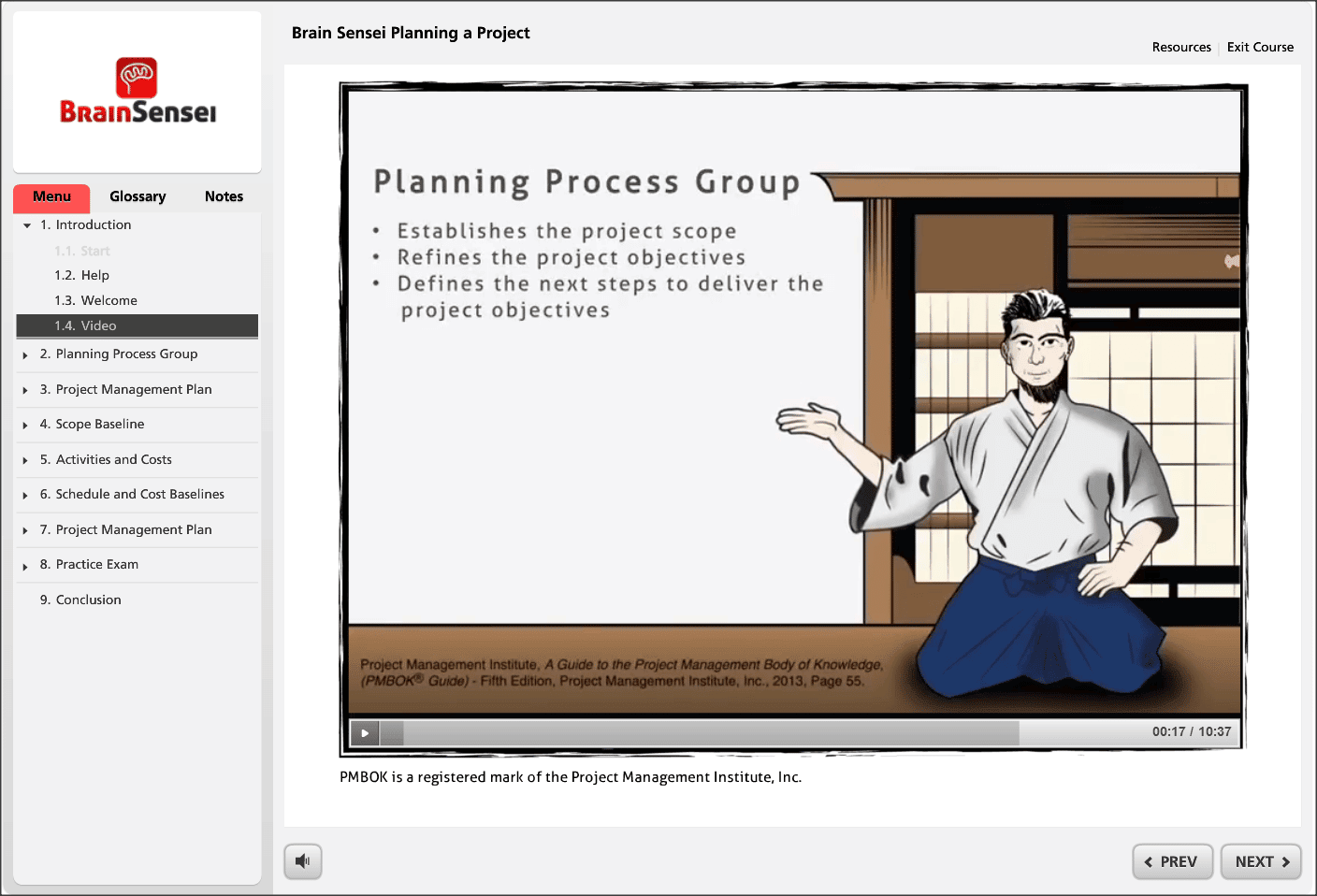 5. Your Own Personal Sensei (Instructor)
It's not very fun to listen to a boring professor read from a book. Many other PMP test prep instructor led courses have this problem. But with Brain Sensei, you get your own personal animated sensei! He will be your teacher throughout your studies and offer you any additional help or questions you may run into.
Brain Sensei understands that self-studying with slide shows is not very engaging. That's why it gives you your own private teacher that takes you through the studying process step-by-step. This will help keep you from getting lost in the mountains of material and since he's animated, he'll always be there to support you.
6. Detailed Progress Tracking
It's crucial to your success to know where you stand. Otak Sensei saja memperkenalkan real-time dan pelacakan kemajuan laporan rinci. Di dashboard Anda, Anda akan menemukan skor Anda, durasi dan status semua dalam satu tempat.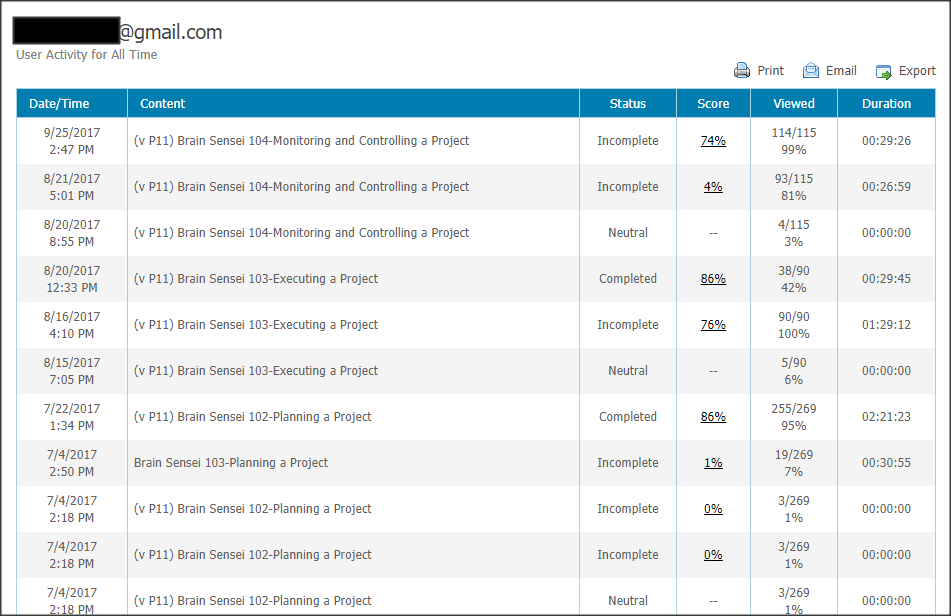 KONTRA
1. Course Design
Sementara program lain memiliki teknologi mewah dan tata letak situs web mencolok, Tentu saja hal ini cukup mendasar dan kurang desain inovatif. Anda dapat memilih ini karena itu adalah langsung dan to-the-point cara untuk belajar. Tidak ada gangguan tambahan yang dapat mengambil fokus Anda dari belajar. Jadi tergantung pada bagaimana Anda berencana untuk belajar, ini bisa menjadi masalah non.
Ideal Pengguna
Jika Anda sedang berjuang untuk menemukan kursus yang secara konsisten membuat Anda terlibat, Otak sensei PMP Review Course adalah persiapan ujian untuk Anda! Anda akan belajar konsep PMP dan telah mereka tertanam melalui cerita menarik dari seorang samurai muda mengambil berbagai proyek dan tantangan. Hal ini berguna jika Anda ingin belajar dari pengalaman. Anda akan dapat memiliki kenangan anekdot informasi yang akan diuji pada hari ujian, sehingga mudah bagi Anda untuk mengingat konsep-konsep kunci.
Saran saya
By following your personal Sensei's instruction and watching the animation story clips, you will be learning in the least boring way possible. I suggest this course to anyone who struggles with focusing and motivating themselves to keep studying mundane material. Brain Sensei reveals one of the best kept secrets of learning: storytelling.
This top-rated review course will give you everything you need to know to pass the PMP exam, including a 100% pass guarantee to ensure that Brain Sensei's software works. Tentu saja ini adalah sesuatu tetapi tradisional, mengajar Anda melalui cerita menarik dan berkualitas tinggi konten interaktif yang secara konsisten up to date dengan perubahan yang dilakukan oleh PMI yang. Lihat demo gratis Otak Sensei dan melihat cerita yang belajar untuk diri sendiri!
Brain Sensei PMP Review Course Overview
| | |
| --- | --- |
| Otak Sensei Ulasan | kekuatan |
| 1. | Pelajaran interaktif dengan Mendongeng |
| 2. | Jaminan lulus |
| 3. | Termasuk Jam Hubungi |
| 4. | Practice Questions and Quizzes |
| 5. | Instruktur Pribadi Anda Sendiri |
Otak Sensei Ulasan
Ditulis oleh: amit Patel
5 / 5 bintang