Brain Sensei nawakake cara unik kanggo nyiapake kanggo Manajemen Proyek ujian Professional. Sawijining misi kanggo nyedhiyani cara prasaja lan inovatif kanggo mbantu entuk gol learning liwat nggunakake crito.
Brain Sensei stands metu saka kursus test terusan liyane kanthi nggunakake crita animasi kanggo nguwataké konsep manajemen proyek tombol. Stories wis buktiaken wis luwih gampang kanggo wong kanggo nresep informasi. Kanthi pendekatan, Brain Sensei menehi cara makarya kanggo sinau saliyane gampang kanggo maca isine, Mrikso, lan ton laku pitakonan.
Pros
1. Interactive Lessons With Storytelling
Unlike any other PMP review course, Brain Sensei will draw you into a story of a Samurai who overcomes adversity in Feudal Japan. By using an engaging animated story, you will be entertained while bolstering key project management concepts. Most PMP test prep courses are dull and lifeless. With Brain Sensei, your PMP course will be anything but boring.
Stories have been used to share knowledge and teach lessons since the dawn of humankind. Research has also proven that when you receive information in the form of a story, you will have an easier time absorbing and recalling information. Brain Sensei's review material is broken up with little animation clips. These brief animation clips are not only entertaining, but also act as an efficient way to remember important concepts on test day.

2. njamin pass
Brain Sensei offers a 100% pass guarantee with their 35 hour Complete PMP Exam Prep course. With the unique memorization tactics and innovative teaching style, Brain Sensei guarantees you'll get that passing score. If you meet all the course requirements but still end up failing the exam, you can retake the Brain Sensei PMP prep course for free!
3. Includes Contact Hours for PMP Certification
As a Registered Education Provider (REP) with the Project Management Institute (UKM), you will meet the 35 hour requirements for the PMP exam. This course is a great way to maximize your study time without having you pay extra for a course that will let you gain contact hours. And, you'll be having fun while putting in the hours!

4. Practice Questions and Quizzes
In addition to the four full length Practice Exams available at the end of the course, you are given quizzes throughout your lessons. These short self-assessments can track your progress and help guide you towards topics that need more study time.
Brain Sensei's complete PMP course comes equipped with more than 900 practice exam questions and answer explanations. Almost everyone who has passed the PMP exam will agree that practice questions are the most important part of studying and the best way to get you that passing score.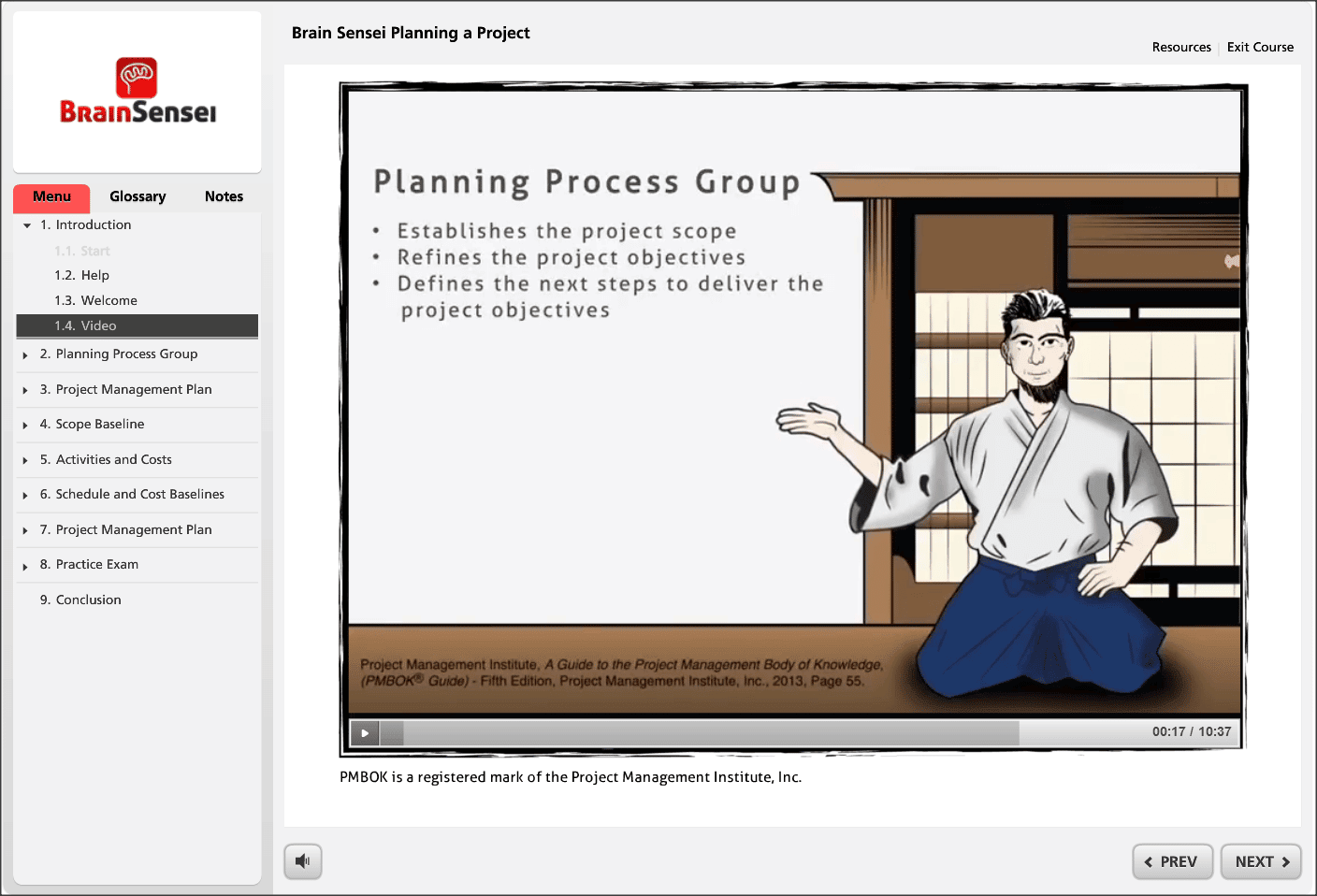 5. Your Own Personal Sensei (Instructor)
It's not very fun to listen to a boring professor read from a book. Akeh test PMP Instructor terusan liyane mimpin Kursus duwe masalah iki. Nanging karo Brain Sensei, sampeyan njaluk dhewe pribadi animasi sensei! Panjenengane bakal dadi guru ing saindhenging pasinaon lan kurban apa-apa tambahan utawa pitakonan sampeyan bisa mbukak menyang.
Brain Sensei mangertèni sing poto-sinau karo geser nuduhake ora banget makarya. Makane iku menehi guru pribadi dhewe sing njupuk liwat proses sinau langkah-langkah dening-. Iki bakal bantuan supaya saka njupuk ilang ing gunung saka materi lan wiwit iku animasi, kang bakal tansah ana kanggo ndhukung sampeyan.
6. Detailed Progress Tracking
Iku wigati kanggo sukses ngerti ngendi sampeyan ngadeg. Brain Sensei mung ngenalaken nyata-wektu lan proses nelusuri rinci laporan. Ing dashboard sampeyan bakal nemokake nilai, dadi lan status kabeh ing sak panggonan.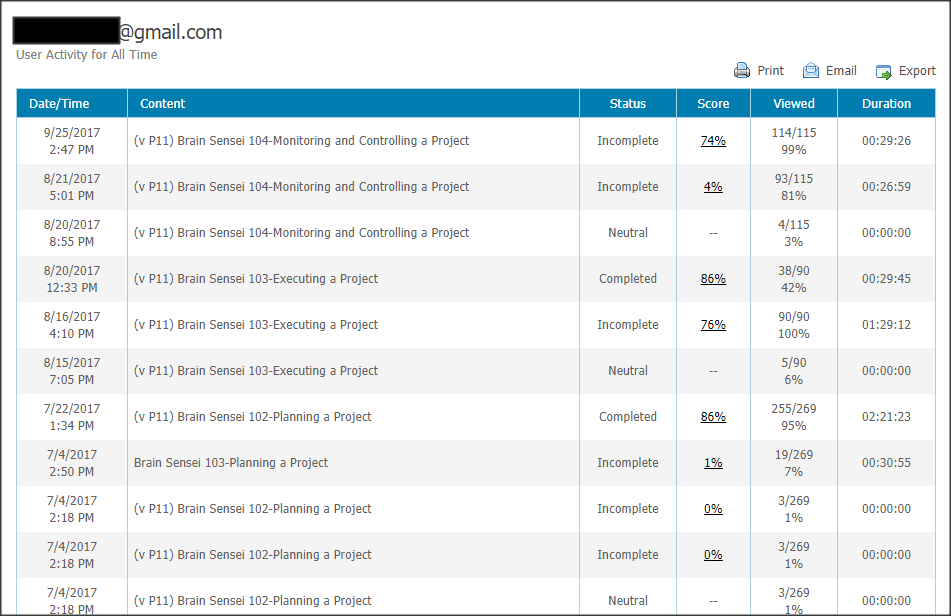 Cons
1. Course Design
Nalika kursus liyane duwe teknologi apik lan tata situs flashy, Mesthi iki cantik dhasar lan kakurangan rancangan inovatif. You may prefer this since it is a direct and to-the-point way to learn. There aren't any additional distractions that can take your focus away from studying. So depending on how you plan to study, this could be a non issue.
Becik Pangguna
If you are struggling to find a course that consistently keeps you engaged, Brain Sensei's PMP Review Course is the test prep for you! You will be learning PMP concepts and have them ingrained through an exciting story of a young samurai taking on a variety of projects and challenges. This is helpful if you like to learn by experience. You will be able to have anecdotal memories of information that will be tested on exam day, making it easy for you to remember key concepts.
Suggestion Kula
By following your personal Sensei's instruction and watching the animation story clips, sampeyan bakal Learning ing cara paling mboseni bisa. I suggest this course to anyone who struggles with focusing and motivating themselves to keep studying mundane material. Brain Sensei reveals one of the best kept secrets of learning: storytelling.
This top-rated review course will give you everything you need to know to pass the PMP exam, including a 100% pass guarantee to ensure that Brain Sensei's software works. This course is anything but traditional, memulang sampeyan liwat crita narik lan kualitas isi interaktif sing terus-terusan nganti tanggal karo owah-owahan digawe dening PMI ing. Priksa metu Tur free Brain Sensei lan ndeleng crito ing Learning kanggo dhewe!
Brain Sensei PMP Review Course Overview
| | |
| --- | --- |
| Brain Sensei Review | kekiyatan |
| 1. | Pawulangan Interactive karo Crito |
| 2. | njamin pass |
| 3. | Kalebu Jam Contact |
| 4. | Practice Questions and Quizzes |
| 5. | Instructor pribadi Piyambak |
Brain Sensei Review
Di tulis karo: Amit Patel
5 / 5 stars