Тархи Sensei Төслийн менежментийн мэргэжлийн шалгалтанд бэлтгэх өвөрмөц арга замыг санал болгож байна. Түүний эрхэм зорилго нь та хүүрнэл ашиглах замаар өөрийн сургалтын зорилгодоо хүрэхэд нь туслах энгийн, шинэлэг арга замыг хангах явдал юм.
Тархи Sensei төслийн удирдлагын үндсэн үзэл баримтлалыг улам бататгахын тулд хүүхэлдэйн түүхийг ашиглан бусад туршилтын бэлтгэл курс гарч зогсож байна. Stories have been proven to make it easier for people to absorb information. With this approach, Brain Sensei provides an engaging way to learn in addition to its easy to read content, таавар, and a ton of practice questions.
Давуу
1. Interactive Lessons With Storytelling
Unlike any other PMP review course, Brain Sensei will draw you into a story of a Samurai who overcomes adversity in Feudal Japan. By using an engaging animated story, you will be entertained while bolstering key project management concepts. Most PMP test prep courses are dull and lifeless. With Brain Sensei, your PMP course will be anything but boring.
Stories have been used to share knowledge and teach lessons since the dawn of humankind. Research has also proven that when you receive information in the form of a story, you will have an easier time absorbing and recalling information. Brain Sensei's review material is broken up with little animation clips. These brief animation clips are not only entertaining, but also act as an efficient way to remember important concepts on test day.

2. Pass баталгаа
Brain Sensei offers a 100% pass guarantee with their 35 hour Complete PMP Exam Prep course. With the unique memorization tactics and innovative teaching style, Brain Sensei guarantees you'll get that passing score. If you meet all the course requirements but still end up failing the exam, you can retake the Brain Sensei PMP prep course for free!
3. Includes Contact Hours for PMP Certification
As a Registered Education Provider (REP) with the Project Management Institute (ЖДҮ-), you will meet the 35 hour requirements for the PMP exam. This course is a great way to maximize your study time without having you pay extra for a course that will let you gain contact hours. Тэгээд, you'll be having fun while putting in the hours!

4. Practice Questions and Quizzes
Мэдээж эцэст бэлэн дөрвөн бүрэн хэмжээний дадлага шалгалт гадна, Хэрэв та өөрийн хичээлийн туршид төлбөрт таавар өгсөн байна. Эдгээр нь богино, өөрөө үнэлгээ илүү их судалгаа хугацаа хэрэгтэй сэдвүүдийн талаар таныг удирдан таны явцыг хянах ба туслах болно.
Тархи Sensei-ын бүрэн ХОУХШ Мэдээж илүү тоноглогдсон ирдэг 900 практик шалгалтын асуулт, хариулт тайлбар. Бараг ХОУХШ шалгалтын гэдгийг практик асуултууд судлах хамгийн чухал хэсэг мөн гэдгийг та олж авах хамгийн сайн арга юм тохиролцож болно өнгөрсөн хүн бүр өнгөрөх оноо.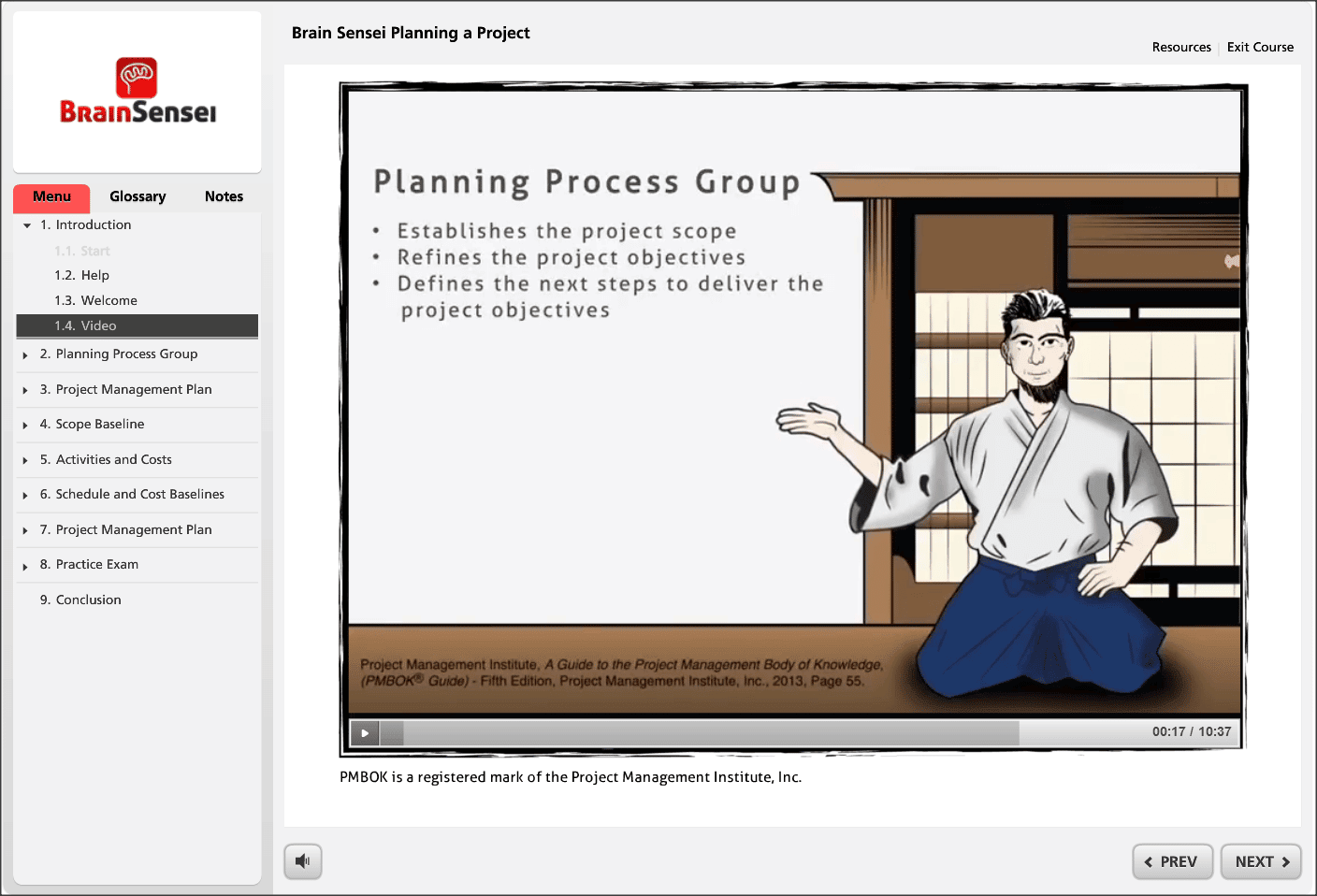 5. Your Own Personal Sensei (Instructor)
Энэ номноос уншиж уйтгартай профессор сонсох нь маш хөгжилтэй зүйл биш. Өөр олон ХОУХШ туршилтын бэлтгэл багш сургалт энэ асуудлыг байна хүргэсэн. Гэвч Тархи Sensei нь, Хэрэв та өөрийн хувийн хүүхэлдэйн sensei авах! Тэр та нарын судалгааны туршид таны багш байж, танд ямар нэгэн нэмэлт тусламж, эсвэл та магад асуулт санал болгож байна.
Brain Sensei understands that self-studying with slide shows is not very engaging. That's why it gives you your own private teacher that takes you through the studying process step-by-step. This will help keep you from getting lost in the mountains of material and since he's animated, he'll always be there to support you.
6. Detailed Progress Tracking
It's crucial to your success to know where you stand. Brain Sensei just introduced real-time and detailed progress tracking reports. In your dashboard you'll find your scores, duration and status all in one place.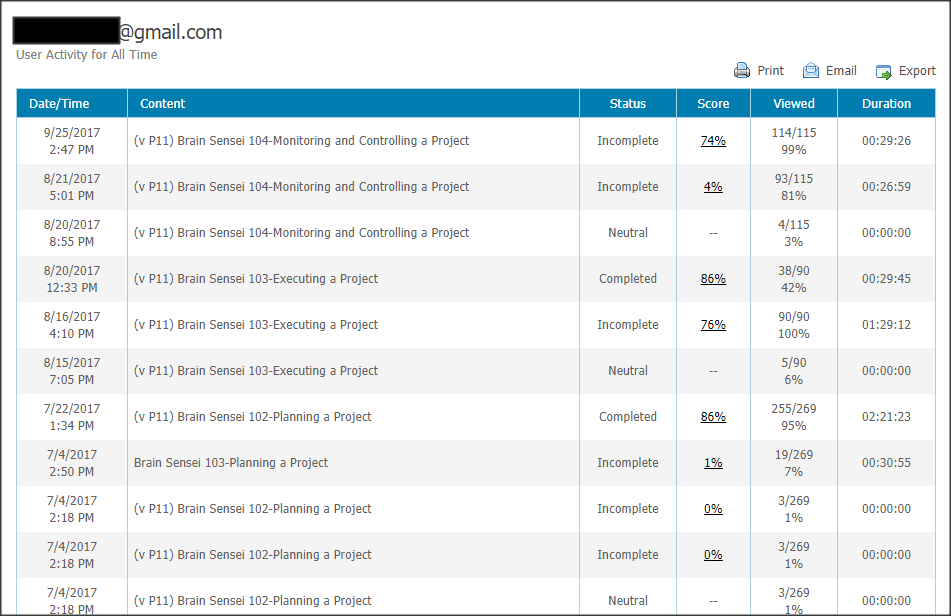 Сул тал
1. Course Design
While other courses have fancy technology and a flashy website layout, this course is pretty basic and lacking innovative design. You may prefer this since it is a direct and to-the-point way to learn. There aren't any additional distractions that can take your focus away from studying. So depending on how you plan to study, this could be a non issue.
Хэрэглэгчийн Ideal
If you are struggling to find a course that consistently keeps you engaged, Brain Sensei's PMP Review Course is the test prep for you! You will be learning PMP concepts and have them ingrained through an exciting story of a young samurai taking on a variety of projects and challenges. This is helpful if you like to learn by experience. You will be able to have anecdotal memories of information that will be tested on exam day, making it easy for you to remember key concepts.
Миний санал
By following your personal Sensei's instruction and watching the animation story clips, Та аль болох хамгийн бага уйтгартай байдлаар сурах болно. Би материаллаг материал судлах байлгахын тулд анхаарлаа хандуулж, өөрсдийгөө урамшуулах нь тэмцэж хэнд ч энэ сургалтыг санал болгож байна. Тархи Sensei суралцах хамгийн сайн хадгалагдаж нууцын нэг нь харуулж байна: түүх ярих.
Энэ нь хамгийн өндөр үнэлгээ авсан үнэлгээ Мэдээж ХОУХШ шалгалт нь танд мэдэх хэрэгтэй бүх зүйлийг өгч болно, зэрэг 100% хангах баталгаа өнгөрөх Тархи Sensei-н програм хангамжийн ажил. Энэхүү сургалт нь уламжлалт гэхдээ ямар нэг зүйл байна, teaching you through an fascinating story and high-quality interactive content that is consistently up to date with any changes made by the PMI. Check out Brain Sensei's free demo and see the storytelling learning for yourself!
Brain Sensei PMP Review Course Overview
| | |
| --- | --- |
| Brain Sensei Review | Давуу тал |
| 1. | Interactive Lessons with Storytelling |
| 2. | Pass баталгаа |
| 3. | Холбоо барих цаг орно |
| 4. | Practice Questions and Quizzes |
| 5. | Таны хувийн Instructor |
Brain Sensei Review
Бичигдсэн: Amit Patel
5 / 5 одод