Brain Sensei offers a unique way to prepare for the Project Management Professional exam. Its mission is to provide simple and innovative ways to help you achieve your learning goals through the use of storytelling.
Brain Sensei stands out from the other test prep courses by using an animated story to reinforce key project management concepts. Stories have been proven to make it easier for people to absorb information. With this approach, Brain Sensei provides an engaging way to learn in addition to its easy to read content, kwizzijiet, and a ton of practice questions.
PROS
1. Interactive Lessons With Storytelling
Unlike any other PMP review course, Brain Sensei will draw you into a story of a Samurai who overcomes adversity in Feudal Japan. By using an engaging animated story, you will be entertained while bolstering key project management concepts. Most PMP test prep courses are dull and lifeless. With Brain Sensei, your PMP course will be anything but boring.
Stories have been used to share knowledge and teach lessons since the dawn of humankind. Research has also proven that when you receive information in the form of a story, you will have an easier time absorbing and recalling information. Brain Sensei's review material is broken up with little animation clips. These brief animation clips are not only entertaining, but also act as an efficient way to remember important concepts on test day.

2. Garanzija Pass
Brain Sensei offers a 100% pass guarantee with their 35 hour Complete PMP Exam Prep course. With the unique memorization tactics and innovative teaching style, Brain Sensei guarantees you'll get that passing score. If you meet all the course requirements but still end up failing the exam, you can retake the Brain Sensei PMP prep course for free!
3. Includes Contact Hours for PMP Certification
As a Registered Education Provider (REP) mal-Istitut Ġestjoni tal-Proġett (-SMEs), inti se jilħqu l- 35 Rekwiżiti siegħa għall-eżami PMP. Dan il-kors huwa mod tajjeb ħafna biex timmassimizza l-ħin ta 'studju tiegħek mingħajr ma jkollhom inti tħallas żejda għal kors li ser tavżak jiksbu sigħat ta' kuntatt. u, inti ser tkun li tieħu gost mentri fis-sigħat!

4. Practice Questions and Quizzes
Minbarra l-erba 'Eżamijiet kompleti tul Prattika disponibbli fl-aħħar tal-kors, inti tingħata kwizzijiet matul lezzjonijiet tiegħek. These short self-assessments can track your progress and help guide you towards topics that need more study time.
Brain Sensei's complete PMP course comes equipped with more than 900 practice exam questions and answer explanations. Almost everyone who has passed the PMP exam will agree that practice questions are the most important part of studying and the best way to get you that passing score.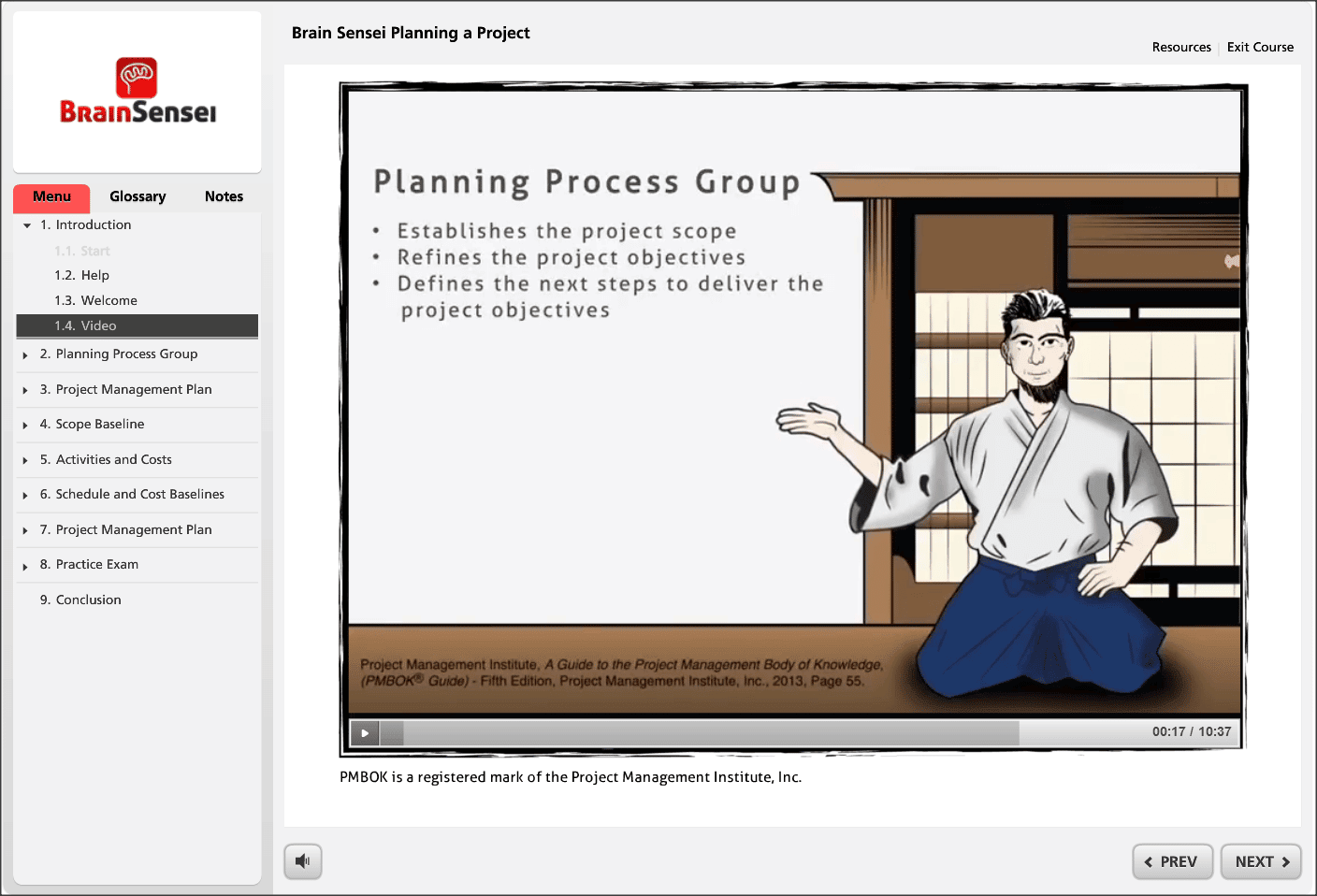 5. Your Own Personal Sensei (Instructor)
It's not very fun to listen to a boring professor read from a book. Many other PMP test prep instructor led courses have this problem. But with Brain Sensei, you get your own personal animated sensei! He will be your teacher throughout your studies and offer you any additional help or questions you may run into.
Brain Sensei understands that self-studying with slide shows is not very engaging. That's why it gives you your own private teacher that takes you through the studying process step-by-step. This will help keep you from getting lost in the mountains of material and since he's animated, he'll always be there to support you.
6. Detailed Progress Tracking
It's crucial to your success to know where you stand. Brain Sensei just introduced real-time and detailed progress tracking reports. In your dashboard you'll find your scores, duration and status all in one place.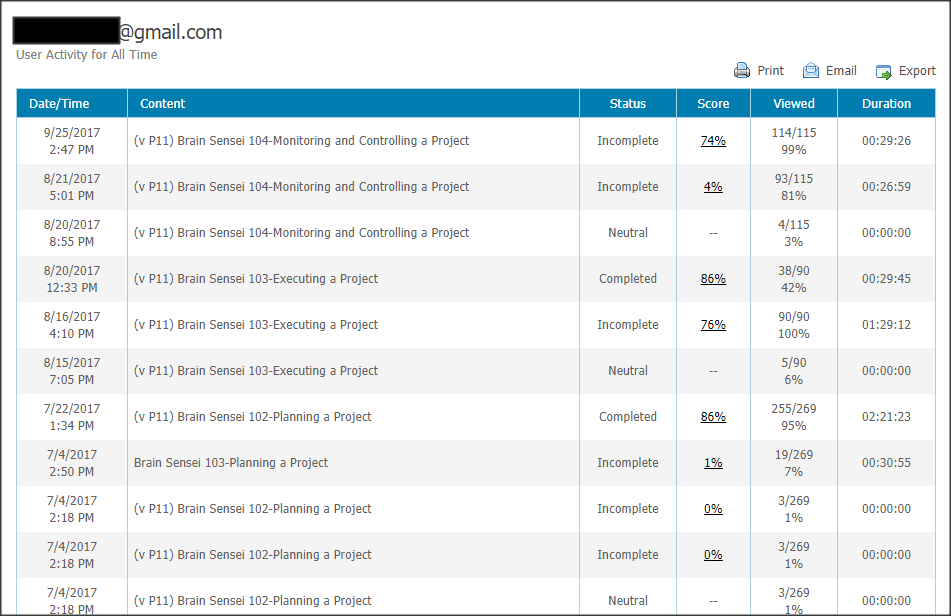 CONS
1. Course Design
While other courses have fancy technology and a flashy website layout, this course is pretty basic and lacking innovative design. You may prefer this since it is a direct and to-the-point way to learn. There aren't any additional distractions that can take your focus away from studying. So depending on how you plan to study, this could be a non issue.
User ideali
If you are struggling to find a course that consistently keeps you engaged, Brain Sensei's PMP Review Course is the test prep for you! You will be learning PMP concepts and have them ingrained through an exciting story of a young samurai taking on a variety of projects and challenges. Dan huwa utli jekk inti tixtieq titgħallem bl-esperjenza. Inti se tkun kapaċi li jkollhom memorji aneddottali ta 'informazzjoni li ser tiġi ttestjata f'jum eżami, jagħmilha faċli għalik biex tiftakar kunċetti ewlenin.
Suġġeriment tiegħi
Permezz ta 'wara struzzjoni personali tiegħek Sensei u jaraw il-clips istorja animazzjoni, inti ser tkun tagħlim fil-mod l-inqas boring possibbli. Nissuġġerixxi dan il-kors lil xi ħadd li ġlidiet ma iffukar u jimmotivaw ruħhom biex iżommu jistudjaw materjal mundane. Moħħ Sensei tiżvela wieħed mill-aħjar jinżammu sigrieti ta 'tagħlim: istejjer.
Dan il-kors reviżjoni rated top se jtik dak kollu li għandek bżonn tkun taf biex jgħaddi l-eżami PMP, inkluż 100% jgħaddu garanzija biex ikun żgurat li x-xogħlijiet ta 'softwer Moħħ sensei ta. Dan il-kors huwa xejn imma tradizzjonali, tagħlim inti permezz ta 'storja affaxxinanti u l-kontenut interattiv ta' kwalità għolja li huwa konsistentement aġġornata ma 'xi bidliet magħmula mill-APKM. Iċċekkja l demo ħielsa moħħ Sensei u tara l-istejjer tagħlim għalik innifsek!
Brain Sensei PMP Review Course Overview
| | |
| --- | --- |
| Moħħ Sensei Reviżjoni | qawwiet |
| 1. | Lezzjonijiet Interactive ma Istejjer |
| 2. | Garanzija Pass |
| 3. | Includes Contact Hours |
| 4. | Practice Questions and Quizzes |
| 5. | Your Own Personal Instructor |
Moħħ Sensei Reviżjoni
Written by: amit Patel
5 / 5 stilla