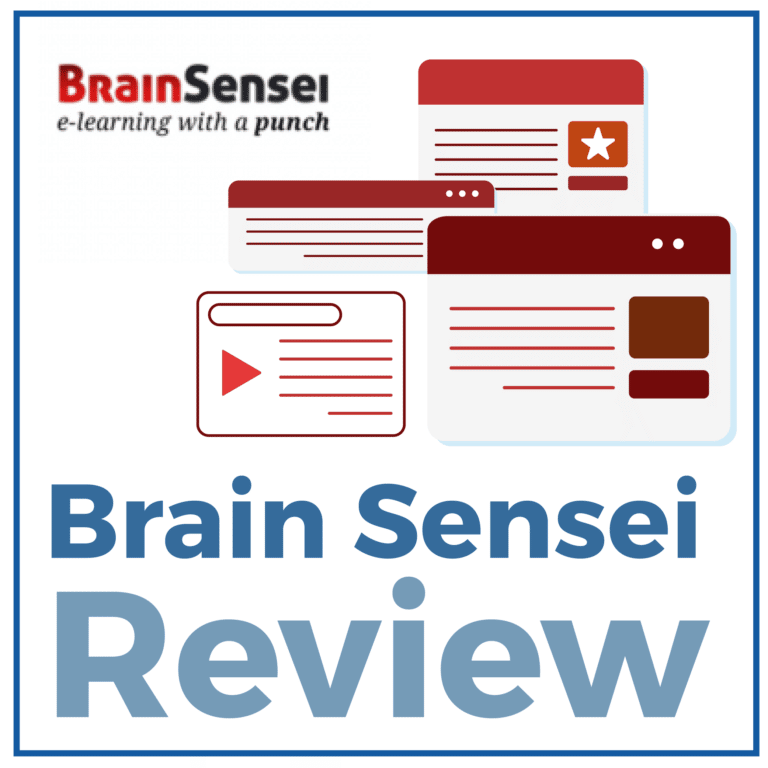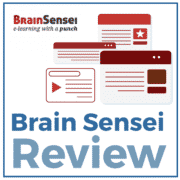 OCENA: ★★★★★
Brain Sensei offers a unique way to prepare for the Project Management Professional exam. Njegova naloga je zagotavljanje enostavne in inovativne načine za pomoč pri doseganju vaših učnih ciljev z uporabo pripovedovanja.
Brain Sensei stands out from the other test prep courses by using an animated story to reinforce key project management concepts. Stories have been proven to make it easier for people to absorb information. With this approach, Brain Sensei provides an engaging way to learn in addition to its easy to read content, kvizi, and a ton of practice questions.
PREDNOSTI
1. Interactive Lessons With Storytelling
Unlike any other PMP review course, Brain Sensei will draw you into a story of a Samurai who overcomes adversity in Feudal Japan. By using an engaging animated story, you will be entertained while bolstering key project management concepts. Most PMP test prep courses are dull and lifeless. With Brain Sensei, your PMP course will be anything but boring.
Stories have been used to share knowledge and teach lessons since the dawn of humankind. Research has also proven that when you receive information in the form of a story, you will have an easier time absorbing and recalling information. Brain Sensei's review material is broken up with little animation clips. These brief animation clips are not only entertaining, but also act as an efficient way to remember important concepts on test day.

2. Pass jamstvo
Brain Sensei offers a 100% pass guarantee with their 35 hour Complete PMP Exam Prep course. With the unique memorization tactics and innovative teaching style, Brain Sensei guarantees you'll get that passing score. If you meet all the course requirements but still end up failing the exam, you can retake the Brain Sensei PMP prep course for free!
3. Includes Contact Hours for PMP Certification
As a Registered Education Provider (REP) with the Project Management Institute (Mala in srednja podjetja), you will meet the 35 hour requirements for the PMP exam. This course is a great way to maximize your study time without having you pay extra for a course that will let you gain contact hours. And, you'll be having fun while putting in the hours!

4. Practice Questions and Quizzes
In addition to the four full length Practice Exams available at the end of the course, you are given quizzes throughout your lessons. Te kratke samoocene lahko spremljate svoj napredek in vas vodijo k tem, da potrebujejo več časa študija.
popolna PMP tečaj Brain Sensei je opremljen z več kot 900 praksi izpit vprašanja in odgovori pojasnila. Skoraj vsakdo, ki je opravil PMP izpit bo strinjal, da praksa vprašanja so najbolj pomemben del študija in najboljši način, da boste dobili, da poteka ocena.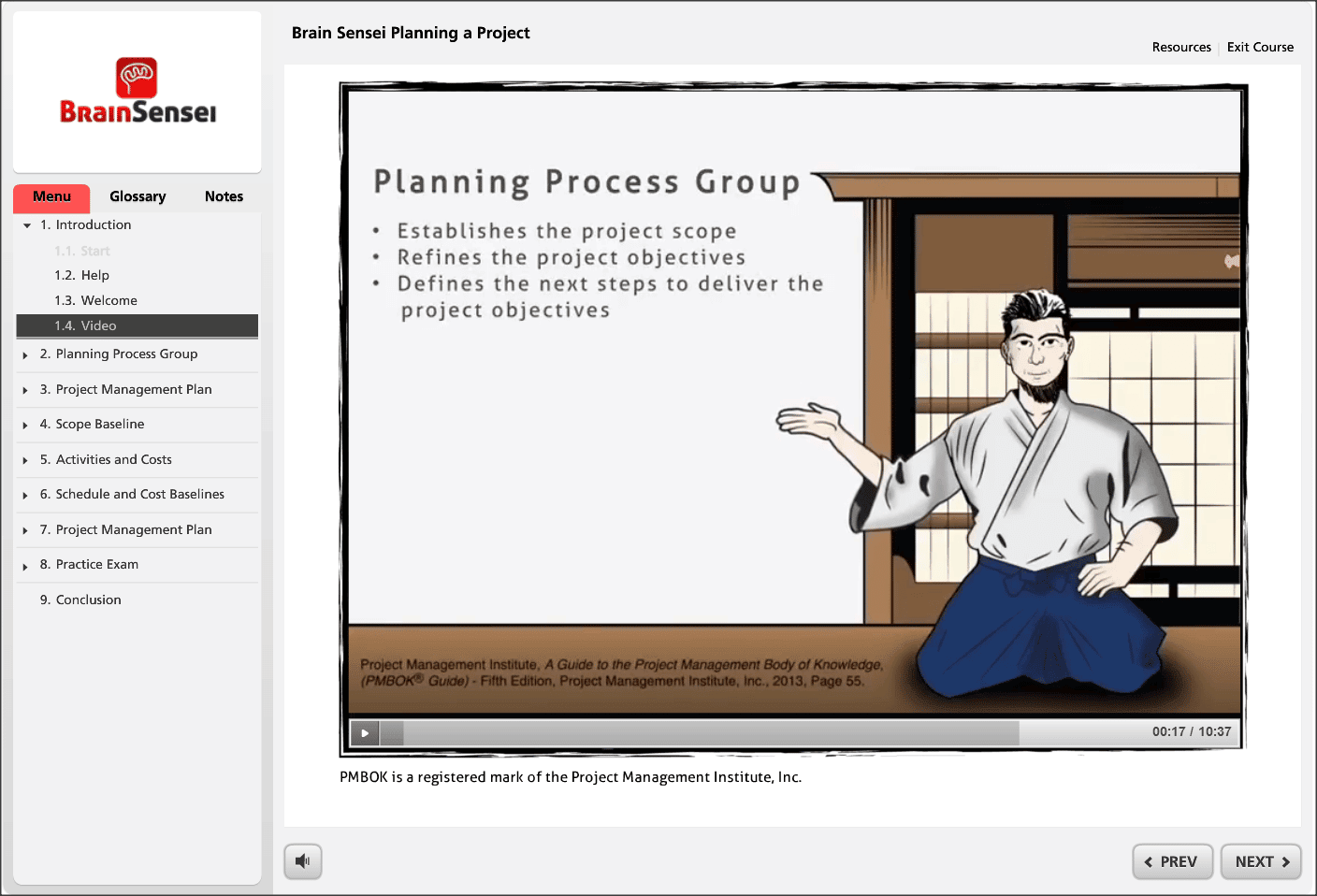 5. Your Own Personal Sensei (Instructor)
To ni zelo zabavno poslušati dolgočasni profesor bere iz knjige. Mnogi drugi test PMP inštruktor prep vodil tečaje imajo te težave. Toda z Brain sensei, dobiš svoj osebni animirani Sensei! On bo vaš učitelj v celotnem študiju in vam vsako dodatno pomoč ali vprašanja, ki jih lahko vodijo v.
Brain Sensei razume, da sam študij s slide kaže, ni zelo privlačen. Zato vam daje svoj zasebni učitelj, ki vas popelje skozi delo pri korak za korakom. This will help keep you from getting lost in the mountains of material and since he's animated, he'll always be there to support you.
6. Detailed Progress Tracking
It's crucial to your success to know where you stand. Brain Sensei just introduced real-time and detailed progress tracking reports. In your dashboard you'll find your scores, trajanje in stanje na enem mestu.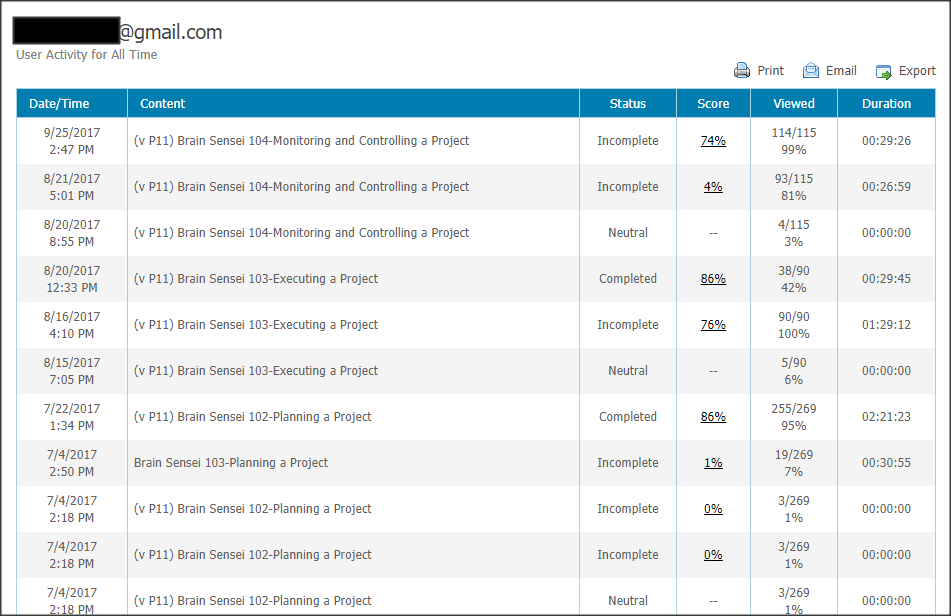 SLABOSTI
1. Course Design
Medtem ko drugi programi imajo fancy tehnologije in neokusen postavitev spletne strani, To seveda je precej osnovno in premalo inovativno zasnovo. Morda boste raje to, saj je neposredna in-the-točke način za učenje. Tu ni nobenih dodatnih motenj, ki lahko sprejme svoj fokus stran od študij. Torej, glede na to, kako nameravate študirati, To bi lahko bil brez izdaje.
Idealno za uporabo
Če ste se borijo, da bi našli pot, ki stalno skrbi, da ste se ukvarjajo, PMP Pregled Tečaj Brain Sensei je test prep za vas! Ti bodo učenje PMP koncepte in so jim zakoreninjena skozi razburljivo zgodbo mladega samuraja, ki bo na različnih projektih in izzivih. To je koristno, če želite, da se učijo iz izkušenj. Boste lahko, da so nezanesljivi spomin informacij, ki jih bomo testirali na izpit dan, zaradi česar je enostaven za vas, da se spomnite ključnih pojmov.
Moj predlog
Z upoštevanjem vaših osebnih navodila Sensei in gledal animacija zgodba posnetke, vas bo učenje na najmanj dolgočasen način. Predlagam, da ta tečaj za vsakogar, ki se spopada z osredotočanjem in se motivirati, da bo študij preprostega materiala. Brain Sensei razkriva ena od najbolje varovanih skrivnosti učenja: pripovedovanja.
Ta-top ocenjeno seveda pregled vam bo dala vse, kar morate vedeti, da prenese na PMP izpit, vključno s 100% mimo jamstvo, da se zagotovi, da Brain Sensei je programska oprema deluje. To je seveda vse prej kot tradicionalna, poučevanje skozi zanimivo zgodbo in visoko kakovostno interaktivne vsebine, ki je vedno na tekočem z vsemi spremembami, ki jih je PMI. Oglejte si Brain Sensei je brezplačno demo in si oglejte pripovedovanja učenje za sebe!
---
Brain Sensei PMP Discount Codes
Brain Sensei PMP Review Course Overview
| | |
| --- | --- |
| Brain Sensei Pregled | prednosti |
| 1. | Interaktivni Lekcije z pripovedovanje zgodbe |
| 2. | Pass jamstvo |
| 3. | Vključuje govorilne ure |
| 4. | Practice Questions and Quizzes |
| 5. | Svoj osebni inštruktor |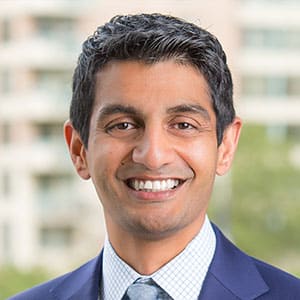 Amit Patel is the founder and chief writer for Crush the PM Exam. A lifelong student, Patel's desire for career growth led him to research the many different certifications and career opportunities in the world of project management. Armed with this knowledge, Patel's new passion is for sharing what he's learned with his fellow students so they can achieve their dream careers.