Brain Sensei offers a unique way to prepare for the Project Management Professional exam. Its mission is to provide simple and innovative ways to help you achieve your learning goals through the use of storytelling.
Brain Sensei stands out from the other test prep courses by using an animated story to reinforce key project management concepts. Stories have been proven to make it easier for people to absorb information. With this approach, Brain Sensei provides an engaging way to learn in addition to its easy to read content, frågesporter, och massor av övningsfrågor.
FÖRDELAR
1. Interaktiva lektioner med Storytelling
Till skillnad från alla andra PMP översyn kurs, Brain Sensei kommer att dra dig till en berättelse om en Samurai som övervinner motgångar i det feodala Japan. Genom att använda en engagerande animerad berättelse, du kommer att skingra samtidigt stärka nyckelbegrepp projektledning. Most PMP test prep courses are dull and lifeless. With Brain Sensei, your PMP course will be anything but boring.
Stories have been used to share knowledge and teach lessons since the dawn of humankind. Research has also proven that when you receive information in the form of a story, you will have an easier time absorbing and recalling information. Brain Sensei's review material is broken up with little animation clips. These brief animation clips are not only entertaining, but also act as an efficient way to remember important concepts on test day.

2. Pass garanti
Brain Sensei offers a 100% pass guarantee with their 35 hour Complete PMP Exam Prep course. With the unique memorization tactics and innovative teaching style, Brain Sensei guarantees you'll get that passing score. If you meet all the course requirements but still end up failing the exam, you can retake the Brain Sensei PMP prep course for free!
3. Inkluderar kontakt timmar för PMP Certification
As a Registered Education Provider (REP) with the Project Management Institute (SMF), you will meet the 35 hour requirements for the PMP exam. This course is a great way to maximize your study time without having you pay extra for a course that will let you gain contact hours. And, you'll be having fun while putting in the hours!

4. Practice Frågor och frågesporter
In addition to the four full length Practice Exams available at the end of the course, you are given quizzes throughout your lessons. These short self-assessments can track your progress and help guide you towards topics that need more study time.
Brain Sensei's complete PMP course comes equipped with more than 900 practice exam questions and answer explanations. Almost everyone who has passed the PMP exam will agree that practice questions are the most important part of studying and the best way to get you that passing score.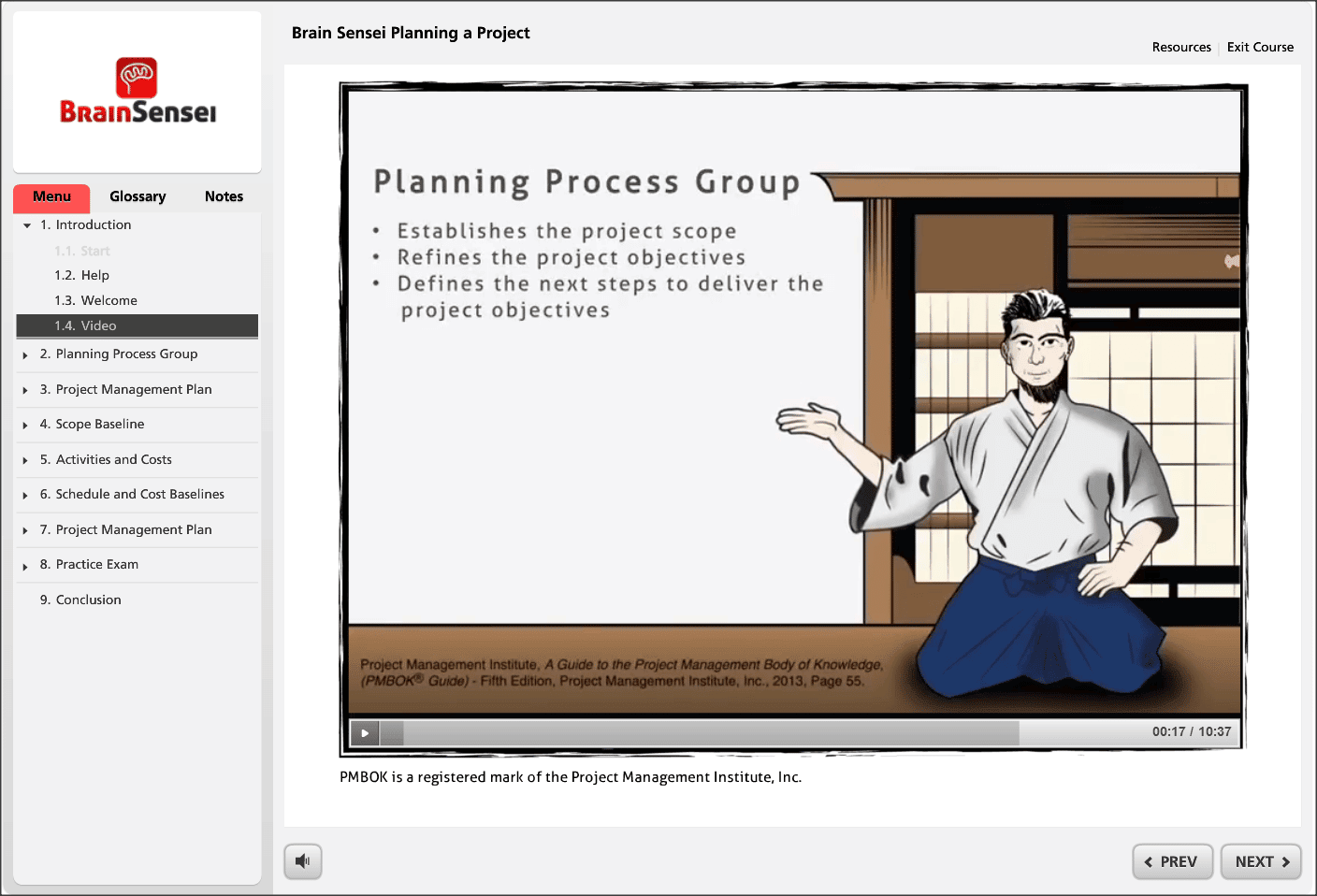 5. Din egen personliga Sensei (Instruktör)
It's not very fun to listen to a boring professor read from a book. Many other PMP test prep instructor led courses have this problem. But with Brain Sensei, you get your own personal animated sensei! He will be your teacher throughout your studies and offer you any additional help or questions you may run into.
Brain Sensei understands that self-studying with slide shows is not very engaging. That's why it gives you your own private teacher that takes you through the studying process step-by-step. This will help keep you from getting lost in the mountains of material and since he's animated, he'll always be there to support you.
6. Detaljerad spårning Progress
It's crucial to your success to know where you stand. Brain Sensei just infört realtid och detaljerade framsteg spårning rapporter. I instrumentpanelen hittar du dina poäng, varaktighet och status på ett ställe.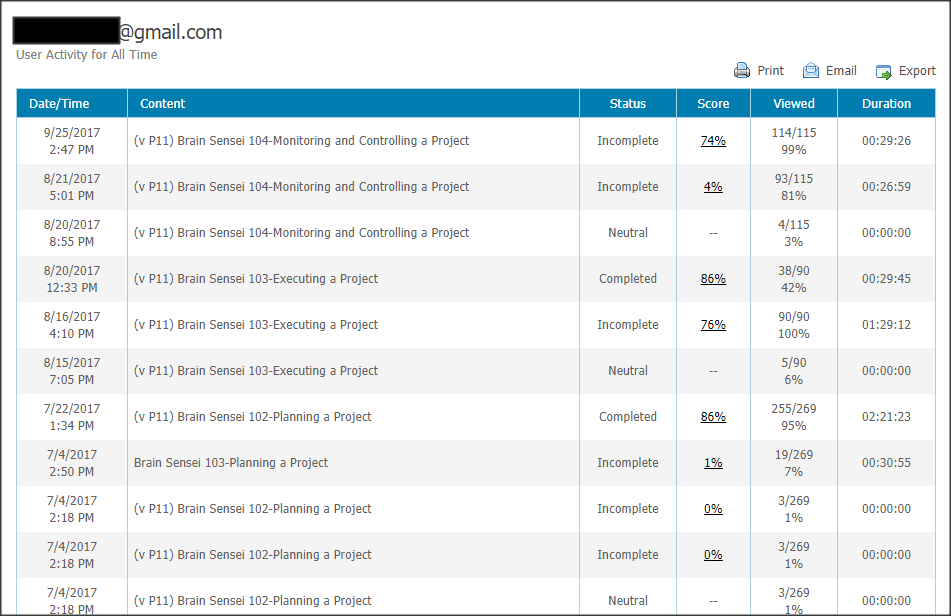 NACKDELAR
1. Course Design
Medan andra kurser har lust teknik och en flashig hemsida layout, denna kurs är ganska grundläggande och saknar innovativ design. Du kanske föredrar detta eftersom det är en direkt och to-the-point sätt att lära. Det finns inga ytterligare distraktioner som kan ta ditt fokus bort från att studera. Så beroende på hur du planerar att studera, detta kan vara en icke fråga.
Idealisk Användare
Om du kämpar för att hitta en kurs som konsekvent håller dig engagerad, Brain Sensei PMP Review Course är testet prep för dig! Du kommer att lära PMP begrepp och få dem ingrodd genom en spännande berättelse om en ung samurai tar på en mängd olika projekt och utmaningar. Detta är användbart om du vill lära sig genom erfarenhet. You will be able to have anecdotal memories of information that will be tested on exam day, making it easy for you to remember key concepts.
Mitt förslag
By following your personal Sensei's instruction and watching the animation story clips, you will be learning in the least boring way possible. I suggest this course to anyone who struggles with focusing and motivating themselves to keep studying mundane material. Brain Sensei reveals one of the best kept secrets of learning: storytelling.
This top-rated review course will give you everything you need to know to pass the PMP exam, including a 100% pass guarantee to ensure that Brain Sensei's software works. This course is anything but traditional, teaching you through an fascinating story and high-quality interactive content that is consistently up to date with any changes made by the PMI. Check out Brain Sensei's free demo and see the storytelling learning for yourself!
Brain Sensei PMP Review Course Översikt
| | |
| --- | --- |
| Brain Sensei Review | styrkor |
| 1. | Interactive Lessons with Storytelling |
| 2. | Pass garanti |
| 3. | Inkluderar Kontakttid |
| 4. | Practice Frågor och frågesporter |
| 5. | Din egen personliga instruktör |
Brain Sensei Review
Skriven av: Amit Patel
5 / 5 stjärnor