Brain Sensei offers a unique way to prepare for the Project Management Professional exam. Its mission is to provide simple and innovative ways to help you achieve your learning goals through the use of storytelling.
Brain Sensei stands out from the other test prep courses by using an animated story to reinforce key project management concepts. Stories have been proven to make it easier for people to absorb information. With this approach, Brain Sensei provides an engaging way to learn in addition to its easy to read content, Quizzes, and a ton of practice questions.
Faida
1. Interactive Lessons With Storytelling
Unlike any other PMP review course, Brain Sensei will draw you into a story of a Samurai who overcomes adversity in Feudal Japan. By using an engaging animated story, you will be entertained while bolstering key project management concepts. Most PMP test prep courses are dull and lifeless. With Brain Sensei, your PMP course will be anything but boring.
Stories have been used to share knowledge and teach lessons since the dawn of humankind. Research has also proven that when you receive information in the form of a story, you will have an easier time absorbing and recalling information. Brain Sensei's review material is broken up with little animation clips. These brief animation clips are not only entertaining, but also act as an efficient way to remember important concepts on test day.

2. Kupita Dhamana
Brain Sensei offers a 100% pass guarantee with their 35 hour Complete PMP Exam Prep course. With the unique memorization tactics and innovative teaching style, Brain Sensei guarantees you'll get that passing score. If you meet all the course requirements but still end up failing the exam, you can retake the Brain Sensei PMP prep course for free!
3. Includes Contact Hours for PMP Certification
As a Registered Education Provider (REP) with the Project Management Institute (SMEs), you will meet the 35 hour requirements for the PMP exam. This course is a great way to maximize your study time without having you pay extra for a course that will let you gain contact hours. na, you'll be having fun while putting in the hours!

4. Practice Questions and Quizzes
In addition to the four full length Practice Exams available at the end of the course, you are given quizzes throughout your lessons. These short self-assessments can track your progress and help guide you towards topics that need more study time.
Brain Sensei's complete PMP course comes equipped with more than 900 practice exam questions and answer explanations. Almost everyone who has passed the PMP exam will agree that practice questions are the most important part of studying and the best way to get you that passing score.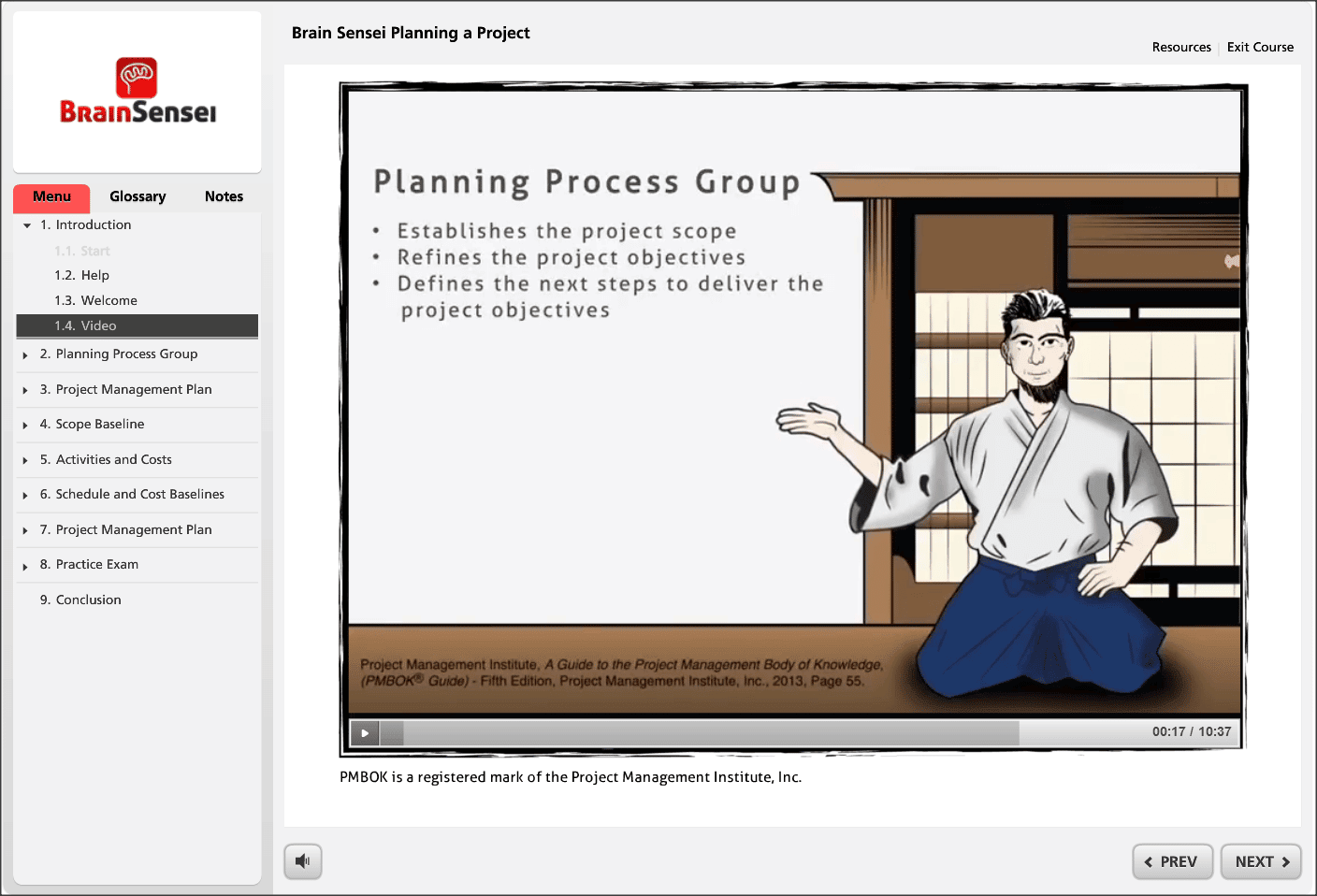 5. Your Own Personal Sensei (Instructor)
It's not very fun to listen to a boring professor read from a book. Many other PMP test prep instructor led courses have this problem. But with Brain Sensei, you get your own personal animated sensei! Atakuwa mwalimu wako katika masomo yako na kutoa msaada wowote wa ziada au maswali unaweza kukimbia katika.
Ubongo Sensei inaelewa kuwa self-kutafiti na slide inaonyesha si kuhusisha sana. Hiyo ni kwa nini ni inakupa yako mwenyewe mwalimu binafsi ambayo inachukua wewe kupitia mchakato kusoma hatua kwa hatua. Hii itasaidia kukulinda kutokana waliopotea katika milima ya nyenzo na tangu yeye animated, yeye daima utasikia kuwa kuna kukusaidia.
6. Detailed Progress Tracking
Ni muhimu kwa mafanikio yako kwa kujua wapi kusimama. Brain Sensei just introduced real-time and detailed progress tracking reports. In your dashboard you'll find your scores, duration and status all in one place.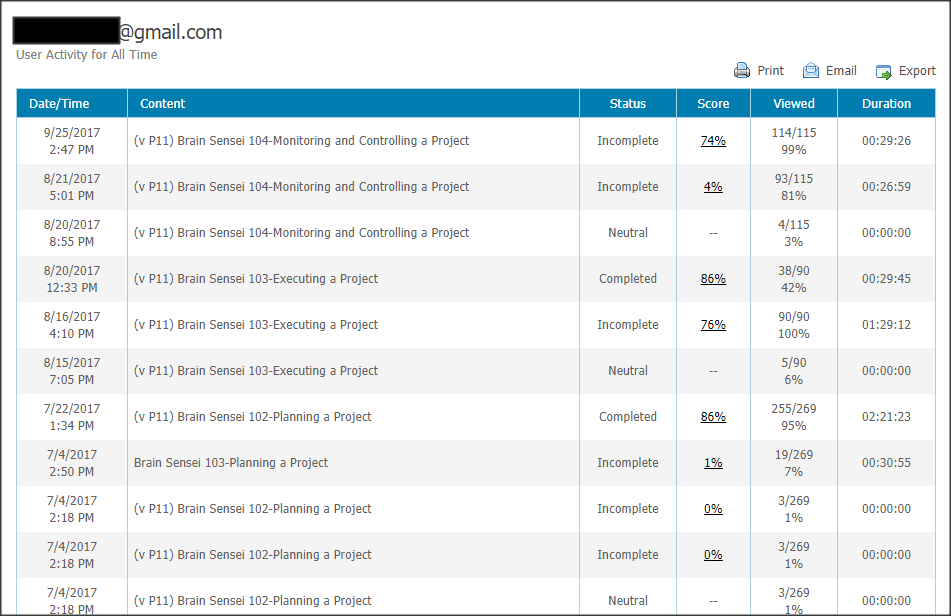 CONS
1. Course Design
While other courses have fancy technology and a flashy website layout, Bila shaka hii ni pretty msingi na kukosa kubuni ubunifu. Unaweza kupenda hii kwa kuwa ni moja kwa moja na kwa-hatua njia ya kujifunza. Kuna si distractions yoyote ya ziada ambayo inaweza kuchukua mtazamo wako mbali ya kusoma. Hivyo kulingana na jinsi mpango wa kujifunza, hii inaweza kuwa suala si.
Bora mtumiaji
Kama wewe ni wanajitahidi kupata kozi ambayo mara kwa mara kuvaa wewe kushiriki, Ubongo Sensei ya PMP Tathmini kozi ni mtihani prep kwa ajili yako! You will be learning PMP concepts and have them ingrained through an exciting story of a young samurai taking on a variety of projects and challenges. This is helpful if you like to learn by experience. You will be able to have anecdotal memories of information that will be tested on exam day, making it easy for you to remember key concepts.
Pendekezo langu
By following your personal Sensei's instruction and watching the animation story clips, you will be learning in the least boring way possible. I suggest this course to anyone who struggles with focusing and motivating themselves to keep studying mundane material. Brain Sensei reveals one of the best kept secrets of learning: storytelling.
This top-rated review course will give you everything you need to know to pass the PMP exam, including a 100% pass guarantee to ensure that Brain Sensei's software works. This course is anything but traditional, teaching you through an fascinating story and high-quality interactive content that is consistently up to date with any changes made by the PMI. Check out Brain Sensei's free demo and see the storytelling learning for yourself!
Brain Sensei PMP Review Course Overview
| | |
| --- | --- |
| Brain Sensei Review | uwezo |
| 1. | Interactive Lessons with Storytelling |
| 2. | Kupita Dhamana |
| 3. | Includes Contact Hours |
| 4. | Practice Questions and Quizzes |
| 5. | Your Own Personal Instructor |
Brain Sensei Review
Imeandikwa na: Amit Patel
5 / 5 nyota