Brain Sensei offers a unique way to prepare for the Project Management Professional exam. Its mission is to provide simple and innovative ways to help you achieve your learning goals through the use of storytelling.
Brain Sensei stands out from the other test prep courses by using an animated story to reinforce key project management concepts. Stories have been proven to make it easier for people to absorb information. With this approach, Brain Sensei provides an engaging way to learn in addition to its easy to read content, quizzes, and a ton of practice questions.
PROS
1. Interactive Lessons With Storytelling
Unlike any other PMP review course, Brain Sensei will draw you into a story of a Samurai who overcomes adversity in Feudal Japan. By using an engaging animated story, you will be entertained while bolstering key project management concepts. Most PMP test prep courses are dull and lifeless. With Brain Sensei, your PMP course will be anything but boring.
Stories have been used to share knowledge and teach lessons since the dawn of humankind. Research has also proven that when you receive information in the form of a story, you will have an easier time absorbing and recalling information. Brain Sensei's review material is broken up with little animation clips. Ezi oopopayi umboniso koomofu azibangeli mdla kuphela, kodwa asebenze ngendlela eyiyo ukuba sikhumbule izinto ezibalulekileyo ngosuku lovavanyo.

2. Pass Guarantee
Brain Sensei inikeza 100% Kwathi isiqinisekiso yabo 35 Ikhosi sokuzilungiselela Complete PMP Exam iyure. Ngenxa amaqhinga nokucengceleza ezizodwa kunye nesimbo ezintsha zokufundisa, Brain Sensei kuqinisekisa uza kufumana amanqaku elidlulayo. Ukuba nazo zonke iimfuno ikhosi kodwa zigcine bahlulwe uviwo kunjalo, uyakwazi isihialo ikhosi-PrEP Brain Sensei PMP for free!
3. Includes Contact Hours for PMP Certification
Njengoko umboneleli obhalisiweyo Education (REP) with the Project Management Institute (PMI), you will meet the 35 hour requirements for the PMP exam. This course is a great way to maximize your study time without having you pay extra for a course that will let you gain contact hours. And, you'll be having fun while putting in the hours!

4. Practice Questions and Quizzes
In addition to the four full length Practice Exams available at the end of the course, you are given quizzes throughout your lessons. These short self-assessments can track your progress and help guide you towards topics that need more study time.
Brain Sensei's complete PMP course comes equipped with more than 900 practice exam questions and answer explanations. Almost everyone who has passed the PMP exam will agree that practice questions are the most important part of studying and the best way to get you that passing score.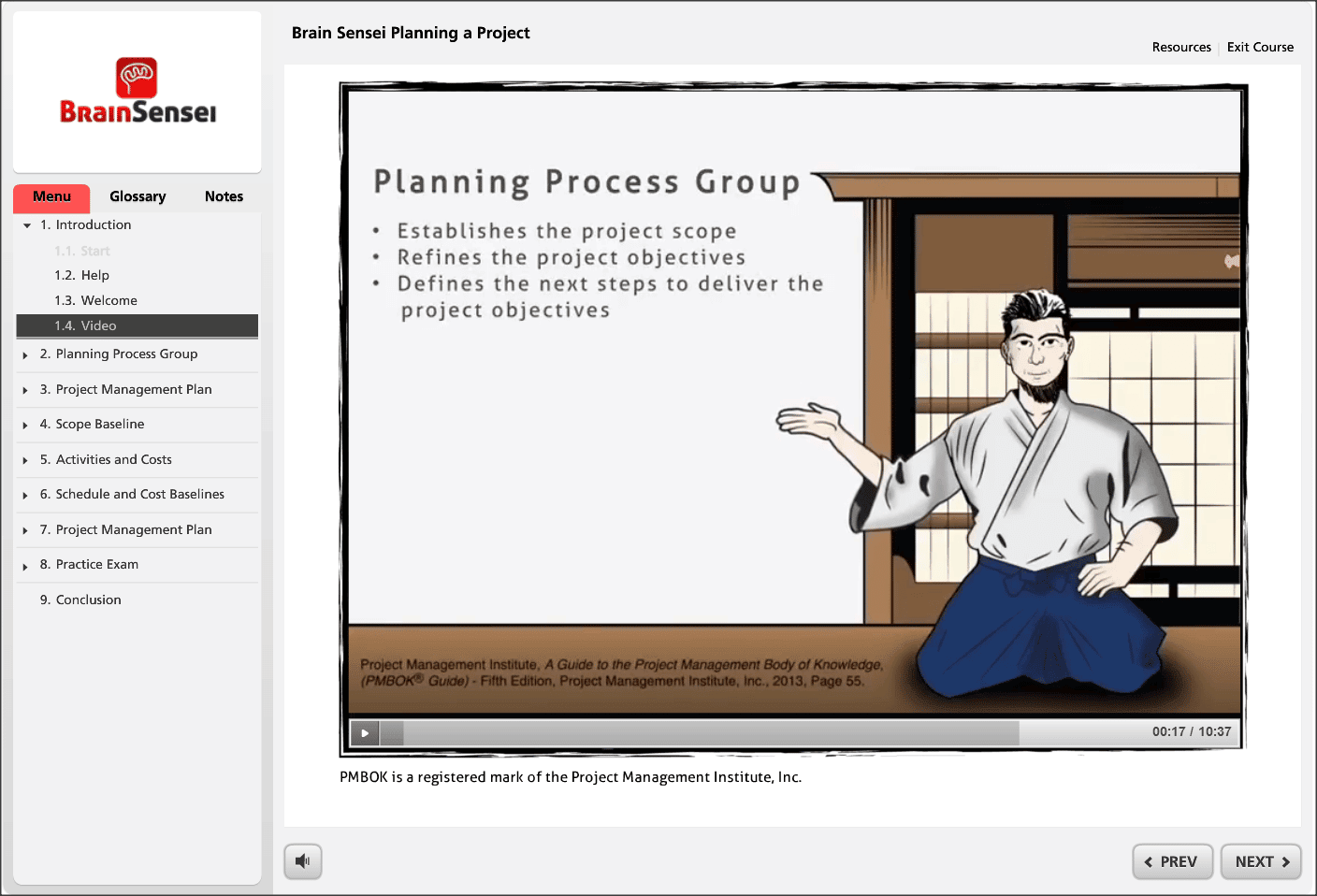 5. Your Own Personal Sensei (Instructor)
It's not very fun to listen to a boring professor read from a book. Abaninzi enye PMP test ulungiselela ngumhlohli wakhokelela nezifundo nale ngxaki. Kodwa Brain Sensei, ufumana ezakho sensei yakho yoopopayi! Yena uya kuba utitshala wenu kuyo izifundo zakho kwaye enze naluphi na uncedo ezongezelelweyo okanye imibuzo ukuze abalekele kuwe.
Brain Sensei uyaqonda ukuba ukuzeyisa ukufunda kunye isilayidi ubonisa ayikho azibandakanya kakhulu. Yiloo nto kukunika utitshala akho abucala ukuba ekuthathela ngokusebenzisa inkqubo ukufunda step-by-step. This will help keep you from getting lost in the mountains of material and since he's animated, he'll always be there to support you.
6. Detailed Progress Tracking
It's crucial to your success to know where you stand. Brain Sensei just introduced real-time and detailed progress tracking reports. In your dashboard you'll find your scores, duration and status all in one place.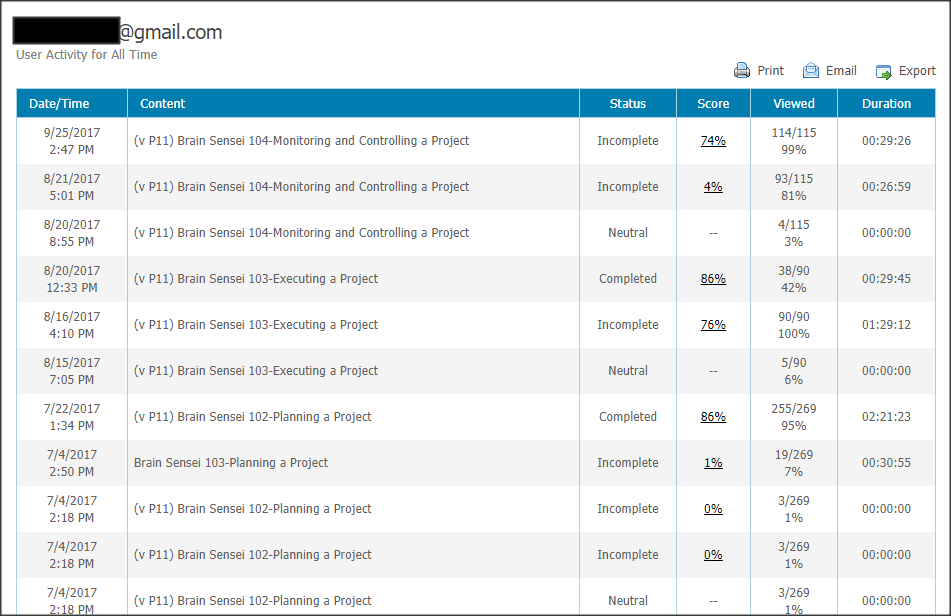 CONS
1. Course Design
While other courses have fancy technology and a flashy website layout, this course is pretty basic and lacking innovative design. You may prefer this since it is a direct and to-the-point way to learn. There aren't any additional distractions that can take your focus away from studying. So depending on how you plan to study, this could be a non issue.
Ideal User
If you are struggling to find a course that consistently keeps you engaged, Brain Sensei's PMP Review Course is the test prep for you! You will be learning PMP concepts and have them ingrained through an exciting story of a young samurai taking on a variety of projects and challenges. This is helpful if you like to learn by experience. You will be able to have anecdotal memories of information that will be tested on exam day, making it easy for you to remember key concepts.
Isiphakamiso My
By following your personal Sensei's instruction and watching the animation story clips, you will be learning in the least boring way possible. I suggest this course to anyone who struggles with focusing and motivating themselves to keep studying mundane material. Brain Sensei reveals one of the best kept secrets of learning: storytelling.
This top-rated review course will give you everything you need to know to pass the PMP exam, including a 100% pass guarantee to ensure that Brain Sensei's software works. This course is anything but traditional, ukufundisa nge ibali umdla kunye nesiqulatho interactive ezikumgangatho ophezulu ukuba ngokungatshintshiyo ukuya kumhla kunye naluphi na utshintsho ezenziwe PMI. Khangela out ezamahala yedemo Brain Sensei size sibone ukuba ibali yokufunda ngokwakho!
Brain Sensei PMP Review Course Overview
| | |
| --- | --- |
| Brain Sensei Review | Strengths |
| 1. | Izifundo Interactive nge ekuxoxeni |
| 2. | Pass Guarantee |
| 3. | Ibandakanya Iiyure zoqhagamshelwano |
| 4. | Practice Questions and Quizzes |
| 5. | KuMfundisi wakho Own Personal |
Brain Sensei Review
Ibhalwe ngu: Amit Patel
5 / 5 iinkwenkwezi