CRUSH RATING: ★★★★★
Project Management Professional (PMP) certification is an important milestone to anyone hoping to become a project manager. However, the PMP exam can be pretty difficult and it's important to ensure that you're prepared to take it. That's where a good PMP review course comes in.
Take a look at our ExamsPM review to learn what makes for a good PMP review course!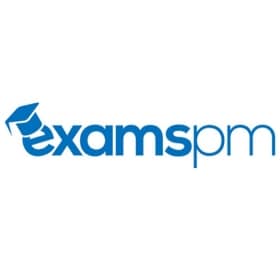 $10 OFF ExamsPM Offer (PMP or CAPM Certification)
1 uses today
Last Used: 1 hours ago
Overview of ExamsPM
ExamsPM is a company that focuses on online PMP certification training and exam prep. Their mission statement is to make sure passing is simple and easy for all of their students. In order to do so, they focus on fine tuning their lecture and test content so you can be confident in your skills.
But that's not all their online course aims to do:
ExamsPM also wants their customers to maintain their professional certifications as they study, so their courses include 35 PDUs for anyone who completes them. This offers a bit of a safety net for individuals who worry about their careers stagnating while they prepare for the all-important certification test.
These ideas are all ambitious and sound extremely helpful, but how well do they pan out? Read on to find out.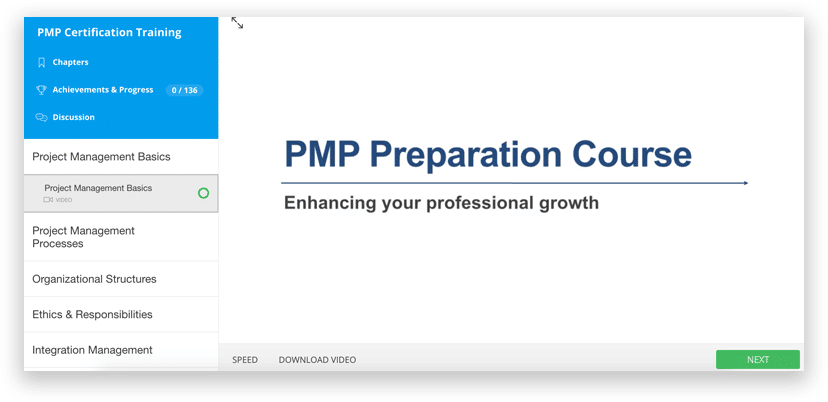 Here are just a few of the great features you can expect from ExamsPM:
5 Full Length Exams

1500+ Practice Questions

35 Hours of Project Management Training

35 Contact Hour Certificate

PMBOK Explanations in Everyday English

Downloadable Video Lectures

Money Back Guarantee

1 Year Access Period
GET STARTED WITH EXAMSPM REVIEW
---
What's Included With ExamsPM Review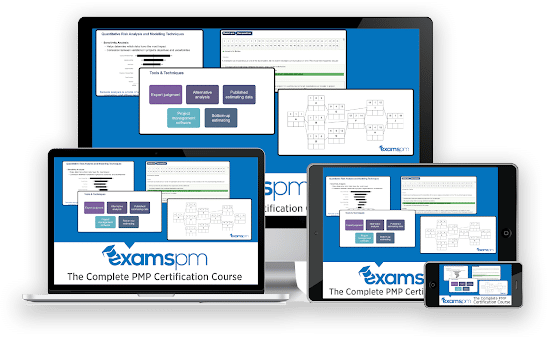 Full Length Practice Questions
One of the key aspects of ExamsPM are their high quality practice exams. In total there are five exams of 200 questions each. Essentially, these are are designed to test and enhance your understanding of key concepts. In addition to the exams, you can also choose to only see questions relating to certain subjects. Hence, this makes the PMP exam prep process somewhat customizable as you can ignore areas you already excel in and work on your weaknesses.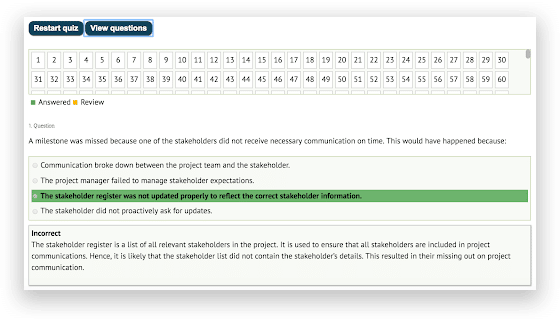 But there's more to these questions than just their subject matter. Check this out:
Each practice question is structured in order to be accurate to the actual Project Management Institute (PMI) exam software. As a result, you'll slowly familiarize yourself with the exam structure as you work on expanding your knowledge base. Plus the practice tests contain the same features as the PMI exam, such as marking questions for review or skipping them to return to later.
On top of that, each question comes with a detailed and accurate explanation for the correct answer upon completion. This is so incorrect answers will still directly contribute to your studying and understanding of your upcoming PMI exam.
Video Lectures
Also included with ExamsPM are a wide range of video lectures and webinars. It total there are 35 hours of content; furthermore, each video is downloadable and can be viewed offline. You can even download individual slides from each presentation if you only want to focus on specific knowledge areas in your off time. 
Thanks to these excellent features, you'll never need to worry about connection issues if you're learning on the go. Simply ensure that you have everything you need ahead of time and you can study stress free whenever you have some spare time.
Luckily, there's even more to look forward to with these courses:
Webinars are given by highly qualified professionals in their respective fields. Over the years ExamPM's instructors have taught over 10,000 students, making them teaching veterans. Consequently, you can always rest assured that you're receiving the best possible instruction at any given time. 
Basically, when it comes to ExamPM's high quality videos and teachers, you can do no wrong!
Social Features
There's no reason to work alone when taking this course. Other students and teachers are working on the same materials, and you can easily collaborate with them. This is because ExamsPM's software has been designed for you to be able to interact with others while learning. Have questions during a webinar? Ask someone and they'll gladly help.
On top of all that is their excellent support system. Keep reading to learn more about what makes it so great:
Anyone who purchased the exam and course bundle gains access to a dedicated pro level email support. At any time you can get expert assistance from experienced professionals via email. When combining these two support systems you're practically guaranteed to pass the exam!
ExamsPM Pricing
ExamsPM offers three different packages for its PMP certification course. These are the PMP Exam Simulator, PMP Course and Bundle options. Each package has their own exclusive features with their own unique benefits.
The choices are as follows:
The PMP Exam Simulator costs $149 and focuses primarily on learning the format of the exam itself. Hence, this package contains full-length exams that simulate the conditions of the real thing. Each exam question comes with detailed explanations so you always understand what you're doing.
Next up is the PMP Course, which has a heavy focus on classroom content such as webinars. This includes 35 hours of training via video content and project management training. Additionally, this course also includes a pass guarantee so you don't have to worry about financial risk. All of these features come at the cost of $499.
However neither of these options contain the same value as this next course:
Finally, you can buy both choices in a Bundle package for $579. This option includes everything from the previous two in addition to pro level email support and a 35 contact hour certificate. As a result you actually find yourself with more benefits than buying each option individually.
Each of these course options comes with a one year access period and all are based on the 6th edition of the Project Management Body of Knowledge (PMBOK) guide.
 Pros & Cons
Here are some brief positives and negatives that come with choosing ExamsPM for your exam prep course:
Pro – Free Content: ExamsPM provides several types of free content for anyone unsure as to whether or not this service is right for them. This includes a free practice test and even a free PMP training course. As a result, anyone can feel confident in their excellent service and materials.
Pro – Bonus Content: Included with each purchase are a wide array of bonus content such as extra webinars and intro courses. Said courses actually count towards earning your PDUs, and all purchases come with course bonuses valuing up to eight hundred dollars at no extra charge.
Pro – Pass Guarantee: ExamsPM comes with a one hundred percent pass guarantee. If you are unable to pass your exam within six weeks of your ExamsPM registrations, you will receive a full refund. To receive your refund simple scan and send in your test scores to the company's support email. Check out their refund page for more details on how this works.
Con – High Priced Features: Unfortunately, some of the best features of this service are locked behind their highest price course option. For example, you only receive dedicated pro email support if you purchase the 'bundle' option from them. Other courses can of course still contact the company; however, they won't have access to the dedicated support team without paying for a higher option.
 Frequently Asked Questions
Have some burning questions about ExamsPM? Take a look at these answers:
❓ How exactly does ExamsPM's pass guarantee work?
The pass guarantee is a refund option for anyone who completed the course but was unable to pass the certification test. In order to qualify for it you must have completed all lectures in your prep course and taken the exam within 6 weeks of registrations. If you've done both and still failed, you must email your test results to ExamsPM to receive a full refund.
 ❓Does ExamsPM have any process groups training options?
Yes! There are group training programs that corporations can use to build custom programs for their teams. Visit ExamPM's
corporate
page for more information.
❓How can I contact ExamsPM if I have any extra questions about their service?
ExamsPM can be contacted via email at [email protected] or by filling out a
form
on their website. They also have a limited
social media
presence that can be checked for additional information.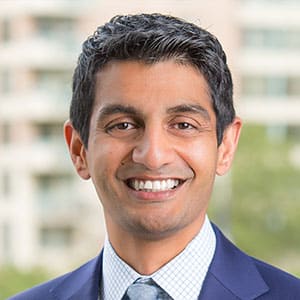 Amit Patel is the founder and chief writer for Crush the PM Exam. A lifelong student, Patel's desire for career growth led him to research the many different certifications and career opportunities in the world of project management. Armed with this knowledge, Patel's new passion is for sharing what he's learned with his fellow students so they can achieve their dream careers.