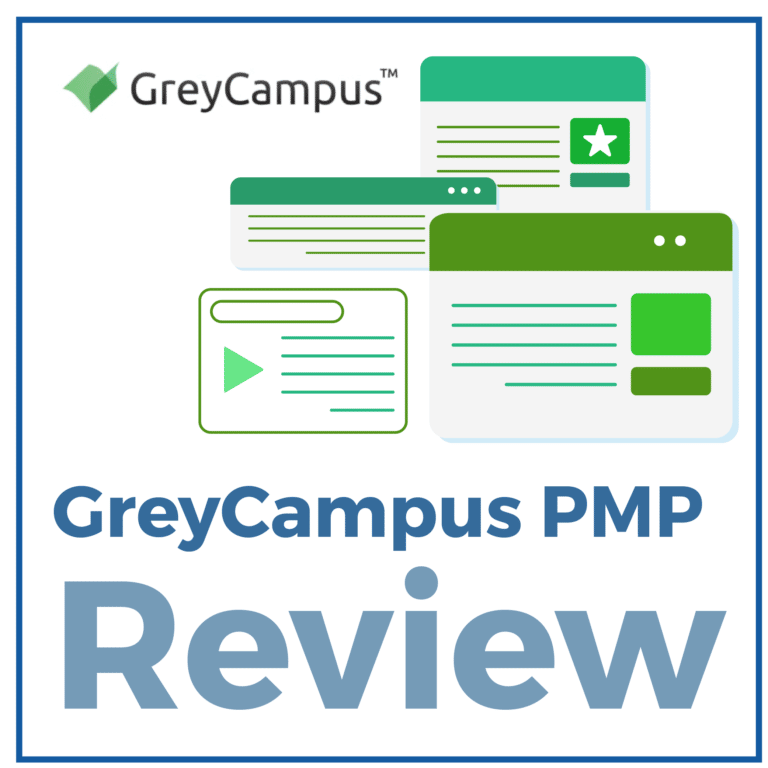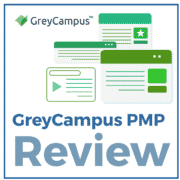 RATING: ★★★★★
GreyCampus brings students organized, instructor-led live and on-demand PMP prep courses at a reasonable cost, as well as an entire year of access to online study materials. Their study materials are available online or offline and include the PM Toolkit, flashcards, and interactive lectures.
With training offered by project management experts and availability in more than 50 locations around the world, GreyCampus' PMP, CAPM, and PMI-ACP prep courses stands out from their competition.
Grey Campus PMP Course Features
3 to 4-Day Workshop or 32 Hours of Bootcamp Instruction
35-Contact Hour Certificate with Live, Premium, and Standard options
30-Day Instructor Helpline with Bootcamp course
21 Hours of Video Lectures with Bootcamp & without Bootcamp versions
3 Full-Length Mock Tests with 1500+ Practice Questions
500+ Flashcards
15 Common PM Tools Toolkit
Mobile App for Android
100% Money Back Guarantee
Bootcamp, and without Bootcamp versions available
1 Year Subscription to Online Course Materials
Grey Campus PMP Pricing
PMP Training – Without Bootcamp Course Version
Price: $300
Includes:1-year access to 21 hours of video instruction, 3 simulated practice tests, 500+ flashcards, PM Toolkit with 15 common PMP tools, 35-contact hour certificate, and 30-day Instructor Helpline.
Bootcamp Course
Price: $699
Includes: Bootcamp courses with 32 hours of live instruction, a certification, and experience and interaction with project management tools. Availability varies.
---
Grey Campus PMP Strengths
1. Self-Learning Platform
One of GreyCampus' best features is the well-organized content that can be used for independent study. Study materials and questions are sorted by knowledge area and practice group, allowing students to focus their attention on areas that give the greatest difficulty. GreyCampus' course monitors progress and provides a cumulative performance overview. Students are also given access to a PM Toolkit that includes resources used by Project Managers as well as more than 500 flashcards.
2. 35 Contact Hours
The Online Self-Learning PMP prep course will cover the 35 contact hour requirement that students need in order to apply and sit for the PMP exam, awarding those who pass with a certificate as proof. Both the self-learning and live instruction options include these contact hours, meaning that students will require no additional education to take the exam after concluding any GreyCampus PMP prep course.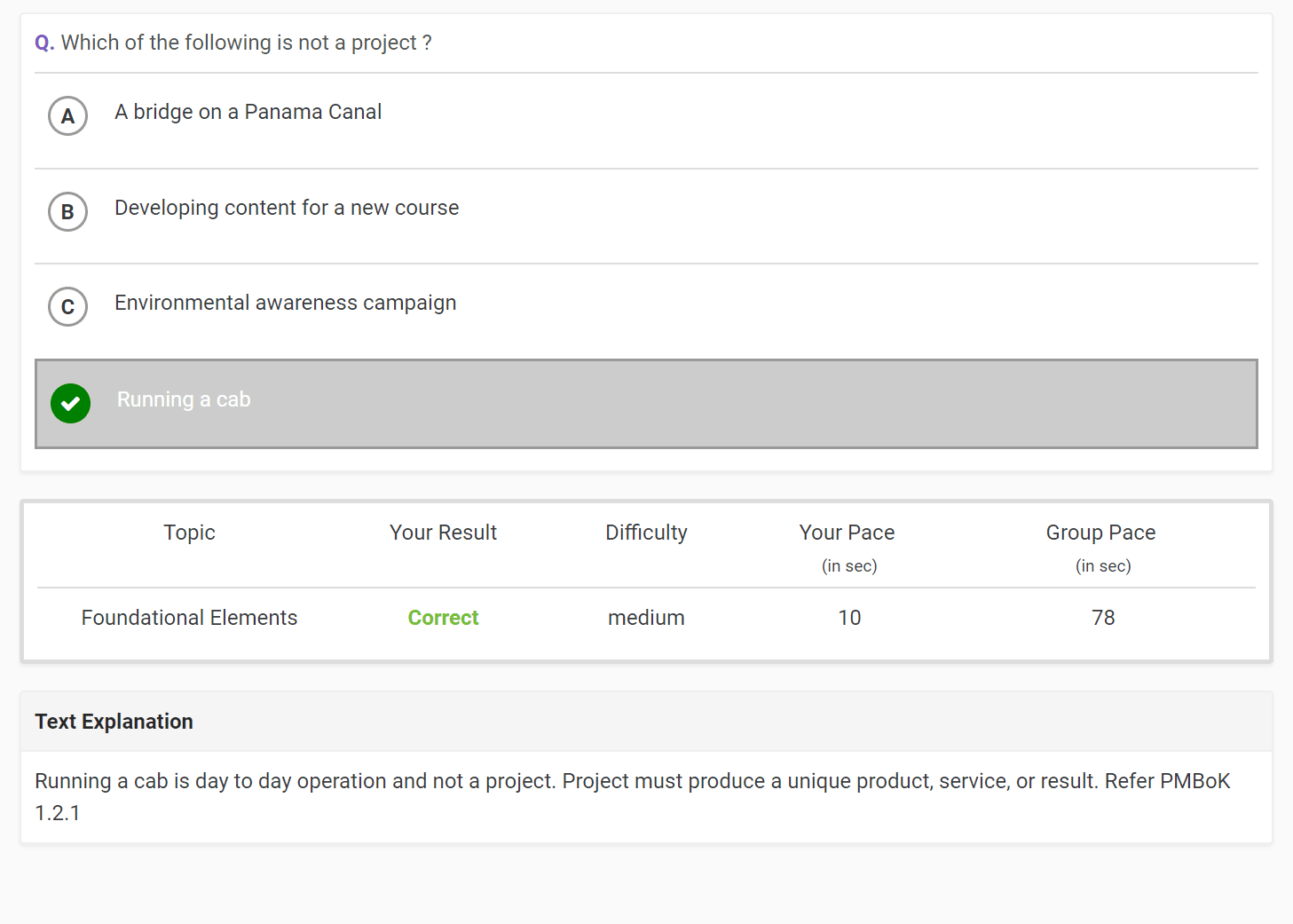 3. Interactive Lectures
As part of their Online Self-Learning package, GreyCampus includes several hours of informative video lectures. These often consist of a qualified instructor speaking with a slideshow visual aid and a live transcript along the right-hand side. Students have the option to pause, rewind, or skip certain lines and slides in each lecture, allowing for a level of interaction that rivals that of a live instructor.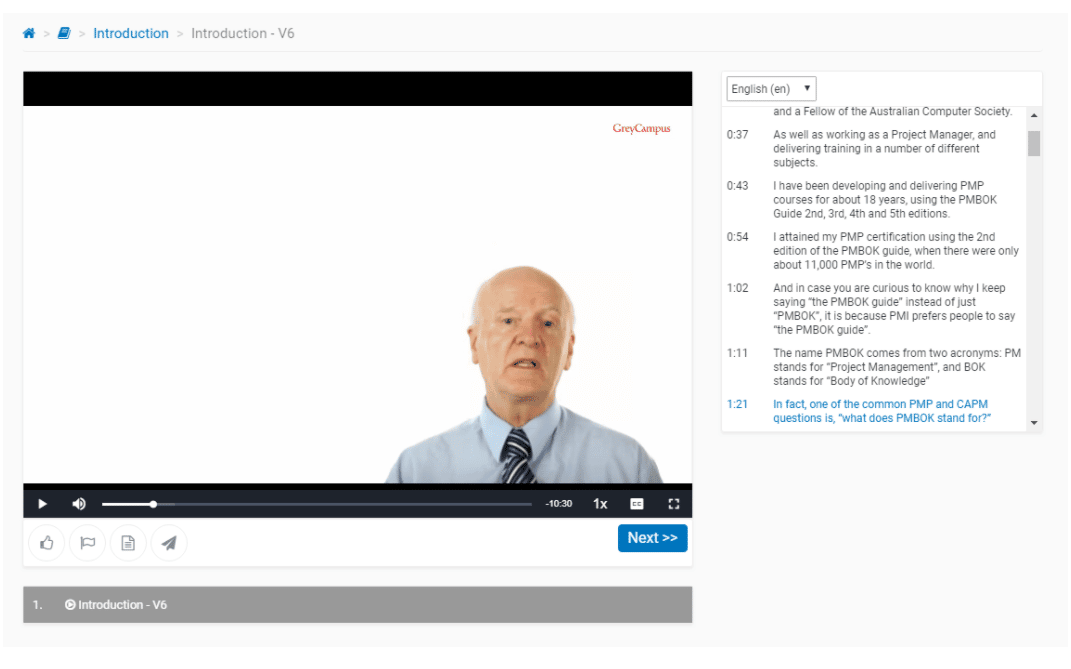 4. 1 Year of Access
With one year of access to the course, students have plenty of time to study and learn the material. This is especially helpful for students who finish the course and take their PMP exam with time to spare, since they can access these same learning materials in order to brush up on certain concepts. This access also applies for students who pick either of the Bootcamp packages.
LEARN MORE ABOUT GREY CAMPUS PMP
Grey Campus PMP Weaknesses
1. Simulated Exams
GreyCampus offers three simulated exams in their PMP review course. For the vast majority of students, this should be enough material for them to become more comfortable with the exam-taking process and prepare for the real thing without wasting a great deal of time. However, the lack of more than three simulations and the exclusion of customizable simulations is disappointing since competing educational providers do provide these amenities.
2. Customer Support
GreyCampus provides chat, phone, and email support on top of a 30-day instructor helpline for answering specific questions in a one-on-one setting. While the instructor helpline is a convenient and high-quality feature, the customer support is disappointing and has led to many complaints left online from frustrated students trying to resolve issues.
Ideal User
With a variety of online and offline course offerings, different study methods, and the ability to choose the level of study you need, GreyCampus courses will meet the demands of most students. The bootcamp courses are excellent as well because they are interactive and allow students to ask questions during class.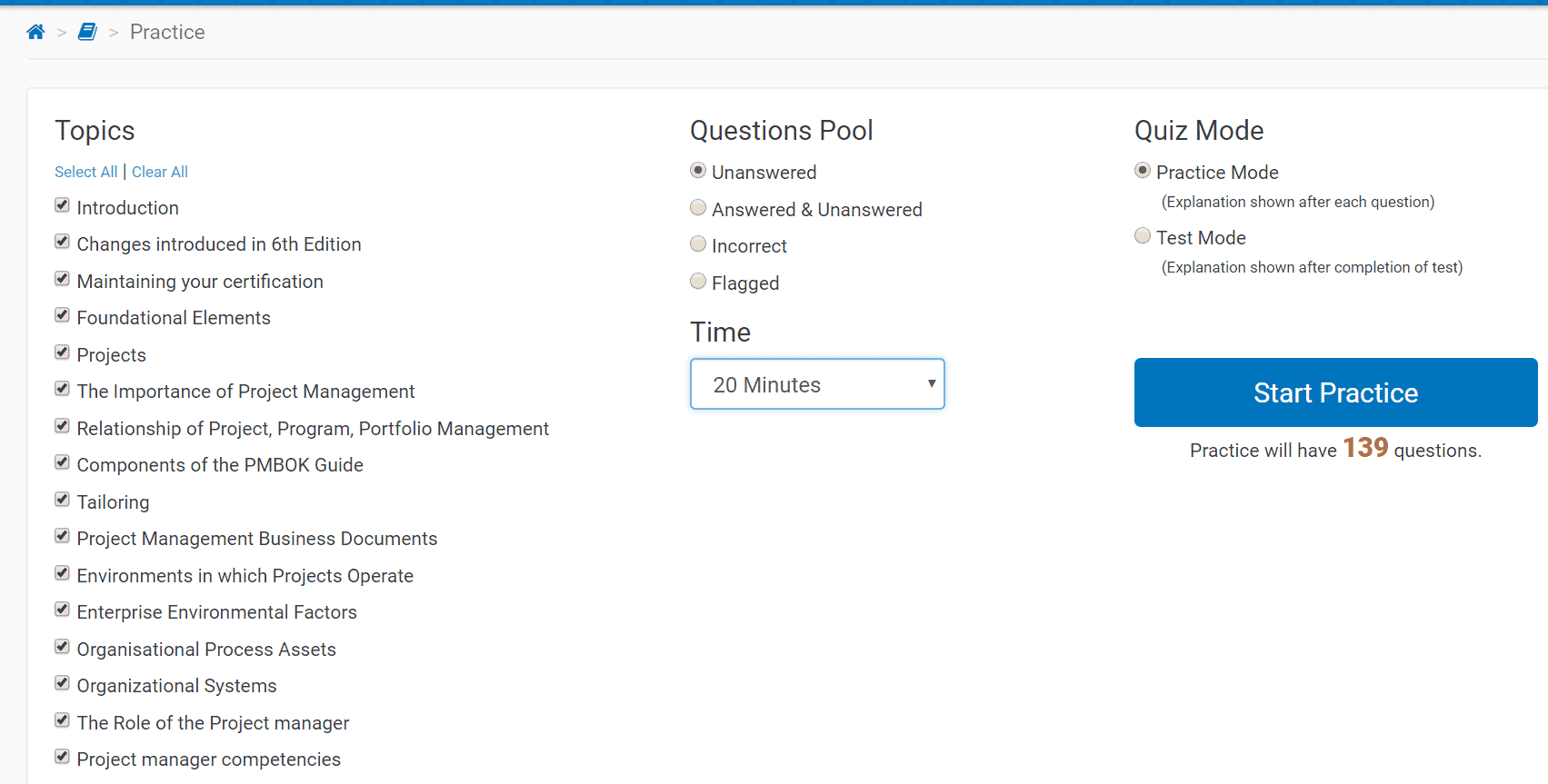 The Online Self Learning option is a better fit for self-motivated students who want to study on their own schedule and don't necessarily have the time or budget to attend a live class. Exam candidates can choose the best course based on their budget and individual needs, since any package will provide them with the requisite knowledge and experience to sit for and pass the PMP exam.

My Suggestion
GreyCampus offers several options for studying for the PMP exam, including bootcamp, and without bootcamp courses. This makes them a good fit for students who are working full-time while trying to study. It's clear from observing their without Bootcamp package that GreyCampus is committed to providing high-quality education for students in a manner that is friendly and effective.
Having access to the course for 12 months is a nice perk, but with only 30 days of helpline access, you will have to organize your study time accordingly. Furthermore, issues with customer support are unfortunately to be expected and should be planned for if any issues arise that will necessitate contacting them. However, students should find themselves very satisfied with their results after taking GreyCampus' PMP prep course.
(if you're still not sure whether GreyCampus is a good fit for you, check out our other PMP online trainings here)
---
Best GreyCampus Coupon Codes & Discounts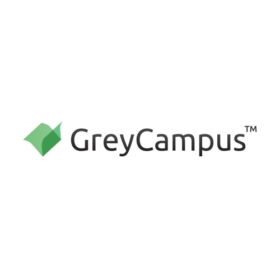 Save 10% on Grey Campus Live-Online and Live
2 uses today
Last Used: 1 hours ago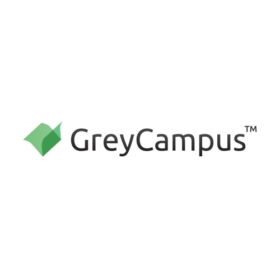 Cyber Monday Sale! Save 20% on Grey Campus Live-Online and Live
2 uses today
Last Used: 1 hours ago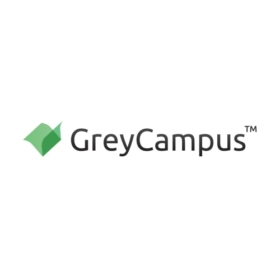 Save 50% on Grey Campus Self-Learning Courses
1 uses today
Last Used: 1 hours ago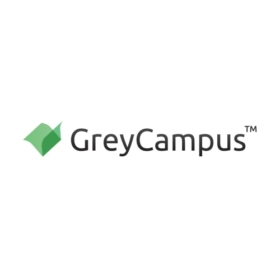 Cyber Monday Sale! Save 70% on Grey Campus Self-Learning Courses
1 uses today
Last Used: 1 hours ago
View More
---
GreyCampus Online PMP Course Review: Summary
| | |
| --- | --- |
| GreyCampus PMP Review | Best Features |
| 1. | Well-Organized Learning Platform |
| 2. | Includes 35 Contact Hour Certificate |
| 3. | Customer Support and Instructor Help |
| 4. | Mobile App |
| 5. | 1 Year of Access |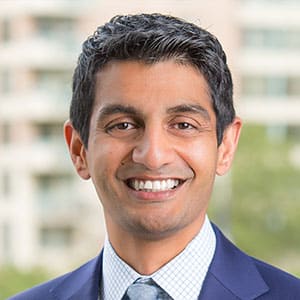 Amit Patel is the founder and chief writer for Crush the PM Exam. A lifelong student, Patel's desire for career growth led him to research the many different certifications and career opportunities in the world of project management. Armed with this knowledge, Patel's new passion is for sharing what he's learned with his fellow students so they can achieve their dream careers.