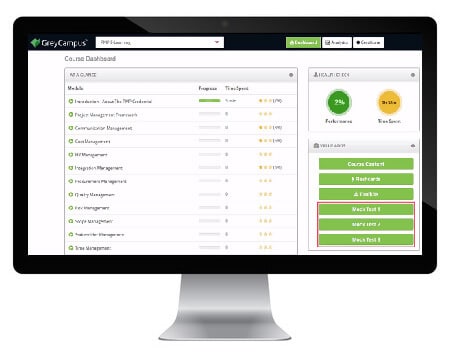 AANSLAG: ★★★★★
GreyCampus brings students organized, instructor-led live and on-demand PMP prep courses at a reasonable cost and an entire year of access to online study materials. The PM Toolkit, proven training by course experts, and availability in more than 50 locations around the world make GreyCampus stand out from the competition.
A combination of online and offline options, various pricing levels based on offerings, and a range of delivery methods, makes these courses a decent choice to raise PMP scores without breaking the bank.
Voor
1. Well-Organized Learning Platform
One of GreyCampus's best features is the well-organized content. Study materials and questions are sorted by knowledge area and practice group, so that you can target those areas that give you the greatest difficulty. Die kursus monitor jou vordering en bied 'n oorsig van jou prestasie, so you can use this information to choose those items you need to work on, rather than practice what you already know. You also get access to a PM Toolkit that includes 15 tools and templates frequently used by Project Managers, en meer as 500 flitskaarte.
2. Sluit 35 Contact Hour Certificate
The Online Self-Learning PMP prep course includes the 35 contact hour certificate that you need in order to apply and sit for the PMP exam. The live class options also include these contact hours, so you are free to choose the version of the course that best suits your needs.
3. Customer Support and Instructor Help
GreyCampus provides chat, phone, en e-pos ondersteuning. Jy kan toegang tot die 30-dag-instrukteur hulplyn wanneer jy 'n vraag, en die klein bondel grootte van kursusse beteken dat jy meer een-tot-een keer kry met 'n instrukteur as jy 'n live natuurlik opsie kies.
4. Mobile App
GreyCampus bied 'n foon vir Android-gebruikers met 'n paar vrye inhoud sowel as toegang tot 13 kennisarea eksamens en meer as 200 flitskaarte. Dit laat besig professionele om te studeer op die pad wanneer hulle die kans kry. Ongelukkig, daar is geen inligting vir iOS-toestelle.
5. 1 Jaar van Toegang
With one year of access to the course, you have plenty of time to study and learn the material. Maar, you only get 30 days to take advantage of the instructor helpline, so make sure you schedule your course to maximize your use of that feature.
CONS
1. Not All Material Includes Explanations
If you're using the app, the online lessons, or the on-demand course, you won't find explanations for the practice questions on the quizzes. You'll know that you got a problem wrong, but you won't necessarily know why the answer is wrong or how you should approach that type of problem in the future. In this case, an instructor-led course is helpful because you can ask your instructor, or you can call the instructor helpline.
2. No Demo or Trial
With no trial or demo, you can't preview the various features, and it will be difficult to know if you'll like the GreyCampus program before you commit to it. This holds true for both live and online options. We think the course is well-organized and will suit most PMP exam candidates, but it would be nice to get a sneak preview before you pay for a course.
Ideale User
With a variety of online and offline course offerings, different study methods, and the ability to choose the level of study you need, GreyCampus courses will meet the demands of most students. The instructor-led classes are ideal for those who need the individual guidance of an instructor, the motivation of a class to stay on task, or prefer traditional classroom learning. The live online courses are a good choice as well, because they are interactive and allow students to ask questions during class.
The Online Self Learning option is a better fit for self-motivated students who want to study on their own schedule and don't necessarily have the time or budget to attend a live class. Exam candidates can choose the best course based on their budget and individual needs.
With limited help from instructors and no peer interaction, the on-demand option is a good fit for highly motivated students who want to study on their own, and prefer to learn from books and watch video material. The course is structured around the PMBOK guide (included in the cost), which makes it a good learning supplement if you are concentrating on the guide.
my voorstel
GreyCampus offers several options for studying for the PMP exam, including live classroom, live online, and an on-demand course. This makes them a good fit for students who are working full-time while trying to study. Toegang tot die kursus vir 12 maande is 'n lekker parmantig, maar met net 30 dae van toegang hulplyn, jy sal hê om jou studietyd dienooreenkomstig te organiseer.
Vergelyk die beste live PMP KURSUSSE!
Opsomming van Kursus Features
tradisionele klaskamer, Live Online, en On Demand Opleiding bied beskikbaar
1 Jaar Inskrywing vir Online Course Materials
Print afskrif van PMBOK 5de Uitgawe Guide
3 tot 4-dag werkswinkel of 32 Uur van Live Online Instruksie
35-Kontak Uur Sertifikaat met Live, Premium, en Standard opsies
30-Dag Instrukteur hulplyn met Premium Online Self leer kursus
21 Hours of Video Lectures with Standard and Premium Online Self Learning
3 Full-Length Mock Tests with 1500+ Praktyk Vrae
500+ Flashcards
15 Common PM Tools Toolkit
Mobile App for Android
100% Geld terug waarborg
Pryse
PMP Training – Online Self Learning
Prys: $400
Sluit: 1-year access to 21 hours of video instruction, 3 simulated practice tests, 500+ flitskaarte, PM Toolkit with 15 common PMP tools, 35-contact hour certificate, and 30-day Instructor Helpline.
Instructor-Led Course
Prys: $999
Sluit: Live online and classroom courses with 32 hours of live instruction, a certification, and experience and interaction with project management tools. Availability varies.
Vergelyk die beste live PMP KURSUSSE!
GreyCampus Online PMP Course Review: Opsomming
| | |
| --- | --- |
| GreyCampus PMP Review | Best Features |
| 1. | Well-Organized Learning Platform |
| 2. | Sluit 35 Contact Hour Certificate |
| 3. | Customer Support and Instructor Help |
| 4. | Mobile App |
| 5. | 1 Jaar van Toegang |
GreyCampus Review
Geskryf deur: Amit Patel
3 / 5 sterre