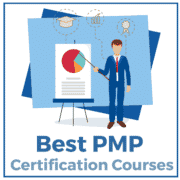 Finding a PMP Course Aoaoga Tusipasi is an important decision you'll make on your journey to pass the Project Management Professional exam.
Many students learn better in a traditional classroom-type setting rather than from a self-paced prep course. We have researched and reviewed the best PMP certification classes online to help you better compare them.
The comparison chart below will help you decide which PMP certification study materials best fit your needs.
(also, if you feel like a PMP course that is strictly online and on-demand would be better for you, check out our recommendation here)
Best Live-Online PMP Certification Prep Courses
Brain Sensei PMP Certification Review (Rank: #1)


faatulagaga aotelega: ★★★★★
Brain Sensei Course – tulaga e lelei

Interactive Lessons with Storytelling: Unlike competing PMP review courses, Brain Sensei will draw you into a story of a female Samurai who overcomes project planning challenges in Feudal Japan. Stories have been used to share knowledge and teach lessons since the dawn of humankind. Studies have also found that when you receive information in the form of a story, it's easier to absorb and recall information.

Your Own Personal Sensei (Instructor): Brain Sensei understands that self-studying with slide shows is not very engaging. That's why they give you your own personal animated sensei! He acts as your teacher throughout the course, offering any additional help or questions you may run into.

35 Contact itula aofia: Since Brain Sensei is a Registered Education Provider (REP) with the Project Management Institute (SMEs), you will receive the 35 hour requirements for the PMP exam. This course is a great way to maximize your study time without having to pay extra for a course that will let you gain contact hours.

Course Design: While other courses have flashy technology and an innovative website layout, this course is pretty basic and lacking in terms of design. This may be preferred since it is a direct and to-the-point way of learning. There won't be any distractions that take your focus away from studying.
Line pito i lalo: What sets this course apart from every single other PMP online study program on the market is their gamified narrative structure. Students even have a virtual instructor in the form of a cartoon Sensei!
ExamsPM PMP Training Review (Rank: #2)


faatulagaga aotelega: ★★★★★
ExamsPM PMP Course – tulaga e lelei

Free Extras:

ExamsPM provides potential students a chance to try out several aspects of their PMP prep course before making a financial investment. That way, you'll know exactly what you're getting into: no unwelcome surprises! Additionally, they include four bonuses if you enroll in any of their course tiers. This includes additional study materials for Agile and business analysis.

Long Access Period: Sometimes life gets in the way of your study plans and you find yourself taking a lot longer to prepare for your exams than you initially expected. If you're worried about this happening to you, ExamsPM has your back with their generous 1-year access period. Because of this, you can take all the time you need to make sure you pass the PMP exam on your first try!

Packed Curriculum:
In addition to over 1,500 faiga fesili, ExamsPM offers 5 full-length practice exams as well. These are simulations designed to imitate the real thing, which can be tremendously helpful in preventing pre-exam anxiety. And if you're looking to expand your project management knowledge base, there's always the bonus content based on business analysis and the Agile methodology!

No Buying Risk:

The only thing that feels worse than failing the PMP exam is feeling like you'll never get that time and money back. Fortunately, ExamsPM firmly believes that you'll pass the exam with the aid of their study materials; because of this, they'll give you a full refund if you aren't able to pass after using their prep course.
Line pito i lalo: ExamsPM has a lot of appealing features that make it a serious contender for the best PMP review course on the market. Thanks to the sizable question bank, multiple bonus offerings, and a generous satisfaction guarantee, choosing this study course is really a no-brainer!