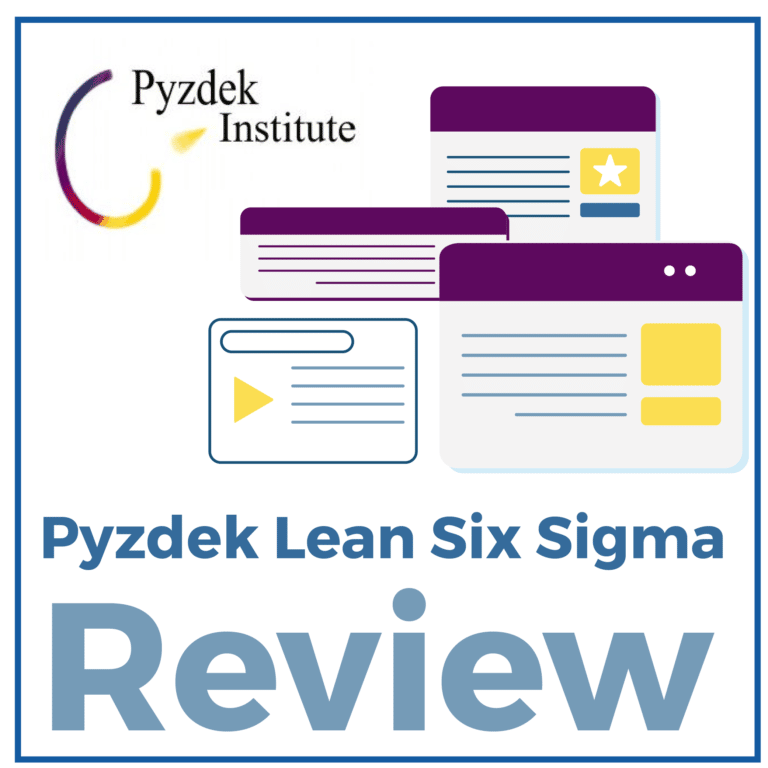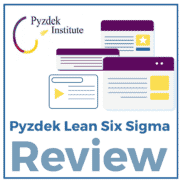 RATING: ★★★★★
The Pyzdek Institute is one of the early pioneers in Lean Six Sigma training in the United States. The name Pyzdek is almost synonymous with Lean Six Sigma. They often work with companies of employees to certify candidates through actual projects. This is especially helpful if you are already employed, seeking to increase your Quality and Process skills, along with your pay. The course is one of the hardest, but also one of the most recognized and competitive courses in the field. The program is fully accredited by the International Association for Six Sigma Certification (IASSC).
PROS
1. Proprietary Techniques of DMAIC
Developed to further assist the DMAIC principle of Six Sigma, the Pyzdek Institute breaks down each aspect of DMAIC (Define, Measure, Analyze, Improve, Control) into smaller, goal-oriented steps. This makes project completion more likely and helps eliminate the traditional pitfalls of Six Sigma practitioners.
The Pyzdek Institute offers a unique project-based certification that is widely recognized among companies that employ Lean Six Sigma Black Belts as the best, and often only, way to certify. If you are unemployed, Pyzdek works with nonprofit organizations to provide master level project certifications if you are in the Black Belt courses.
3. 1 Year Minitab License
One of the best tools for implementing Six Sigma methodologies is Minitab, an analytical tool with amazing interactive features. And upon enrollment into either the Green Belt or the Black Belt Lean Six Sigma course, you get a one year license to Minitab. While almost essential for Lean Six Sigma, Minitab is a very useful tool for other endeavors as well.
4. Payment Plan
While Pyzdek offers it's Lean Six Sigma Certification courses at competitive prices, it realizes the Green Belt and the Black Belt courses aren't exactly cheap. If you are a little strapped for cash, Pyzdek offers a payment plan option for the Yellow, Green, and Black Belt courses. The payment plans vary depending on which course you choose and will adhere to a 12 month cycle.
5. Online Forum
Each of the Lean Six Sigma Certification courses—except the White Belt—come with access to an online forum. From this forum you can communicate with fellow students, of all levels, as well as with instructors. This allows for instant communication for any and all answers you may need or for additional instruction for concepts that may be difficult.
Ideal User
The Lean Six Sigma Certification courses are perfect if you need a hard deadline with live instruction. It's a blitzkrieg approach that will inundate you with Six Sigma methodologies over the course of two days. After which, you'll face a project based certification for either a company you work for or a nonprofit organization.
My Suggestion
Pyzdek literally wrote the book on Lean Six Sigma in the United States. In fact, you get an autographed copy of the textbook from Thomas Pyzdek when you sign up. It's of course accredited, and it's project based certification make it one of the most well-regarded Lean Six Sigma Certification courses available.
Summary of Course Features
Online Live Instruction

Support Forum

Project Coaching

1 Year Minitab License

700+ Quiz Questions

Aligned to IASSC
Pricing


| | | |
| --- | --- | --- |
| Name | Prices | Description |
| White Belt | Price: $99 | Includes: 4 online modules, certification, 68 quiz questions, 30 day subscription, 0.4 CEUs, 4 hour commitment |
| Yellow Belt | Price: $595 | Includes: 42 online modules, certification, 300+ quiz questions, 180 day subscription, 4 CEUs, 40 hour commitment |
| Green Belt | Price: $1,925 | Includes: 50 online modules, certification, graded assignments, 1 year Minitab license, autographed textbook, project coaching, 500+ quiz questions, 365 day subscription, 10 CEUs, 100 hour commitment |
| Black Belt | Price: $2,750 | Includes: 50 online modules, certification, graded assignments, 1 year Minitab license, autographed textbook, project coaching, 500+ quiz questions, 365 day subscription, 18 CEUs, 180 hour commitment |
Pyzdek Lean Six Sigma Breakdown
| | |
| --- | --- |
| Pyzdek Institute Lean Six Sigma | Strengths |
| 1. | Industry Specific Focuses |
| 2. | Self-Paced and Live Instruction |
| 3. | Support Forum |
| 4. | Real Life Projects |
| 5. | Modular Design |