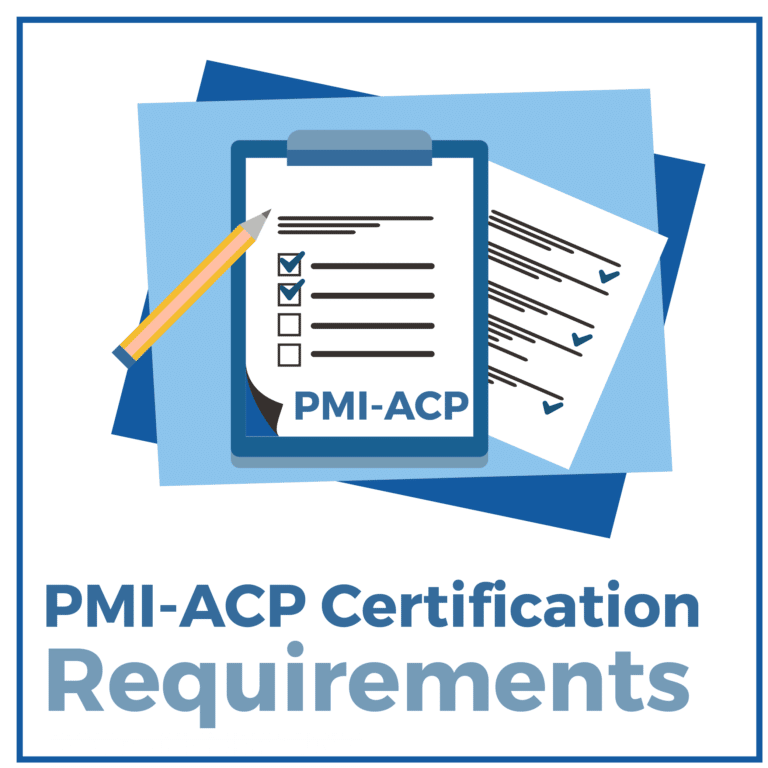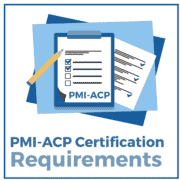 The PMI-ACP or Project Management Institute Agile Certified Practitioner certification allows you to demonstrate your proficiency in using agile methods, practices, and tools, to certify your qualifications for positions that employ agile practices.
While not required for every project manager, the PMI-ACP certification is a must for those who want to demonstrate their versatility in a modern project management environment. The following information is meant to help you understand the PMI-ACP process and decide if the exam and certification are right for you.
The PMI-ACP or Agile Certified Practitioner Certification offered by the Project Management Institute (Mala in srednja podjetja) certifies you as an agile project manager. Unlike competing certifications, such as ScrumMaster, which primarily focuses on Scrum, the PMI-ACP tests a very broad range of knowledge including XP, Scrum, Lean, DSDM, Crystal, FDD, and Kanban. V dodatku, the strict certification requirements mean that you must have enough experience to perform well in the position in order to get the certification, making it more valuable to employers.
The PMI-ACP has several requirements in addition to passing the examination. Tej vključujejo:
Secondary Degree or Higher: You must have a high school degree, Associate's Degree, Global Equivalent or higher.
General Project Management Experience: You must have earned a minimum of 2,000 hours of working on project management teams within the last 5 years and have an active PMP or PgMP certification.
Agile Project Experience: You must have a minimum of 1,500 hours of working experience with agile teams or agile methodologies, all earned within the last 3 years. These are in addition to (not including) a total of 3,500 hours of general project management experience.
Training in Agile Practices: You must have a minimum of 21 contact hours of training in agile practices from approved or certified sources.
You will also have to pass the PMI-ACP exam in order to earn the certification.
The PMI ACP Exam is updated every few years to remain current with respect to methodologies and practices. Za ta razlog, content will change frequently and you should verify that any study books or prep courses you choose to take are up-to-date. Please note that the exam is being updated in July-October 2015! A new domain has been added to the delineation (Agile Principles and Mindset). The exam is divided into two broad areas: 50% of the exam tests information related to tools and techniques, in 50% tests your knowledge and skills, although each general area contains several subdomains.
The test consists of 120 multiple-choice questions. Only 100 of the questions are scored, but it is nearly impossible to distinguish scored from unscored questions, because these are spaced at random throughout the exam. After passing the exam, you are required to continue your formal education by earning a minimum of 30 professional development units (PDUs) in agile topics every three years.
How Hard is the PMI-ACP Exam?
The PMI-ACP exam is not as difficult as the PMP exam, vseeno, it does require a broad range of knowledge, a familiarity with the topics, and an ability to answer questions quickly. Because the exam mostly relies on a broad level of knowledge, it is important to read through the PMI-ACP Handbook, study practice questions, and consider taking a PMI-ACP Exam prep course if you aren't satisfied with your performance on practice tests.
Preparation strategies include signing up for a commercial prep course, using quality study materials, and getting help from qualified instructors, to increase your chances of success on the exam. Če vam ne uspe izpit, ga lahko ponovno vzeti, up to three times within one year, after which you will have to wait a year before re-applying and paying the entrance fee again.
The PMI-ACP exam is divided into two main sections with multiple subdivisions. Previously, half of the test concerned Knowledge and Skills, and the other half addressed Tools and Techniques. On the revised PMI-ACP exam, specifications will be based on domains and tasks, with secondary reference to the supporting techniques and/or knowledge and skills.
Knowledge and Skills
There are now 7 Domains on the PMI-ACP exam. 62 tasks are validated in the context of the seven domains of practice. Domains and Tasks include:
Agile Principles and Mindset (New in Summer 2015) (16% of exam)
Value-driven Delivery (20% of exam)
Stakeholder Engagement (17% of exam)
Team Performance (16% of exam)
Adaptive Planning (12% of exam)
Problem Detection and Resolution (10% of exam)
Continuous Improvement (9% of exam)
Orodja in tehnike
Tools and Techniques include 10 knowledge sections, as follows:
Communications – Information Radiator, Team Space, Agile Tooling, Osmotic Communications
Planning, Monitoring, & Adapting – Retrospectives, Timeboxing, Iteration, etc.
Agile Estimation – Relative Sizing/Storypoints, Wide Band Delphi/Planning Poker, Estimating
Agile Analysis & Design – Product Roadmap, Wireframes, Chartering, Agile Modeling
Product Quality – Frequent Verification & Validation, Test Based Development, etc.
Soft Skills Negotiation – Emotional Intelligence, Collaboration, Adaptive Leadership, etc.
Value Based Prioritization – ROI, Net Present Value, IRR, Compliance, MMF, Prioritization
Risk Management – Risk Adjusted Backlog, Risk Burndown Graphs, Risk Based Spike
Metrics – Velocity Cycle Time, Earned Value Management, Escaped Defects, Etc.
Value Stream Analysis – Value Stream Mapping, Etc.
The PMI-ACP Exam is held over a 3-hour period, giving test-takers an average of 1.5 minutes to answer each question. Answering short questions more quickly will give you additional time to solve longer, more complex questions. Note that there are fewer long questions on the PMI-ACP than on the PMP exam.
Scheduling the PMI-ACP Exam
Scheduling the PMI-ACP exam is straightforward and can be done na spletu. You will have to submit proof of your work and education experience, as well as your PMP or PgMP certification in order to register. Schedule the exam online by visiting prometric.com/pmi, or you can make a telephone call to schedule the exam, which is typically administered at Prometric CBT centers around the world.
The first part of the exam application includes an assessment, which must be completed in order to receive the PMI-ACP Eligibility ID that is used to schedule your specific exam date. Special accommodations can be arranged by calling the Special Conditions Department in advance. The exam may be canceled without charge 30 days before the exam. If you cancel within 30 days and reschedule, it will cost $70. Rescheduling within 2 days of the exam date, will result in forfeiting the initial exam fee.
20 days before your scheduled examination, you will receive a PMI Identification Code. You should bring this, along with your initial confirmation notice and your official government identification (or an acceptable form of identification in English). You should arrive a minimum of 30 minutes before the exam, preferably sooner in case there is a line. You must present a picture ID (t.j.. photo ID) or you may not be admitted to the exam, Čeprav boste morda lahko zagotovi pomemben sekundarni dokazilo o identifikaciji.
Ne smete prinesti pijače, denarnice, hrana, plašči, kalkulatorji, telefoni, ali različnih drugih predmetov v prostoru za preskušanje, zato je pomembno, da preberete navodila, načrtuj vnaprej, in prinese vrečko za shranjevanje osebnih predmetov ob test. Čeprav lahko nosite pulover v območju testiranja, ne moreš sneti. Boste morali vzeti odmor, da se odpravijo oblačil, če je prevroče, ali pa, da bi dobili pijačo.
Boste morali, da se prijavite in za vsak odmor, in ura vašega izpita ne bo ustavil, ko ste zunaj, zato je najbolje, da se zmanjša število prelomov ste vzeli. 3-urni izpit je pred 15 minut izbirnih raziskovanj. Scratch papir ali označevalec svet, kot tudi vgrajen kalkulator so na voljo. Lahko pa tudi dvig roke zahtevajo ročni kalkulator kadarkoli.
Izpitu PMI-ACP ima 120 vprašanja, od tega samo 100 se točkujejo. Because there is no way to determine which questions are scored, you should do your best to answer each question correctly. PMI does not publish a specific score that is required to pass the exam, because (as with the PMP exam) the grading system is based on the difficulty of the questions that are answered correctly. This means that it is more important to answer difficult questions correctly. You should answer every question on the test because unanswered questions are automatically graded as incorrect.
pristojbine PMI-AKP se razlikujejo glede na to, ali ste član PMI ali ne, in ali se registrirate na papirju ali na osnovi računalniškega testa. Stroški Testni papir $385 za člane PMI in $445 za nečlane. To je na voljo le pod določenimi pogoji (najdete na spletni strani PMI za podrobnosti). Bolj pogosti računalniško podprto stroški za teste $435 za člane PMI in $495 za nečlane. Letni stroški za članstvo PMI $129. Vi bi morali predvideti tudi stroške priročniki, vodniki, in prep tečaj, Če se odločite, da izkoristijo te možnosti, da se pripravite na izpit.
certificiranje PMI-ACP ga dodeli svetovno priznano podjetje, ki se šteje za standard pri certificiranju projektnega vodenja. Certificiranje zahteva imajo določeno število ur izkušenj kot tudi opravljen preizkus, tako da je ena izmed redkih programov, ki dejansko certificira izkušnje ter znanje testiranje vsebine in spretnosti. Kot tak, to potrdilo je dragocena za delodajalce in bodo kandidati bolj tržno.
Potrdilo o PMI-ACP vam bo omogočilo, da se premaknete na področju agilnega projektnega vodenja, še posebej, če delate za podjetje, ki ceni agilnih praks ali namerava preseliti v to polje. Naslednje poklicne poti in delovna mesta lahko veliko koristi od certificiranja PMI-AKP:
plača Območje $88,000-$120,000. Višji Vodje projektov nadzira velike skupine ali več skupin, običajno z več projektni vodje delajo pod njimi, olajšati agilnih metodologij in pristopov, in delo z proračuna, načrtovanje, in dolgoročna strategija.
plača Območje $58,000-$120,000. Scrum managers lead project teams, facilitate an agile approach within teams, arrange meetings and demonstrations, guide entry-level engineers, guide and shape team behavior, validate programming code and products, document and communicate expectations, etc.
plača Območje $54,000-$120,000: These professionals lead technical teams in the development, management, or maintenance of technical projects or project development. They also create plans and test plans, zagotovitev rentabilnosti izdelkov, usklajevati dobavo in proizvodnjo, in zagotavljajo izpolnjevanje standardov kakovosti.
Senior IT Project Manager
plača Območje $80,000-$130,000: Višji IT Vodje projektov, razvoj projektnih načrtov, nadzoruje velikih skupin, delo z razvijalci in preizkuševalci, projekti, načrt, dodeliti naloge, razporediti usposobljene delavce, Med drugimi nalogami.
plača Območje $65,000-$124,000. Vodje projektov' Naloge se razlikujejo veliko, ki temelji na različnih projektih v različnih panogah, ampak delo običajno vključuje vodenje kratek, zaporednih projekti, nadzor kakovosti, proračuna, časovnice, in osebje interakcija.
Inštitut Project Management (Mala in srednja podjetja), je priznana po vsem svetu kot certificiranega in akreditirani ustanovi, izdelavo vaše certificiranje PMI-ACP dragocen in uporaben na mnogih področjih in delovnih mestih. PMI zahteva tudi določeno količino realnem svetu izkušnje in ocenjuje, da so izkušnje pred odobritvijo certificiranje. Ta, v kombinaciji z zahtevami stalnega izobraževanja, pomeni, da vaše certificiranje pošlje sporočilo za delodajalce, ki so jih doživeli, namenska, in lahko delamo.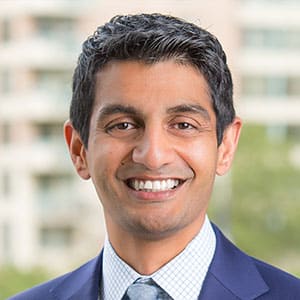 Amit Patel is the founder and chief writer for Crush the PM Exam. A lifelong student, Patel's desire for career growth led him to research the many different certifications and career opportunities in the world of project management. Armed with this knowledge, Patel's new passion is for sharing what he's learned with his fellow students so they can achieve their dream careers.