PMP Exam Boot Camps (What You Need to Know)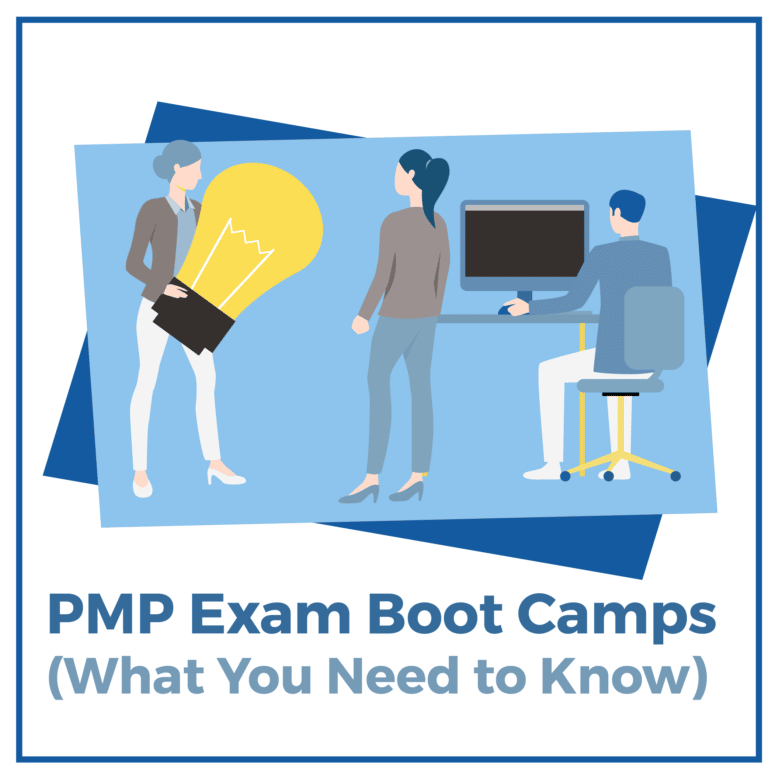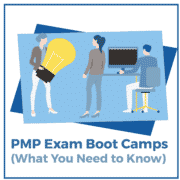 To earn your Project Management Professional (PMP) credential, you need pass the PMP exam and meet the experience and education requirements. The 200-question long exam is tough and requires about 35 hours or more of study, regardless of your experience in project management. You can choose to self-study with an online PMP training course or you can attend classes or study groups. Or, if you want to be really hardcore and ensure you pass your exam, you should definitely consider a PMP boot camp.
Usually at boot camps you find soldiers crawling through mud or climbing over 10 foot tall walls. The intense nature of a boot camp is meant to break in new recruits, and that is exactly what the PMP boot camps do with aspiring project management professionals.
PMP boot camps provide an accelerated path through the study process while taking out the many interruptions in our daily lives. Enrolling in PMP boot camp is a sure way to keep your head in the game and complete a concentrated amount of studying. Boot camps also provide the 35 contact hours that are a prerequisite for the PMP exam.
How Long and How Much are the best PMP Boot Camps?
PMP boot camps generally range from three to five days and can cost anywhere from a couple hundred dollars to several thousand. Some boot camps have a money back guarantee if you don't make a passing grade like many other PMP Prep courses including SimpliLearn and PMTraining. Some employers will even offer to fund your boot camp as long as you pass, incentivizing project managers to sign up for a couple days of intensive studying.
[uam_ad id="12194″]
Before and After Boot Camp
Many PMP boot camps have passing rates as high as 99%. While other test prep courses have exceptional passing rates, they lack the concentrated study structure of a boot camp. Preparing for the exam in three to five days can be an intense experience. Many PMP candidates will read the PMBOK guide prior to boot camp and make notes on what to areas to focus on in bootcamp. It's also recommended that you rely on outside studying in addition to bootcamp. Remember to book your examination no more than a couple of weeks after your boot camp so all studying doesn't go to waste.
Boot Camps are not for Everyone!
When preparing for the PMP exam, the most important part is picking a study plan that works with your life and learning style. Whether its visual, audio, or through experience, everyone learns best in their own way. For some, bootcamps are not the best option for their study schedule.
Boot camps are designed to give you noticeable results with a lot of effort in a short amount of time. This doesn't work for some because cramming 35 hours of instruction and practice exams into a 4 day span leaves students with insufficient time to digest the material. Also, boot camps often have limited space and are only offered at certain times of the year. This makes it difficult, sometimes impossible, to schedule a good time to go to PMP boot camp.
At PMP boot camp, the focus is on passing the exam instead of learning concepts for personal growth. Depending on what you are hoping to achieve with your PMP license, boot camp may not be the place for you. If you are simply trying to pass, PMP boot camp could be a great aid to use. If you are trying to become a better project manager and learn new skills, perhaps you should try an alternative study method that allows for you to have a deeper conceptual understanding.
We are all different as individuals, so of course boot camps are a great fit for some and not others. Regardless of whether you plan on doing a boot camp or not, I highly recommend getting a top PMP training course to supplement your studies. Best of luck!
Check out the BEST PMP BOOT CAMPS!
Bryce Welker is a top-notch expert in business and education. As a dynamic speaker, expert blogger, and regular contributor to Forbes, Inc.com, Business.com, AccountingToday.com, and Entreprenuer.com, he has helped readers boost their careers with his extensive knowledge. With a track record of founding over 20 innovative test prep websites, Bryce has helped countless students and professionals pass their certification exams and achieve their dreams. Bryce Welker is the ultimate guide to help you succeed in your career or education.