PM Campus Review
You're our #1 priority.
100% of the time.

We believe everybody should be able to make online purchases with confidence. And while our website doesn't feature every test prep company or review course in the universe, we're proud that the advice we offer and the information we provide is accurate, truthful, objective - and entirely free.

So how do we actually make money? It's simple, our partners compensate us. While this may influence which products we review and write about, and where they show up on the site, it absolutely does not influence our recommendations or guidance, which are formed by hundreds of hours of research and analysis. Check out our partners here.

What's the bottom line? We're on your team and are passionate about helping you achieve your career goals, even if it means we don't make a dime.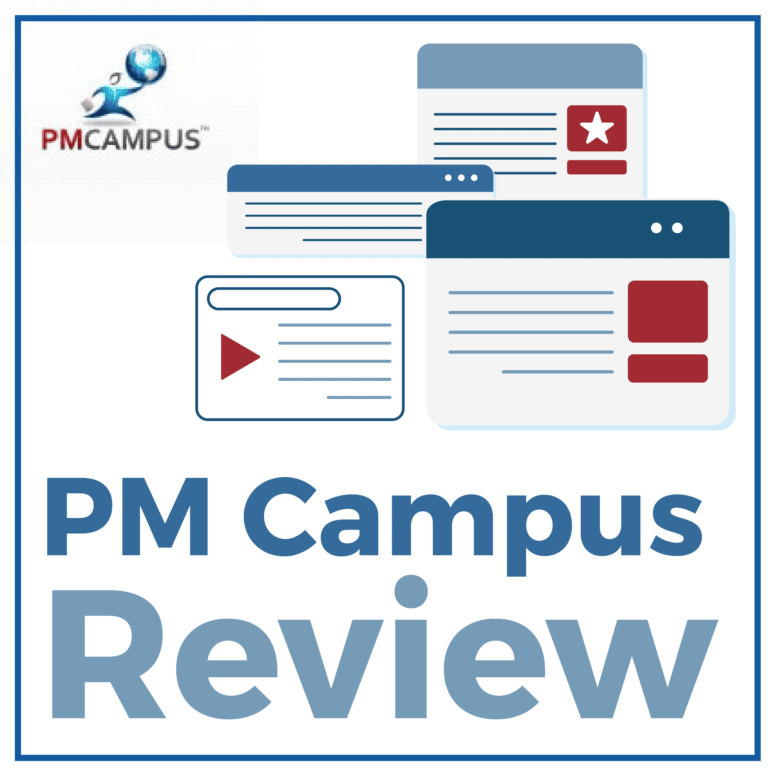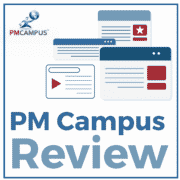 RATING: ★★★★★
PMCampus offers a number of very flexible options that include PMI approved contact hours, PDUs Certificates and a 100% Pass Guarantee. PMP candidates can choose from individual courses to prepare for the PMP exam by selecting only one or two prep options or by bundling several courses for the most cost-effective approach.
Through an online platform with webinars and live webcasts in addition to simulated exams, PMCampus provides learning content that extends beyond the PMBOK guide to real-world practice.
PROS
1. Variety of Study Options
PMCampus offers a variety of different study materials and courses, ranging from individual courses that focus on essential skills, tools, and techniques to bundled packages that combine several courses at a lower price. Unlike many other prep course offerings, PMCampus focuses on real world skills and tools rather than restricting itself to the content of the PMBOK guide. Coaching, simulated exams, webcasts, formulas, software, presentations, and recorded videos are also part of the package.
2. Full-Length Simulated Exams
PMCampus provides an exam simulator software program to help you prepare for the 4-hour PMP exam. Although it is possible to hit the pause button and come back to the simulated exam later, you'll get the best results if you take the practice exams under actual exam conditions. You can buy the exams separately or check if they are included in one of the bundled packages.
3. 35 Contact Hours Included
Many PMCampus bundles include the 35 contact hours that are required to take the PMP certification exam. Take advantage of combining studying for the exam with getting these crucial hours completed for maximum efficiency.
4. E-Coaching Is Available
Options include a help desk and "ask an expert" feature, however, you can also pay for additional Email Coaching to augment your prep course. This is ideal if you want to identify and work on your weak areas under the guidance of an experienced tutor, are struggling to remain motivated in an online course, or need additional help answering questions and practice problems. PMCampus coaches help familiarize students with the online training environment, support study goals, and provide guidance in developing a study plan so that you make progress and meet your milestones.
5. Free Trial & Mock Exam
The PMCampus free trial gives students access to their new online Training Center as well as content from the Platinum PMP Prep Exam Bundle (includes 3 courses and is aligned with the most recent edition of the PMBOK). There is also a free PMP mock exam with 200 practice questions. The free trial allows you to try before you buy to make sure the course you choose is the best match for your situation. Why not try it today to see which one works best for you?
6. 100% Pass Guarantee
PMCampus's 100% Pass Guarantee promises that you will pass the PMP exam or get your money back. You can retake their prep course twice if you fail, and if you fail a third time (and therefore make yourself ineligible for the exam for 1 year), you will receive a refund as long as you meet all requirements. Please see the PMCampus website for details.
CONS
1. Overwhelming Number of Course Options
It's possible to have too much of a good thing, and with many different courses and bundled course options, some students will have a difficult time sorting through all of the offerings. The PMCampus website contains so much information that it is difficult to determine which courses include the prep material you will need to optimize your own studies. For example, we noticed that although the Silver and Platinum bundles include the 3 simulated PMP exams, the Gold bundle does not.
2. Upgrades Cost Significantly More than Bundles
If you purchase a bundle and decide later that you need more information, training, or help, you will end up paying more than if you had purchased the more comprehensive bundle in the first place. For that reason, you should do your research by taking advantage of the free trials, take the free practice exam, and consider a bundle based on your experience with their study materials.
3. Limited Number of Practice Questions
With only 600 practice questions and three full-length simulated exams, PMCampus lags behind its competitors in these categories. As the saying goes, practice makes perfect, and it is always better to practice many different questions to prepare for the actual exam.
The majority of PMCampus courses are available on demand for self-study, making them ideal for those self-motivated learners who do not need live chat, interaction with other students, or an instructor-led live course. Students on a budget will appreciate PMCampus's offerings, especially if they spend the time to research exactly which courses will benefit them most and choose the bundle that combines those courses for additional savings. The personalized Email Coaching option is perfect for those who need a little more guidance to keep them on track while they study.
If you have the time to research the various options, you'll be able to try out, select and purchase a course that contains precisely those features you need most. You can always upgrade to a course that contains more material, but it is more cost-effective to pay for a bundle up front. For example, the silver bundle combines the 35 contact hours course with 3 simulated PMP exams at a significant discount ($165 instead of $198). The platinum bundle contains everything in the silver course plus the 40 Essential PMP Skills Course (PMPSKL) for $199.
If you are not sure how much time you'll need to study, you can pay to extend your course (options include 5, 10, 30, 60 or 90 extra days). The price varies according to the number of days and the type of course ($40-$95).
PMCampus allows students to access a large variety of options and practice material at a decent price. The learning modules based on real world experience take a unique approach to studying for the PMP exam while still covering the basics in the PMBOK guide. Be sure to sign-up for their free trial to check out their course material and see if you are a good fit for their teaching style.
Using PM Campus isn't a terrible option to prepare your exam, but most of their competitors offer better and more well-rounded prep courses so I would suggest comparing them before committing to anything.
COMPARE THE BEST PMP PREP COURSES!
---
Summary of Course Features
35 Hour PDU Certificate
Webcasts
PMP Exam Formula
PMP Simulation Software
600+ PMP Practice Questions
PMBOK Reference & Explanations for Questions
PMI RDS 40 Skills Presentation
100+ Advanced Situational Questions
Weekly Live Webinars
Recorded Webinars
Pass Guarantee
Help Desk
Email Coaching
Pricing
30 Days PMP Exam Prep Course
Price: $99
Includes: 35 Contact Hours PDU Certificate, All Study Material, Exam Tips, Virtual Coach, Gap Analyzer, Webcasts, Exam Formula, Self-study Guide, Simulation Software, Speed Reading Activity, Recorded Webinars, 4 Live Webinars, Ask an Expert, Helpdesk, and 30 Days of Access
35 Contact Hours PMP Exam Prep Course
Price:  $149
Includes: 35 Hour PDU Certificate, All Study Material, Exam Tips, Webcasts, Exam Formula, Simulation Software, Speed Reading Activity, Recorded Webinars, 600+ Practice Questions, Helpdesk, Pass Guarantee, Weekly Live webinars, and 90 Days of Access
Silver
Price: $165
Includes: 35 Hour PDU Certificate, All Study Material, Exam Tips, Webcasts, Exam Formula, Simulation Software, Recorded Webinars, Helpdesk, Pass Guarantee, 12 Live webinars, 3 PMP Mock Exams, and 90 Days of Access
Gold
Price: $179
Includes: 35 Hour PDU Certificate, All Study Material, Exam Tips, Webcasts, Exam Formula, Simulation Software, Recorded Webinars, Helpdesk, Pass Guarantee, 12 Live webinars, 100+ Advanced Situational Questions, PMI RDS 40 Skills Presentation, and 90 Days of Access
Platinum
Price: $199
Includes: 35 Hour PDU Certificate, All Study Material, Exam Tips, Webcasts, Exam Formula, Simulation Software, Recorded Webinars, Helpdesk, Pass Guarantee, 12 Live webinars, 100+ Advanced Situational Questions, PMI RDS 40 Skills Presentation, 3 PMP Mock Exams, and 90 Days of Access
Platinum +
Price: $249
Includes: 35 Hour PDU Certificate, All Study Material, Exam Tips, Webcasts, Exam Formula, Simulation Software, Recorded Webinars, Helpdesk, Pass Guarantee, 12 Live webinars, 100+ Advanced Situational Questions, PMI RDS 40 Skills Presentation, 3 PMP Mock Exams, and 180 Days of Access
3 PMP Simulated Exams
Price: $49
Includes: 3 Simulated Exams with 600 Questions
PMP Exam E-Coaching
Price: $179
Includes: 3 Weeks of Customized Coursework, 90 Minutes of One-on-One Time with Coach
Related Posts