Best Project Management Careers
By: Amanda Harley, certified Project Manager and Process Engineer
Roughly a third of your life, if not more, will be spent at work. The job you have and the career you forge can largely impact your quality of life. But where do you begin when you're in pursuit of your dream job? There's a lot of strategy that goes with mapping out your project management career. If you don't have a unique skill or passion that supplements your project management skills, trying to navigate the multitude of industries and jobs can get overwhelming very quickly.
The career path for a project manager is highly adaptive. Project management requires a core skillset that's applicable in many professions. Consequently, this career choice can include job titles like Project Scheduler, Consultant, Operations Manager, Social Media Manager, Brand Manager, etc. However, the traditional career path aligns more closely with:

In this profession, your options aren't limited. Every company executes projects aiming to expand and improve their operations. Therefore, those critical skills needed to be a successful project manager are valuable across any industry. In fact, the Project Management Institute's (PMI) Project Management Job Growth and Talent Gap report found that between 2017 and 2027, there will be 22 million additional project-oriented jobs created with 87.7 million people working in the field by 2027. 
This article will outline the best careers within project management. To clarify, I perceive the word "best" to mean a career that offers competitive compensation and has ample opportunity for growth and development. To start off, we'll need to throw some statistics around about the current and future job market.
Let's Talk Money – Project Management Salaries by Industry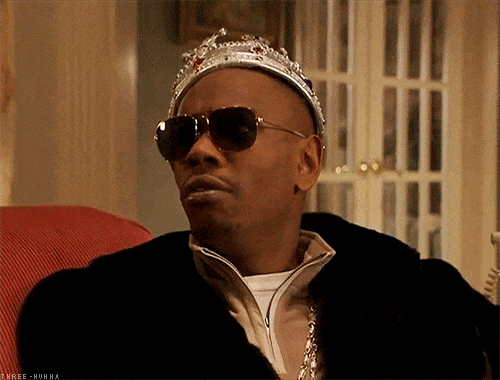 While pay isn't the primary reason employees stay at jobs, it can be effective at getting talent in the door. According to Glassdoor, the national average for a project manager sits at $75,945 a year with an additional cash compensation average of $6,309. This poll considered 101,677 project manager salaries and showed that the leading industries in terms of annual pay for project managers were:
Energy & Utility:

$84,307

Accounting & Legal:

$82,203 

Aerospace & Defense:

$81,340 

Biotech & Pharmaceuticals:

$80,251

Construction: $79,689
[uam_ad id="12194″]
$
75945
Average Salary For Project Manager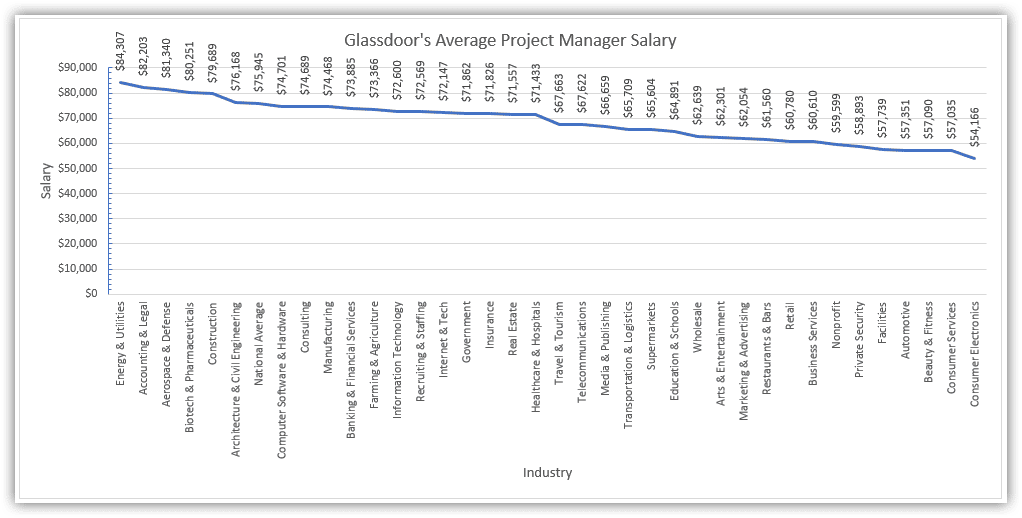 The graph above specifies current average pay. Essentially, this is important because your starting salary can affect your subsequent pay throughout your career. However, when choosing an industry to set roots down in, you should also consider the growth and stability of that industry over time.
PayScale has put together a great analysis of compensation trends in the US. The top rising and declining industries when it comes to yearly wage growth are seen below:
Agencies & Consultancies

Finance & Insurance
Technology
Engineering & Science
Retail & Customer Service
Arts, Entertainment, & Recreation
Healthcare
Transportation & Warehousing
Manufacturing
Energy & Utilities
Construction
Accommodation & Food Services
2.0%

1.9%
1.7%
1.2%
0.6%
0.6%
0.3%
-0.1%
-0.4%
-0.5%
-0.7%
-1.1%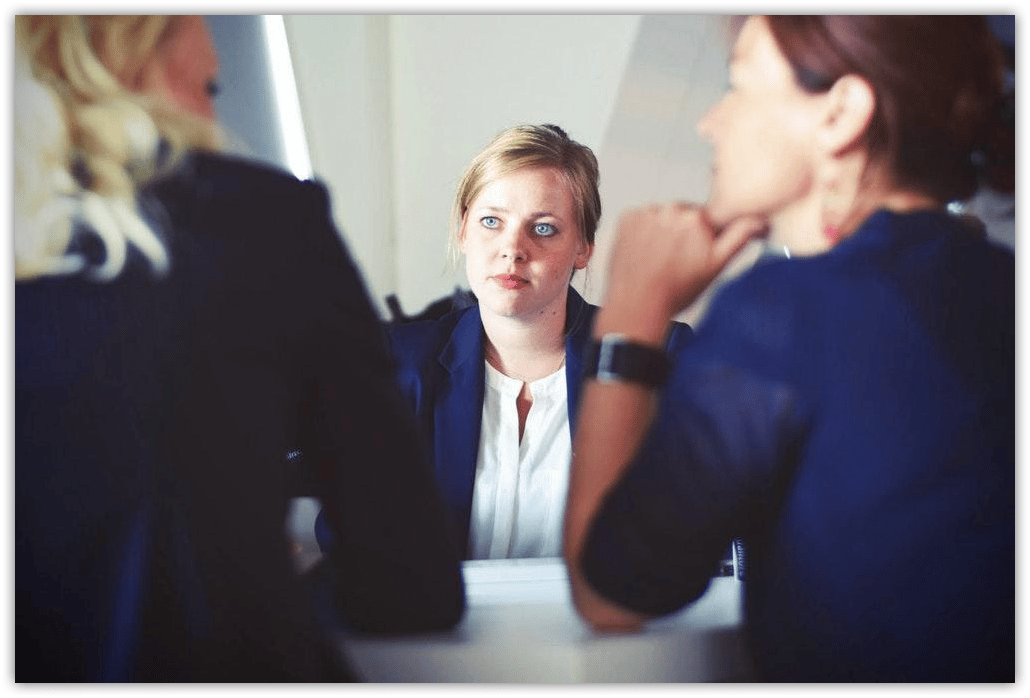 So now you know what each industry pays on average and which ones offer the most (or least) growth from year to year. That's all great information, but who's actually out there hiring? 
The PMI's 2018 Jobs Report surveyed 11 countries to gather information regarding the demand for project management professionals in the global economy. Through their research, they found an increasing demand for project-oriented help. Additionally, PMI identified seven sectors that show the most promise in growth and need for innovation over the next decade, meaning there will be plenty of project management positions to go around.
Project Management Careers in Telecommunications
Mobile devices replaced landlines long ago. With such high consumer expectations for better connectivity, more functionality, and more data for these devices, telecom companies need talent that will provide innovative solutions to stay relevant. 
According to a 2017 PwC study, there has been as much as a 30% decline in SMS messaging use due to alternative messaging apps like Facebook Messenger, Slack, Microsoft Teams, etc. coming into the market. Consequently, this sector has an abundance of opportunities for project managers as technology continues to improve and as consumer tastes and expectations change.
Finance Industry Careers for Project Managers
Project managers are desperately needed in this industry to not only track budgets and schedules, but to also manage risk as companies navigate new digital technologies. This is especially important with regulations continuously changing. PMI projects that 4.6 million project manager jobs will be created within the financial industry by 2027.
Project Management Careers in The Construction Industry
Skilled labor is declining as the baby boomer generation retires and the following generations turn to college degrees instead. The construction industry has particularly suffered from this shortage. Project managers are needed to add structure to projects, control budgets, and use project management software to increase the efficiency of the work done. 9.7 million positions need to be filled by 2027 to keep up with the demand, according to PMI's Jobs Report.
Information Technology Project Management Jobs and Careers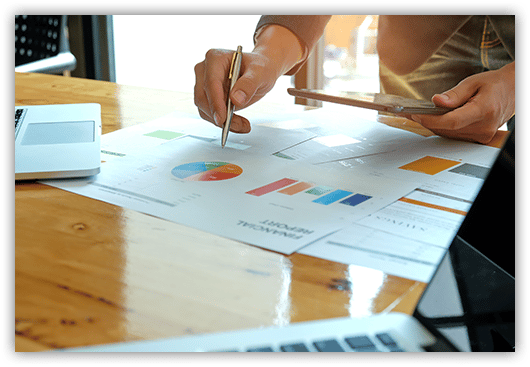 IT is consistently a safe bet when it comes to choosing a career, especially in cybersecurity. With endless data breaches threatening company brands and reputations and a need for more intuitive technology across all sectors, this industry is quite lucrative. 
As everything becomes digital, the urgency for data protection grows every day. Additionally, as companies add software programs to improve customer satisfaction and work efficiency, high-functioning programs that are easy to learn and use are in constant demand.
In the US specifically, healthcare is a broken system. Costs are unbelievably high and there's no price transparency with consumers. Ultimately, healthcare primarily operates as a fee-for-service model. However, with a large aging population and costs increasing relentlessly, the industry is in dire need of a radical transformation. 
That's where project managers come in!
Healthcare needs project-oriented talent to help lead the way to better technological resources, better practice models to improve quality and lower costs (value-based care), and innovative solutions to all of healthcare's other challenges (cost transparency, emergency room utilization, access to care, etc.). PMI predicts a 17% growth in open positions within healthcare.
Defense and Aerospace Project Management Jobs
Project managers can easily earn a living in this industry with an increasing demand for military products due to rising global tensions. If that's not your cup of tea, there's also plenty of opportunity in the drone market. This technology can be useful across multiple industries, both government and consumer-driven (i.e. Amazon). Basically, drones are becoming more prevalent as technology continues to evolve and expand and consumer expectations for instant gratification rises. According to Goldman Sachs, the drone market is predicted to reach $100 billion by 2023.
PM Careers in The Energy Industry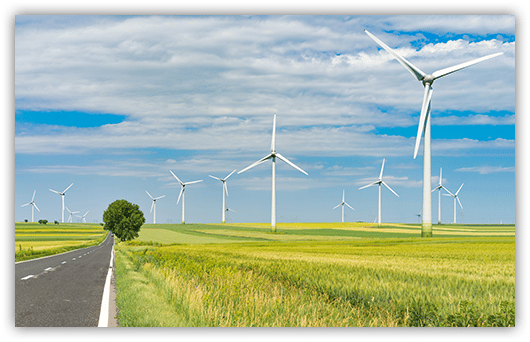 Renewable energy projects are on the rise in recent years with a focus on replacing fossil fuels. Even still, PMI projects 49,000 jobs will open in the oil and gas industry and 279,000 jobs in the utilities industry by 2027.
Additional global leading sectors identified by PMI include Information Services and Publishing and Management and Professional Services with each creating 5.5 million and 1.7 million global jobs, respectively.
---
To scale it down a bit, within the United States specifically, the top five industries (with average annual salaries provided by Glassdoor) that are currently hiring project managers are:
Engineering and Construction:

$79,689

Healthcare:

$71,433

Financial Services:

$73,885

Law:

$82,203

Technology:

$72,600
I've just laid a lot of information on you. So, let me break it down:
The construction, healthcare, finance, and technology industries are leading hiring initiatives for project managers both globally and within the US. Instead of looking solely at what's relevant in the United States, it's important to understand on a global scale what the top industries are. Ultimately, this will help ensure opportunities for growth and longevity of your career.
Regarding pay, construction has the highest average salary but has historically declined by 0.7% each year. Based on this research, finance would be the best industry to enter at an average salary of $73,885 with a 1.9% wage increase year to year. However, it's important to note that technology plays a role in every single area. Companies are constantly investing in new technology to remain competitive, and we all know that technology has a solid place in our future.
In addition to these statistics, you should consider your background; experience typically rules over education and certifications when looking to get hired. If you don't have a lot of experience to back you, keeping up with project management job trends would be helpful. Also, keep in mind that retention rates are highest when people feel like they add value and make an impact. Therefore, knowing your passions and your career goals are also critical when you're not just looking for a job, but for somewhere to stay and grow.
In recent years, there's been a focus and effort from companies to create an amazing culture through unique benefits, positive traditions, and transparency with their employees. It's been shown to increase retention rates, improve productivity and engagement, and do a lot of good for their brand as social media and review sites have become mainstream. Company environment can have a great impact on success and overall happiness throughout your career. Just as important, if not more, as choosing your industry, is taking the time to research companies that match your values, needs, and wants.
To help you get started, we'll take a quick look at Glassdoor's top 100 companies to work for. Employees review their companies based on several aspects: work-life balance, benefits package, growth opportunities, etc. Below, I've pulled a few of the most well-known brands from the list.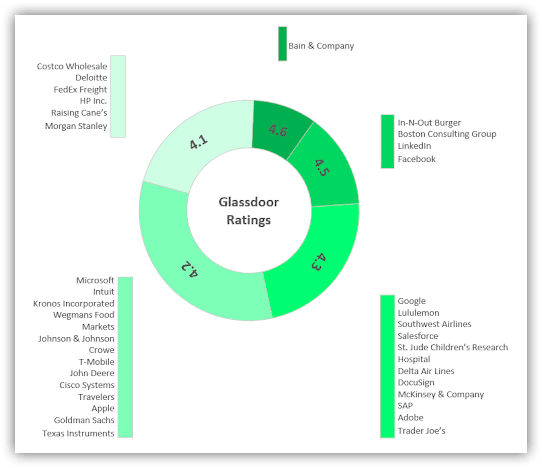 From the diagram above, you can see there several large technology companies (Apple, SAP, Adobe, Cisco Systems, T-Mobile etc.) representing the telecom industry, with stellar employer reputations. On the full list, finance, healthcare, and consulting are all well-represented. However, very few construction-related companies were recognized for their environment by their employees.
Whether you're just starting your career or looking to make a change, it's hard to know where to start when making such a life-impacting decision. With millions of jobs across several industries, how do you know which one will lead to a fulfilling and lucrative career? It's not something to take lightly, but with a bit of soul-searching coupled with a pragmatic approach, you can land a meaningful career.
Apply the information outlined in this article to make your dream a reality!
COMPARE THE BEST PMP PREP COURSE
Bryce Welker is a top-notch expert in business and education. As a dynamic speaker, expert blogger, and regular contributor to Forbes, Inc.com, Business.com, AccountingToday.com, and Entreprenuer.com, he has helped readers boost their careers with his extensive knowledge. With a track record of founding over 20 innovative test prep websites, Bryce has helped countless students and professionals pass their certification exams and achieve their dreams. Bryce Welker is the ultimate guide to help you succeed in your career or education.