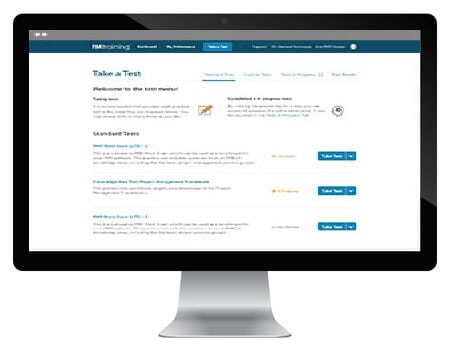 PMTraining offers a variety of top-notch courses to prepare you for the PMP exam. As a recognized PMP training provider, PMTraining's courses are approved by the Project Management Institute (PMI), and stand out from the competition thanks to their quality user support.
By offering on-demand and live prep courses in addition to corporate training options, PMTraining gives you several choices to prepare for your PMP exam.
The online platform allows you to attend live classes with dedicated instructors in an interactive environment, or to choose the more flexible option of on-demand videos. Both types of courses include a variety of study materials, quizzes, mock exams, and practice questions.
PROS
PMTraining's interactive course features give you many opportunities for individualized learning. The videos in the on-demand course are interactive; you can pause a lecture to ask questions or use flash cards while watching to help boost your memory.
The live course option includes one-on-one scheduled Q&A sessions with your instructor, which is particularly helpful if you perform better in a traditional classroom or tutoring environment than by studying on your own.
PMTraining offers a pass guarantee for their Live Online PMP classes. The company boasts that 97% of students who take a live course pass the PMP exam on the first try. If you fulfill all of their course requirements but fail to pass the exam, you can take the same course again for free, and your access to PMTraining online exam prep is extended for as long as you need.
In the unlikely event that you fail the exam a second time, you can enroll in the class again and will receive instruction until you pass, all at no additional cost. (Access to PMTraining online exam prep materials is extended in this case as well.) Please consult the eligibility requirements for this guarantee on the PMTraining website.
3.  Multiple Training Options Available
PMTraining offers multiple prep options for the PMP exam, including a series of exams and prep questions that can be purchased separately, live online or on-demand courses over several weeks, and 5-day-bootcamp options for both versions. You also get podcasts, and flashcards.
The courses are broken down into sections based on the test material in the PMP guide, so you can study each unit individually before you have to bring everything together in a final review. This allows you to master individual skills and knowledge areas without being overwhelmed by the entire syllabus at once.

4. Includes Contact Hours for PMI Certification
Both the live and on-demand PMTraining courses include 35 PMI contact hours and PDU credits, which cover the requirements for your PMP Exam and certification. This is a great way to maximize your study time without having to enroll in or pay for a separate course to obtain your contact hours.
With phone, email, and live chat support, you can get easily get help at any time before, during, or after purchasing a PMTraining course. You can also get additional help from instructors via email if you're having trouble with a concept or a technical problem. Video tutorials explain the features of the course when you begin, making it easier to benefit from the whole PMTraining experience.
When you take the PMP practice exams, course software identifies your strengths and weaknesses to pinpoint the areas you should target while you study. A personalized dashboard gives you a snapshot of your account. Analytics track your progress according to knowledge area and practice group, which is useful for identifying those specific areas that need improvement.
You'll get instant feedback and analysis, as well as the ability to review the reasoning behind the questions, so that you can see where you went wrong. A feature that allows you to take a break at any time and save your progress makes the exams convenient and flexible for any schedule.
CONS
1. Extra Practice Questions and Exams Cost More
If you want more practice questions and exams than those offered in the course, you will have to buy them. You can purchase an additional 1,000 practice questions for $59. You'll get access to the question bank for 90 days and can create your own practice tests. Personalized reports, an exam dashboard, PMP exam tips, and video tutorials are included.
There is no free trial of the course; however, you do have the opportunity to view a demo video and take a 10-minute demo test. A course demo is available for the on-demand PMP Certification Bootcamp so you can get a feel for the study materials available to students who are enrolled in the actual course.
PMTraining is ideal if you have between 90 and 100 days to practice for their exam and prefer the flexibility of studying from the comfort of your own home or office. The live online option is convenient if you work full-time and don't have time to travel to a physical classroom.
Live classes are held in the afternoons (to help with EU students schedule), evenings and on weekends, allowing you to attend classes after work, and the on-demand options allow students to study whenever they want.
PMTraining's courses are a great option for you if you need the discipline of regularly study sessions to keep you on track. The company hires very qualified instructors, and students frequently recommend the course specifically because of the caliber of their instructors.
Those who have additional time to study will welcome that all live class students receive a 90-day extension to the PMTraining exam prep online portal at no extra charge. After this extension, an additional 90-day extension to the system can be purchased.
---
Summary of Course Features
12 Milestones
1,000+ PMP Practice Questions
Question Bank to Create Own Quizzes
20 Practice Exams
Lesson Breakdown
Flashcards, Reading Material, Study Guides
Live Online Instruction Available
Student Support
90-Day Access to Learning Material
Pass Guarantee with Live Study Option
Pricing
PMP Practice Exams
Price: $59
Includes: Over 1,000 PMP practice questions, and 20 exams. You also get ten knowledge area tests, and the ability to create your own exams from the question bank. Each exam includes reports, analysis, video tutorials, tips, and more.
PMTraining On-Demand Course
Price: $250
Includes: 12 milestones, 35 PMI contact hours and PDUs, additional study materials, exercises, and quizzes.
Live PMP Classes
Price: $800-$1,600
Includes: Choice of live courses (length varies) taught by accredited instructors, all study materials, one-on-one access to teachers and tutors, exam application assistance, 35 PMI contact hours and PDUs, online student portal, and a 100% exam pass guarantee.
On-Demand PDU Course
Price: $449
PMTraining now offers a PMI-accredited course that fulfills all 60 PDU credits for PMPs, CAPMs, ACPs, and any other PMI credential holder. This is important because every 3 years PMI credential holders must earn up to 60 PDU credits to maintain their certification.  They often spend weeks scrambling around for courses and lectures that offer them PDUs to earn.  This course bundle provides all 60 PDU credits in one go!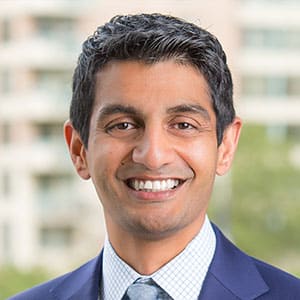 Amit Patel is the founder and chief writer for Crush the PM Exam. A lifelong student, Patel's desire for career growth led him to research the many different certifications and career opportunities in the world of project management. Armed with this knowledge, Patel's new passion is for sharing what he's learned with his fellow students so they can achieve their dream careers.