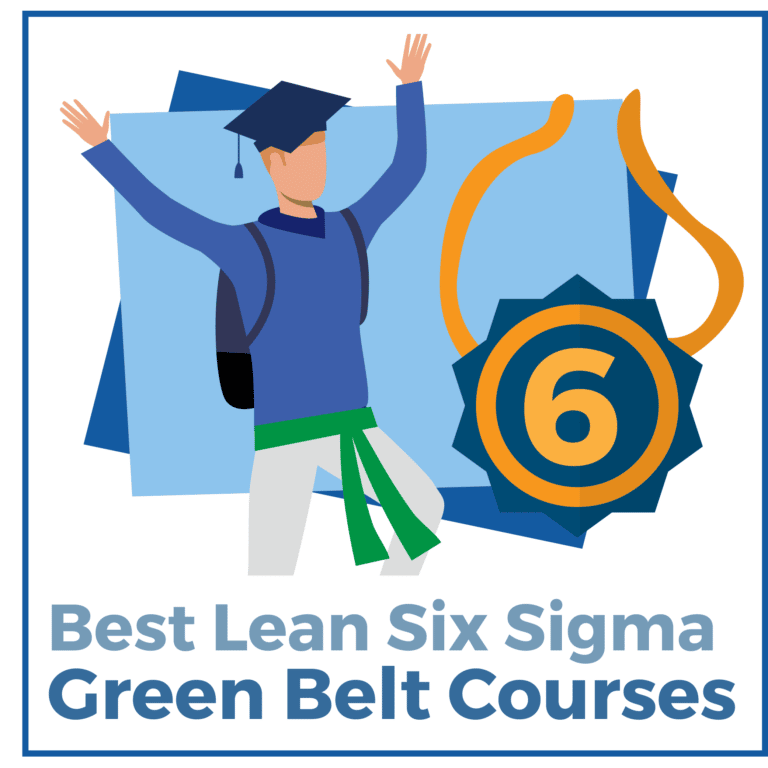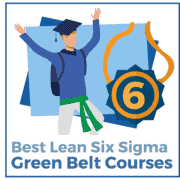 Finding the best Lean Six Sigma Green Belt certification training course can make or break an aspiring professional's career. With Lean Six Sigma becoming more and more prevalent in project management and process quality, trying to find the best Green Belt training program is critical.
But with so many test prep companies offering Lean Six Sigma Green Belt courses, how can you can find the course that's best for you?
That's where we come in!
We've done the research and broken down the six best Lean Six Sigma Green Belt study courses available for students to take online. The chart below will help students find the course that best fits their individuals needs by quickly comparing the different features side-by-side.
Go ahead and see for yourself, and then keep reading to learn more about each course below.
---

---
Top 6 Best Lean Six Sigma Green Belt Online Courses [UPDATED 2021]
---
Lean Sigma Corporation Green Belt Review (Rank: #1)

OVERALL RATING: ★★★★★
Practice Questions: Although it may not have the most practice questions out of all the prep courses on this list, Lean Sigma Corporation provides an amount that is well above average. The 600+ question bank is used to create small practice quizzes and larger exam simulations.
Course Demo: The fact that this course costs so much may lead some cash-strapped students to have second thoughts about enrolling. Fortunately, Lean Sigma Corporation provides a generous course demo that outlines the ins and outs of their prep course in order to help justify the large monetary investment.
Unlimited Access: Students who sign up for any of Lean Sigma Corporation's courses will have unlimited access to their training material. This means that not only will this information help them to pass the certification exam, but that it can also be accessed in the future if they need to brush up on it.
Bottom Line: There are many reasons why Lean Sigma Corporation offers the best online Lean Six Sigma Black Belt course today. From their excellent support team to their wide range of learning material, enrolled students will be on the right track to success.
---
Grey Campus Lean Six Sigma Study Materials (Rank: #2)

OVERALL RATING: ★★★★★
Ample Study Time: Regardless as to what GreyCampus Lean Six Sigma package is chosen, students who enroll will be guaranteed a thorough lesson plan that spends plenty of time going over the material. For the Lean Six Sigma Black Belt training, even the least expensive package offers over 200 hours of study time.
Private Tutoring: For the most part, students should be able to get everything they need from one of the 3-tiered packages GreyCampus offers for their Lean Six Sigma prep course. However, they also provide the option for small groups of students to reach out to them and arrange a private tutoring session instead.
Professional Accreditation: GreyCampus' Lean Six Sigma review courses are all certified by the International Association of Six Sigma Certification for their ability to educate students on the methods of practicing this ideology at the professional level. This is a fact that should provide prospective students with confidence that their time and money will be well spent on this course.
Customer Support: Although the need is rare, there have been occasions where enrolled students needed to contact GreyCampus' support team to resolve problems. In these cases, several online reviewers have stated that they had a tough time attempting to resolve these issues with poor customer support.
Bottom Line: GreyCampus is great for beginners who know literally nothing about Lean Six Sigma. Their study materials and private tutoring options will handily guide neophyte project managers from the first course all the way to Green Belt certification.
---
MSI Certified Green Belt Review (Rank: #3)
OVERALL RATING: ★★★★★
Exam: A perk of getting your Lean Six Sigma certification with MSI is the opportunity to use your notes during the exam. The notes do not include their online resources but any that you took while studying will work.  This doesn't mean you won't have to learn the material, but it will help to reduce any testing anxiety and give you a boost in your problem areas.
Training Materials: Everything you need to take the course, study, and pass the exam is bundled together. There are no hidden fees (unlike many other courses), and you won't need to buy extra study guides or textbooks. Everything is included, even the exam itself. You also have 30 days from the time of purchase to decide if you want to continue the course or get a refund.
FREE White Belt Course: Want to try MSI before you buy? Then definitely check out their FREE White Belt course. It only takes 20 minutes and ends with a 15 question certification exam. This is a great way to introduce the methodologies of LSS, especially if you think a current or prospective employer will offer in-house LSS training.
---
Edx Six Sigma Green Belt Review (Rank: #4)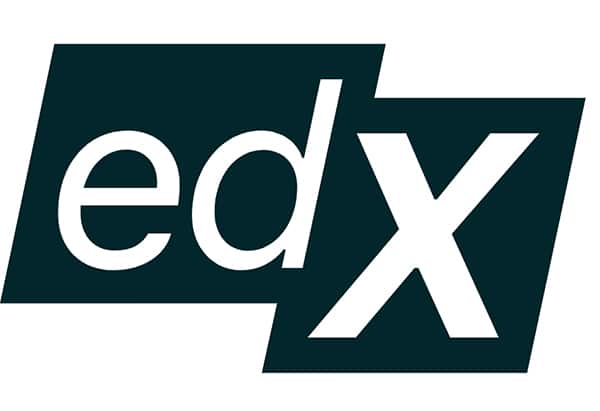 OVERALL RATING: ★★★★★
Guided Learning: EdX has a novel approach to teaching you about Lean Six Sigma. In addition to live online course sessions, you'll be guided through your study path via a project storybook template. This keeps you engaged and on task no matter what you're learning at the time.
Self Paced: Despite having live content, this course is actually entirely self paced. That's because you create your own custom schedule as you move forward. It's recommended to study for 3-4 hours a week, but you increase or decrease that number to your liking.
Expert Instructors: Everyone employed by EdX has years of experience teaching Lean Six Sigma. In fact, each teacher is a college professor at the Technical University of Munich. Thanks to that, lessons are educational without feeling too dry or boring— and you can even interact with other students like a physical classroom environment.
Green Belt Only: Unlike other options on this list, EdX doesn't offer black belt training after their green belt course. Because of that, how much you can learn is a bit more limited than their competitors. Despite that, this is still a good starting point for earning a yellow and green belt in Lean Six Sigma.
Bottom Line: Edx is a good choice for starting out your Lean Six Sigma training. If you aren't interested in going beyond the Green Belt — and you don't need continuing education credits — then this is a great choice for learning.
GO TO EDX LEAN SIX SIGMA GREEN BELT
---
Opex Learning Lean Six Sigma Study Materials (Rank: #5)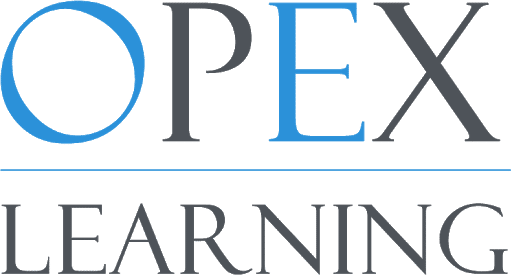 OVERALL RATING: ★★★★★
Extra Credit: In addition to becoming Green Belt certified at the end of the course, you'll earn 30 Professional Development Units (PDUs) that are accredited by the IACET. This means you can easily meet the continuing education requirements of other project management certifications when you enroll in this course.
Software-Oriented: Since modern project management is heavily software-based, it's nice to see OpEx structure their curriculum around Minitab. Additionally, this software is included as part of your course— but you can also opt out to save some money.
Return Policy: If you don't like a particular aspect of OpEx Learning's Six Sigma Green Belt course, you can get a full refund in seven days. While this is helpful, other courses like MSI offer longer grace periods for a full refund.
Bottom Line: OpEx Learning is an ideal choice for students who want to acclimate themselves to project management software and methodology quickly. It's also extremely helpful if you're already certified as a PMP and you need some CE credits.
---
Pyzdek Institute Lean Six Sigma Study Materials (Rank: #6)

OVERALL RATING: ★★★★★
Proprietary Techniques of DMAIC: Developed to aid the DMAIC principle of Six Sigma, the Pyzdek breaks down each aspect of DMAIC (Define, Measure, Analyze, Improve, Control) into mini, goal-oriented steps. This makes project completion much more likely and helps reduce the traditional pitfalls of Six Sigma practitioners.
Project-Based Certification: The Pyzdek Institute offers a project-based certification that is both widely recognized among companies and unique in itself. If you are unemployed, Pyzdek works with nonprofit organizations to provide master level project certifications for those in the Black Belt courses.
1 Year Minitab License: One of the best tools for implementing Lean Six Sigma methodologies is Minitab, an analytical tool with great interactive features. And upon enrollment into either the Green Belt or the Black Belt Lean Six Sigma course, you get a 12 month license to Minitab. While almost essential for Lean Six Sigma, Minitab is a very useful tool for other projects as well.
Payment Plan: The Pyzdek Lean Six Sigma courses are offered at competitive rates and are inline with their peers. However they realize it's expensive nonetheless and offer various payment plan options. That way you can get started today.
Bottom Line: Pyzdek approaches Lean Six Sigma education in a fundamentally sound yet dramatically different manner when compared to its peers. This makes it ideal for those students who want to try something different with their prep course of choice.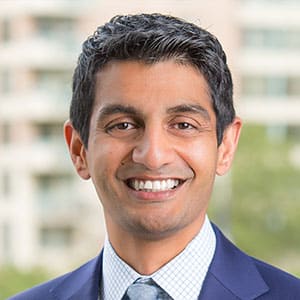 Amit Patel is the founder and chief writer for Crush the PM Exam. A lifelong student, Patel's desire for career growth led him to research the many different certifications and career opportunities in the world of project management. Armed with this knowledge, Patel's new passion is for sharing what he's learned with his fellow students so they can achieve their dream careers.