CAPM vs PMP: Which Certification is Better?
You're our #1 priority.
100% of the time.

We believe everybody should be able to make online purchases with confidence. And while our website doesn't feature every test prep company or review course in the universe, we're proud that the advice we offer and the information we provide is accurate, truthful, objective - and entirely free.

So how do we actually make money? It's simple, our partners compensate us. While this may influence which products we review and write about, and where they show up on the site, it absolutely does not influence our recommendations or guidance, which are formed by hundreds of hours of research and analysis. Check out our partners here.

What's the bottom line? We're on your team and are passionate about helping you achieve your career goals, even if it means we don't make a dime.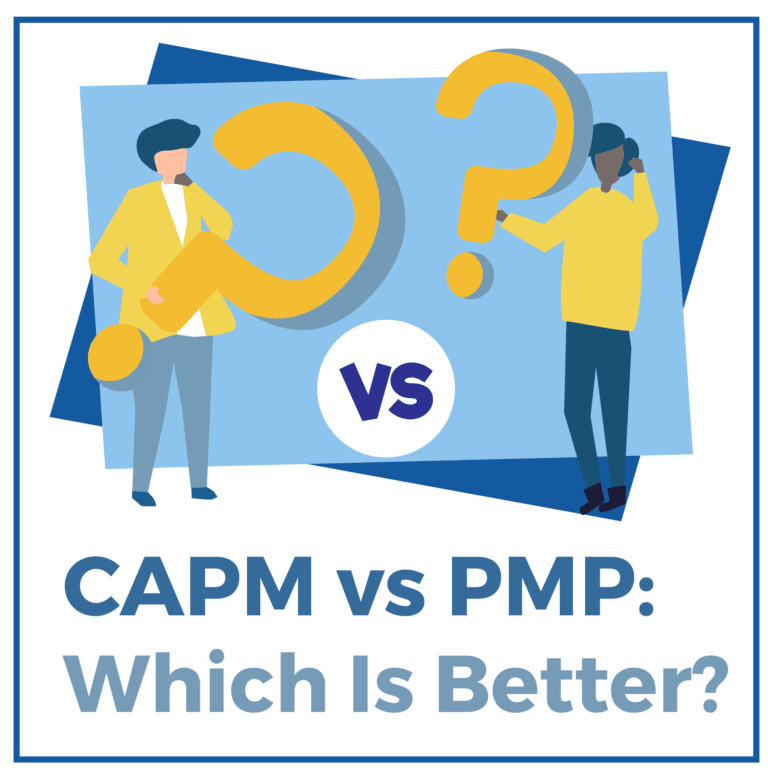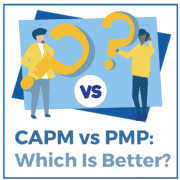 Deciding which project management certification works best for your career can be a difficult choice. There are many options available depending on the industry you intend to enter.
Two that are especially hard to pick between are CAPM certification and PMP certification. After all, each represents a different level of education and experience. A Certified Associate in Project Management is viewed by many as easier to obtain, whereas the Project Management Professional distinguishes the holder as a professional experienced in the field.
So which one is right for you?
We've assembled a guide that will help you decide whether CAPM or PMP certification is right for you and your career goals. We'll compare and contrast the two in terms of time, experience, salary, and more!

Why Get Project Management Certification in the First Place?
Why should you consider certification geared towards this industry in the first place? Mark. A Langley, President and CEO of the Project Management Institute (PMI) said it best:
"Project leaders are becoming even more essential as organizations recognize that strategy is implemented through projects and programs, and as disruptive technology frees them from mundane routines, providing more opportunity to innovate. " – Mark A. Langley
As the workforce moves toward a culture of specialized projects, proving that you have the knowledge and skills necessary for effective management of a project is vital. One of the ways you can quickly show potential employers that you have the education and training that they're looking for is with certification. And the most common choices for both students and employers is CAPM or PMP certification.
We'll go over the differences between the two below:
---

CAPM vs PMP: Eligibility Requirements
One of the major differences between these two credentials is their eligibility requirements.
The CAPM is easier to obtain than the PMP, requiring fewer hours and less education than the latter.
For this reason, the CAPM is a better option for individuals with limited project management experience and education, who are looking to get their foot in the door and stand out to potential employers.
Here's a list of the CAPM requirements:
A high school diploma, associate's degree or global equivalent

1500 hours of project work experience OR

23 hours of formal project management education
The CAPM makes certification in project management possible even for high school graduates with no four-year degree. They can simply take a Project Management course, either online or in-person, to satisfy the requirement and sit for the CAPM exam. In fact, the PMI offers a Project Management Basics course that satisfies the 23-hour requirement; you can even take this course at your own pace, which is useful for distance learning or nontraditional students.
In contrast, the eligibility requirements to take the PMP exam are a little more rigorous. Like the CAPM, there are two avenues to obtaining your PMP.
The first set of eligibility requirements for the PMP exam are:
High school diploma, secondary degree or global equivalent

Minimum of five years/ 60 months project work experience, with 7500 of those hours spent leading/ directing a project

35 hours of formal project management training
The second set of eligibility requirements for the PMP exam are:
Bachelor's degree or global equivalent

Minimum of three years/ 36 months project work experience, with at least 4,500 of those hours being spent leading/ directing a project

35 hours of formal project management training
Because of the years required in both avenues of earning eligibility for the PMP exam, the PMP certification is recommended for professionals who have been practicing project management for a while and have gained plenty of experience. On the other hand, the CAPM certification is a great way to get your foot in the door to get on project teams and help you earn the hours needed to take the PMP exam.

CAPM vs. PMP: Cost
Another key difference between the CAPM and PMP credential is the certification exam cost. The PMP is nearly double the cost of the CAPM examination in terms of pricing. To sit for the Project Management Professional (PMP) Exam, the fees are as follows:
Project Management Institute Membership Fee (For PMI Exam):$405

Non-Member PMI Exam Fee: $555
The fees for renewal are heftier, as well. For the recertification exam, here's the pricing breakdown:
Re-examination Fee for PMI Members- $275

Re-examination Fee for Non PMI Members- $375
In contrast, the Certified Associate in Project Management (CAPM) certification costs are lower. Here are the fees set out by the PMI for the CAPM exam:
CAPM Exam Fee for PMI Members: $225

CAPM Exam Fee for Non PMI Members: $300
In the event that you don't pass the first time, the re-examination fee won't break the bank quite like the PMP's will:
CAPM Re-Examination Fee for PMI Members: $150

CAPM Re-Examination Fee for Non-PMI Members: $200
Although at first glance the CAPM may seem by far the better deal with it's lower price point, there is another factor that makes the more expensive price tag of the PMP certification worth it.
That incentive is the prospective salary difference between CAPM and PMP designation holders.
---
CAPM vs. PMP: Potential Salary
As we mentioned before, the potential earnings of someone with PMP certification can more than make up for the fees associated with testing.
The average salary for a PMP is $103,000 annually. This is a significant lead over the average annual salary for a CAPM, which is $65,000. Potential earnings also tend to go up on projects in more specialized industries such as IT.
Although the average salary of a CAPM is nothing to sneeze at, the PMP is more desirable in terms of money-making potential. In fact, the Project Management Institute (PMI) reported that PMP credential holders earn 20% more on average than non-certified project managers in the 2018 Earning Power Survey.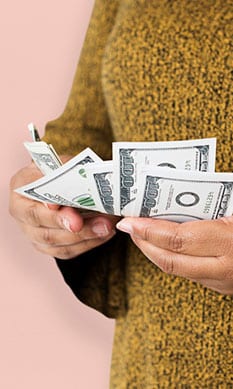 CAPM vs. PMP: The Exam
There are some pretty marked differences between the exams for the CAPM and the PMP.
For one, the PMP exam is much larger. It contains 50 more questions than those that appear on the CAPM.
Here's the test breakdown for the PMP exam:
A total of 200 questions

Number of scored questions: 175

Number of pretest (unscored) questions: 25

Allotted time: 4 hours
The exam covers different portions of the project management process. The percentage breakdown of questions on the test according to the PMP Exam Content Outline is:
People

42

%

Process

50

%

Business Environment

8

%
Even the most experienced project management professionals are encouraged to study for the exam at length, as well as brush up on the most recent edition of the Project Management Body of Knowledge Guide, or PMBOK®.
Because re-examination fees are so costly, is it highly recommended that you look into some test taking tips. You can start by studying at length, using refresher courses, and enrolling in training sessions offered by Registered Education Providers (R.E.Ps) in your area.
In contrast, the CAPM exam is used to prove knowledge of skills and terminology. Instead of testing on the various phases of project management, this examination has a more general breakdown of topics.
According to the CAPM Exam Content Outline, the percentage breakdown of the 150 exam questions is as follows:
Introduction to Project Management

6%

Project Environment

6%

Role of the Project Manager

7%

Project Integration

9%

Project Scope

9%

Project Schedule

9%

Project Cost

8%

Project Quality

7%

Project Resource

8%

Project Communication

10%

Project Risk

8%

Project Procurement

4%

Project Stakeholder

9%
The main difference between the two exams is that the CAPM displays a general understanding of the terminology and practices found in the PMBOK, while the PMP exam demonstrates a precise working knowledge of project management in each of its phases.
---

CAPM vs. PMP: Continuing Certification Requirements
The last main difference between earning either of these credentials is their maintenance through Continuing Professional Education (CPE).
Unlike most of the topics previously covered in this article, PMP holders must maintain their status with Continuing Certification Requirements (CCRs.) These requirements are in place to ensure that PMP holders are continually experiencing educational and professional development. This helps make sure PMPs are equipped to handle changing needs in the workforce, technology, and methodologies of the industry.
Each Project Management Professional must earn 60 Professional Development Units (PDUs) during each cycle, including two types of PDUs.
Each PMP must earn:
35 Educational PDUs- These are learning opportunities that expand your skill-set

25 Giving Back PDU's- Activities that allow you to share and use your project management skills to give back to the profession as a whole.
Not only must a PMP credential holder commit to educational and professional growth opportunities as a part of their recertification application, they also have a shorter window until they must take this exam.
Project Management Professionals must sit for the recertification exam every three years. When they pass, the certification is good for another three years, and they must earn another 60 PDU's before their next cycle is up.
For CAPMs, the renewal process is a lot simpler:
Certified Associates must sit for a recertification exam every 5 years. As soon as the end of their fourth year comes around, they must pay the recertification exam fee and schedule their test in order to keep their credential current. If for any reason they let it lapse, they'll have to take the initial CAPM exam over again. However, no PDU's are required with the CAPM.
---
CAPM vs. PMP: Which One is Better?
The main takeaway from this article is that the CAPM and the PMP certifications have an array of differences. It is not a matter of one being better than the other, but rather a matter of one being better for you and your career goals.
The PMP certificate is a worthwhile investment for individuals who have been practicing in the project management field for a while and have racked up quite a bit of experience. The PMP exam is longer, more intensive, and costs more. Finally, the certification has a shorter shelf life of only 3 years and requires continuing education during that time.
However, PMP certification earns almost $40,000 more on average than a CAPM holder might, which makes the investment of time and money worth it!
The CAPM, on the other hand, makes the most sense for beginners who are just starting out in project management. It's a great career stepping stone for professionals and even those who want further education. Having the CAPM will make your resume stand out to potential employers and open the door towards participating in this fast-paced career. The five year certification also makes it easy to pursue your PMP after earning your CAPM.
Either option is guaranteed to open doors that will further your project management career. Depending on your industry and future goals, having either the CAPM or PMP will serve you well.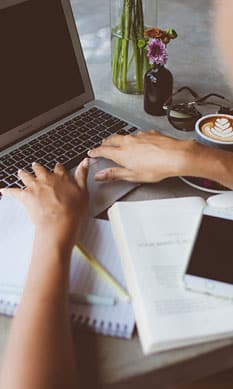 Bryce Welker is a top-notch expert in business and education. As a dynamic speaker, expert blogger, and regular contributor to Forbes, Inc.com, Business.com, AccountingToday.com, and Entreprenuer.com, he has helped readers boost their careers with his extensive knowledge. With a track record of founding over 20 innovative test prep websites, Bryce has helped countless students and professionals pass their certification exams and achieve their dreams. Bryce Welker is the ultimate guide to help you succeed in your career or education.