Popular Project Management Interview Questions & Answers
You're our #1 priority.
100% of the time.

We believe everybody should be able to make online purchases with confidence. And while our website doesn't feature every test prep company or review course in the universe, we're proud that the advice we offer and the information we provide is accurate, truthful, objective - and entirely free.

So how do we actually make money? It's simple, our partners compensate us. While this may influence which products we review and write about, and where they show up on the site, it absolutely does not influence our recommendations or guidance, which are formed by hundreds of hours of research and analysis. Check out our partners here.

What's the bottom line? We're on your team and are passionate about helping you achieve your career goals, even if it means we don't make a dime.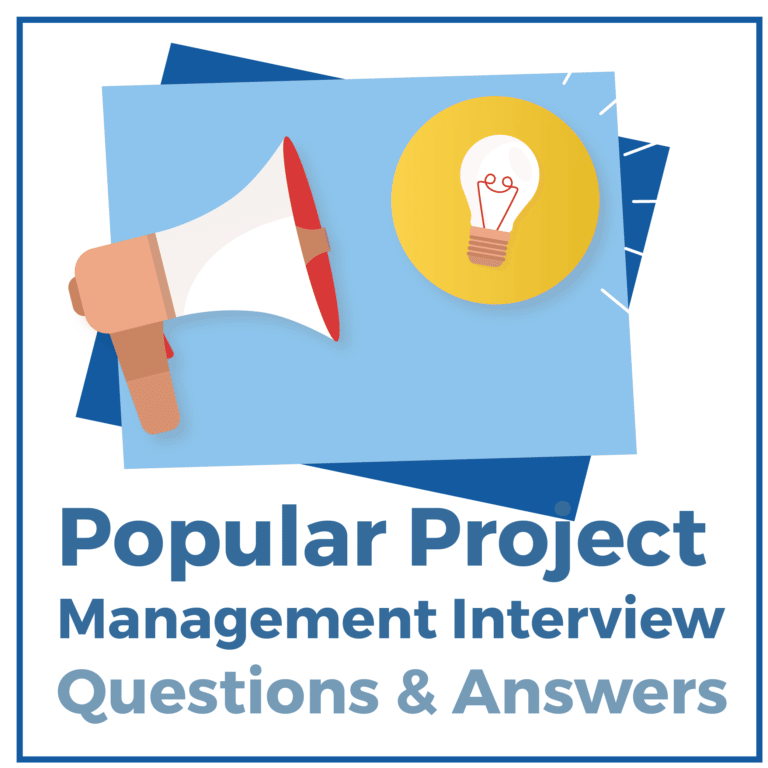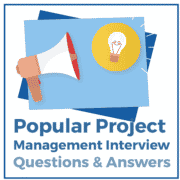 In recent years we're seeing more and more openings for project management positions. Although they sometimes look the same, there may be an infinite number of differences between them; understanding these differences can help you succeed and make a really good impression during the interview process when looking for a job of your own.
My name is Thaisa Fernandes, I'm a Product Manager certified by PMI and Scrum.org, and for the past five years, I've been collecting project management related interview questions that I've been asked and that I've even asked myself.
It doesn't matter if the interview is onsite or over the phone; you need to be prepared. I don't believe that there's always a right or wrong answer to many of these questions, since it's more about how you approach the situation associated with each one.
I also believe you can have different reactions depending on the specific project or team involved. For example, if you work with a remote team, your approach and the project management tools you use may be completely different. It's really important to take into account the specifics of the situation and explain your rationale for your approach to the particular scenario.
So without further ado, here's what I've learned through my exhaustive research!

Phone Interview
I truly recommend you reserve a quiet space before any phone interview. In these situations, you should try to convey enthusiasm and confidence, your environment should be calm, and all communication should be clear.
If you have a video chat interview using Google Hangouts or Zoom, for example, you should definitely prepare a little bit more. You should consider more than just your internet connection and having a quiet space to talk. You might also want to consider the environment.
What does your space look like?
How much noise does it have?
Keep in mind that you don't want to distract the interviewer, so you should choose a minimalist environment. You can look for a clean, uncluttered corner in your living space or a conference room in a public building, such as a co-working space.
You can also take a different approach and use the background in your favor. For example, you can choose a corner in a room where you display your Project Management certifications or books. Think strategically during this process to make the most of your resources and environment!
Additional Phone Interview Tips
Check your internet connection.

Select a quiet space.

Choose what you want to display in the background during on-screen interviews.

Dress appropriately, whether the interview is over the phone or video chat; show that you care even if it's only for your own sake!

Smile, sit up straight, and convey positivity. When you smile, your mood shifts.
[uam_ad id="12194″]
---

On-site Interviews
Conducting an interview on-site and in person is definitely more challenging. But at the same time, on-site interviews provide an opportunity for you to be more than just a voice over the phone. You can use body language in your favor, and you can also read the interviewer's body language, which can give you a significant advantage in the interviewing process that simply isn't possible in other settings.
In my opinion, nothing substitutes for the eye contact you can make during a face-to-face interview; you can definitely make an excellent impression during this process. It's also a great opportunity to see the company facilities and the employees and get a better sense of the company's work culture.
Additional On-site Interview Tips
Be yourself and show your best self

Dress appropriately

Smile and show positivity

Meditate before the interview

Try a superhero pose before the interview to give you extra confidence
---

Now to discuss the most common project management interview questions! This first one is famous for its popularity and importance:
"Tell me a little about yourself and your background."
I believe you should definitely take advantage of this question to make a good impression from the beginning of the interview. I always try to tailor my answer based on the job for which I'm applying. Try to summarize your experience and highlight your qualities, experience, accomplishments, and strengths based on what they're looking for.
Basically, you should walk them through your resume, the highlights of your experience, accomplishments, education, and what attracted you to the position. It's important to link your experience to the job description and demonstrate why you are the best candidate for the position. You should also show a little bit of your personality, because it's your personality that separates you from other candidates and makes you, well, you!
For example, if the company highlighted in their job description that they're looking for someone to work in an Agile environment, and your deliverable is going to be a website redesign, mention your experience working with an Agile team. If you have a Scrum Master or Product Owner certification, this would also be the perfect time to mention that.
If you don't have Agile experience, show that you're interested in learning and applying this methodology. Study Agile and try to show you know what they're looking for. You can also mention that you understand the Scrum events and apply some of them, even if you work in a Waterfall environment.
If you have experience working with website redesigns, you should definitely highlight that. If you don't, you can think about a similar prior experience that could be beneficial to the work you'll be doing there. That's three different strategies for approaching this question based on one scenario; see if you can come up with some extra ones!
Common Tips
Engage the interviewer.

Don't over-communicate; give just the right amount of detail.

Try to be concise. If they have follow-up questions, they'll ask!

Show enthusiasm and positivity.

Be confident and highlight your experience based on what they're looking for.
---

"What does success mean to you?"
I think this is my favorite question out of the bunch. Success can mean different things to different people and to different organizations. With this question, the interviewer basically wants to know more about your ambitions in order to see if your personality and goals are aligned to the company's.
Of course, you're not going to say that success means working for yourself or someone else, even if that's what you're thinking. They want to see if you're a good fit, culturally, for the long term. Try to think about something that makes you happy and can also benefit the employer and answer with that in mind.
Common Tips
Be true to yourself

Show you can be a good fit for the long term

Make sure you're culturally aligned to the company

Smile and show positivity
---
"Things are changing very quickly in our industry. How do you keep yourself up to date?"
I personally love to ask this question because I can learn a lot about the candidate from it. Since our role and market evolves and changes so fast. I'm personally really interested to know how interviewees take advantage of that because it shows how ambitious they are.
I definitely want to know if they're curious, if they like to test new tools and software, if they have personal projects, what (if any) additional courses they like to take, and an infinite range of other things. It's important to show your passion and interest in the market and your profession; this is definitely a game changer for PMs.
Common Tips
Show your passion

Describe your process for staying up to date with the market

Demonstrate an interest in the field
---

"What are your strengths?"
This is another classic chestnut that you should be prepared for. You want to be sincere and tailor your answer to the job requirements. For example, you shouldn't mention that you're a great swimmer if this is not relevant to the job you applied for! Talk briefly about your strong suits, and when you have the opportunity, you should provide examples of how you managed that strength.
Strengths Finder by Tom Rath is a book I like a lot. I love when he talks about leveraging the skills we already have instead of focusing so much on our weaknesses. You can mention how you took advantage of a skill you have and used that to become an expert in that particular field if you want to have more success when answering this question.
Common Tips
Be true to yourself

Mention a skill you can apply to that particular job

Show how interested you are in improving your strengths
---
"What are your weaknesses?"
I know, this is a difficult one. It's hard to talk about our flaws in a job interview. I think you should always be true to yourself, but at the same time think about the potential consequences of what you're saying.
The best strategy in this situation is to mention a weakness and show how you're overcoming that. The aim is to demonstrate that you're working to fix your flaws. You can say, for example, you're not a good public speaker and that you're taking improv classes in order to improve on this.
Common Tips
Be true to yourself

Briefly explain your weakness

Show how you're trying to overcome it

Be positive!
---

These next interview questions are more specifically geared towards project management jobs. Although the previous questions are common in nearly any job interview, these are more relevant to your chosen profession:
"Tell me a little bit more about your experience managing teams."
The interviewer wants to know more about your experience and how you collaborate with your team if they ask you this question. It's important here to show examples and demonstrate your experience working with cross-functional teams. Mention a project you worked on and how you and your team collaborated together.
The employer basically wants to know your leadership style and how you collaborate. When I ask this question personally, I want to know if you're truly a leader. I say that because Project Management is not a management position; you're not the direct boss of most of your project team, so you should manage by leadership. You should be a true leader and facilitator to your cross-functional team.
Common Tips
Prove that you manage by example

Show leadership skills

Show you can collaborate

Mention examples of how you and your team worked together
---
"How do you help your team to stay focused on deadlines?"
This means that the interviewer wants to know about your process: if you're organized, if you can get things done, and if you can prioritize what is really important. You can definitively answer this question with an example where you highlight your process. It's important to show you understand the business objectives and can think strategically.
Organizational skills can definitely help a PM to succeed. Show how you think and organize your projects, how you remove your team's roadblocks, how you stay focused, and how you engage them. You might consider mentioning specific tactics you use to achieve these goals.
It's a good strategy to show how increasing transparency helps your teams stay focused, for example. You can also mention a process you developed. An example from my work: we have Thursday no-meeting day which helps the team stay focused on the deadlines and what is important.
Common Tips
Show that you understand the business objective

Think strategically

Demonstrate your organization skills

Show your tactics and your secret weapons
---

"Can you give me an example of process improvement?"
When he or she asks this question, the interviewer wants to see if you have initiative and if you can make a significant impact. It doesn't matter how much seniority you have; if you know what you're doing and if you can gain management support, you can definitely make a huge impact in any organization.
The process doesn't need to be grandiose to result in a significant impact. Try to show examples, give them details, and present results. If you have numbers to talk about or even feedback to share, do it! Don't be shy: this is your moment to shine.
Common Tips
Don't be shy

Show actionable examples

Consider showing numbers or any kind of 'hard' feedback
---
"Have you ever experienced project failure?"
If you've had enough PM experience, you've definitely had a project that failed. Don't be afraid to talk about it! This is the perfect opportunity to show how you can handle difficult situations and how you can engage your team to fix a problem.
I believe part of the PM's job is to engage the team and be a positive influence. We should be the sane mind in the midst of the chaos. The team should see you as a problem solver, not a problem seeker or a complainer.
Consider showing the interviewer what you and your team learned, how you validated the problems, and how you made sure the same problem/failure wouldn't happen again. Show the interviewer your great attitude, your creativity, and most importantly, that you're not afraid of problems because you fix them!
Common Tips
Don't be afraid to talk about it

Show what you learned from failure

Demonstrate how you overcame the situation

Show that you're a team player

The interviewer wants to know how you handle stressful situations

Be brief
---

"What are the tools and resources you've used to develop your team?"
As Project Managers, we typically don't get to choose the tools we'll be using, especially if you work in a large corporation. Prospective employers want to know what you know about popular PM tools in the market right now when they ask this question. They also want to know how attached you are to the tools you use.
For example, I have been working with Google Suite for at least 5 years; when I started to work with Microsoft software again, I was shocked. I couldn't overcome the fact that I liked Google tools better and that I couldn't even see the benefits of some Microsoft software – which was clearly wrong.
There are hundreds of different Project Management software tools in the market right now. Sometimes we're not able to test them all, but you might consider showing that you know most tools and resources available in the market and that you're able to adapt and find creative solutions to the roadblocks you encounter.
Common Tips
Be open-minded

Show you know most of the PM tools and resources in the market right now

Demonstrate that you're willing to test new tools

Show how curious and tech savvy you are
---
Additional Behavioral Questions
I don't want to make this part too long but I do want to mention the behavioral questions employers may ask you. They're basically questions about your past work experience so the interviewer can learn more about you and, more importantly, if you have the 'soft skills' needed for a particular job.
Behavioral questions focus on how you handle work situations; your responses will show the interviewer your personality, experience, and skills. Read the questions below and try to formulate the answers in your mind. And remember, you should over-prepare for job interviews because it can only help your chances!
How do you feel about repetitive work?

How do you motivate yourself?

Describe a time you went above and beyond your duties to resolve a problem.

What kind of work environment do you enjoy the most: stressful, deadline-driven, independent, or team-oriented?

Tell me about a time you persuaded someone successfully so that they saw your perspective on an issue.

Tell me about a time when you faced a situation that was stressful and required you to practice coping skills.

Please discuss an important written document you were required to complete.

Give me an example of a time when you motivated others.
---
Questions to ask the interviewer
I know sometimes we're too nervous to think of something smart and interesting when the interviewer asks, "Do you have any questions for me?" I know, it's tough: the only way to overcome that is to prepare and have some possible questions in mind.
Asking smart questions can impress your interviewer and you can learn more about the company in the process. Here are some questions you can ask and use in almost all situations:
What do you enjoy most about working here?

What's the most important thing I can accomplish in the first 60 days?

How does this company define and measure success?

Am I going to be a mentor or will I be mentored?

What is the next step in the hiring process?

How many people do you have executing the same role?

What problems are we going to encounter in a year?

What kinds of people do you like to work with?

Which Project Management tools do you use?

What's your favorite project and why?
---
Quick Reminder: Don't Forget To…
Make eye contact

Be calm and confident

Drink some water and try to breathe if you're nervous

Ask questions to get a better sense of the company culture and job duties

Never over-communicate but give the right amount of information

Be positive and show enthusiasm

Provide examples to illustrate your points

Smile, even during phone interviews

Send a thank you note afterwards
I hope you enjoyed these tips and that you find your dream PM job shipping awesome projects. Please don't hesitate to contact me if you have any feedback or questions!
– Thaisa Fernandes
Interesting links
Here are some interesting links for you! Enjoy your stay :)